How to Get Public Data Free Trial With a Virtual Credit Card

PublicData.com is a fantastic resource for looking up public records. There are many searchable records to choose from, such as criminal records, DMV records, unclaimed property, and several others. It is such a valuable resource, that many people wonder if . 
To put it briefly, Public Data does not offer a free trial period. Any use of their services requires a paid subscription. However, there may be some . 
Why Doesn't Public Data Offer a Free Trial?
Public Data does have a "demo" feature, but this doesn't retrieve any public records for you.
Public Data has never released an official statement as to why they don't offer free trials.
One possible reason is that most individual searches can be completed quickly and easily. This would result in Public Data not being able to earn any revenue.
Public Data is a no-frills website. It seems fitting that they wouldn't adopt new eCommerce trends.
How Can I Get a Public Data Free Trial?
There is no guaranteed way to get a free trial with public data, but this might be worth a try:
Simply ask Public Data if they'd be willing to offer a few free searches so you can test out their product before paying.
You can email Public Data at webinfo@publicdata.com.
You can also call Public Data at 1-877-762-6266. They are available Monday to Friday from 8:00 am to 4:00 pm Central Standard Time.
Public Data also has a "$100 bounty" program. Anytime you find an unredacted SSN of a living person on a document, you can report it to Public Data to receive $100. You can read the full details of the $100 bounty on their website.
If you collect enough bounties, the service will pay for itself.
What Is a Virtual Credit Card and Can It Help Me Get a Free Trial With Public Data?
A virtual credit card is similar to a burner phone.
A random credit card number will be generated to pay for a service.
Your actual credit card details will be linked to the virtual credit card, so you will still pay for the transaction.
After the transaction, the virtual credit card is destroyed.
This helps keep your actual credit card private, instead of having your credit card details floating on a company's database that is at risk of data breaches.
DoNotPay has virtual credit cards designed to access free trials without the risk of being charged after the free trial period.
Since Public Data doesn't offer free trials, this virtual credit card won't work to prevent charges after a free trial period.
What Free Trial Services Will DoNotPay's Virtual Credit Card Work For?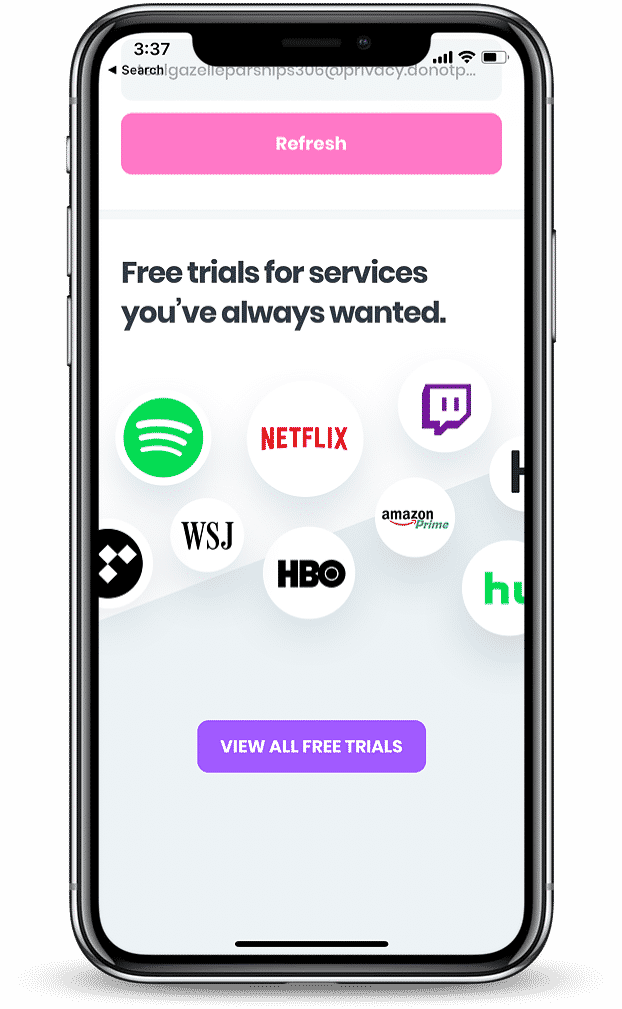 Our virtual credit cards will work on just about any service that offers a free trial.
The virtual credit card will automatically cancel itself after signing up, so you never have to worry about being charged.
You can use a virtual credit card for countless free trials, like Hulu, Disney+, Amazon Prime, and countless other services.
Using a virtual credit card also keeps you safe from data breaches.
If a company is hacked that only has data on the virtual credit card and not your actual credit card, you have nothing to worry about.
Since the digital credit card automatically cancels, it can only be used once.
How Much Does a Public Data Membership Cost?
Public Data has a variety of plans based on if you are a business or an individual, and how often you plan on searching.
| | | |
| --- | --- | --- |
| Individual Plans | Cost | Benefits |
| Individual Monthly | $14.68/ month | 600 monthly look-ups |
| High Usage Monthly | $24.86 / month | 1250 monthly look-ups |
| Individual Annual | $34.86 / year | 700 annual look-ups |
| | | |
| --- | --- | --- |
| Business Plans | Cost | Benefits |
| Business Monthly | $85/month | 5,700 monthly look-ups |
| Business 1,200 | $120/ year | 1,200 annual look-ups |
| Business 3,000 | $250/ year | 3,000 annual look-ups |
| Business 10,000 | $500/year | 10,000 annual look-ups |
What Are Some Alternatives to Public Data?
Public Records Search. A great option for searching for criminal backgrounds
Search Public Records. More broad search results that include financial records like bankruptcy, liens, etc.
Case text. Even more detailed search inquiries, like aircraft records and domain registrations
Official state websites. Most states have online databases that are completely free. They can be a little tricky to learn, but you can't beat the price.
What Else Can DoNotPay Do?
You can open DoNotPay can help you with almost anything! Including: