How to Get ProtonVPN Free Trials With a Virtual Credit Card

A VPN is an invaluable resource but not all VPNs are created equal.  allow everyone to test drive their services. At the end of the trial, you get to decide if you like the company's services enough to upgrade to one of the membership plans.
But there are plenty of ways for the agreement to go sideways.
Many companies give you a period to use the trial. Once that period ends, they automatically charge your credit or debit card. Often, this happens because busy consumers forget to cancel the trial. Every year, millions of Americans discover their memberships and fees are still active months after the end of their test periods.
Analysts estimate millions of dollars regularly go to companies due to uncancelled accounts.
The VPN provider has the advantage here. You take a big risk signing up without performing due diligence and free trials are a logical way to do it. And the provider forces you to give them all your personal information to engage.
Don't fret. DoNotPay has a way to avoid getting caught in the free trial cycle. We're talking about using virtual credit cards. Technically, virtual credit cards are single use cards that have no funds in them. This means no surprise charges to stress you out.
Does ProtonVPN Offer a Free Trial?
Yes, ProtonVPN does offer a 30-day "free" trial. What's unique about the offer is it's not necessarily free. The company actually charges you for that first month and offers a refund if you decide not to stay.
ProtonVPN has a network of over 1,300 servers across the globe. The company supports:
Windows
macOS
Linux
Chromebook
Android/Android TV
iOS/iPadOs
They call the trial a "risk-free test run." Unlike other trials, ProtonVPN does not limit your access to its features. You get  from the moment you sign up.
How Can I Get a ProtonVPN Free Trial?
Here's a fast-and-dirty step-by-step for getting started with a
Go to the site's free VPN page and click on Get ProtonVPN Free
From the options, select Get Free
Upon prompt, enter your email address and again, click on GetProtonVPN free
ProtonVPN will send you a code via email. Check your email for the verification code
Type that code in the Verification Box and click Validate
Create your account and click Complete
Download the company's app
Open ProtonVPN and log in
Click Quick Connect or select a server
With the test run, you can use ProtonVPN on five different devices.
Does the ProtonVPN Free Trial Automatically Renew Into a Paid Subscription?
Well, we'd say that's a "yes" and "no."
ProtonVPN lets you cancel after the first month, but it seems they charge you for that first month either way. As soon as you cancel the services, ProtonVPN will refund you.
You just have to accept that the funds will leave your account during the trial period and as long as you remember to cancel, you will get your money back.
Avoid Automatic Renewal With DoNotPay Virtual Credit Card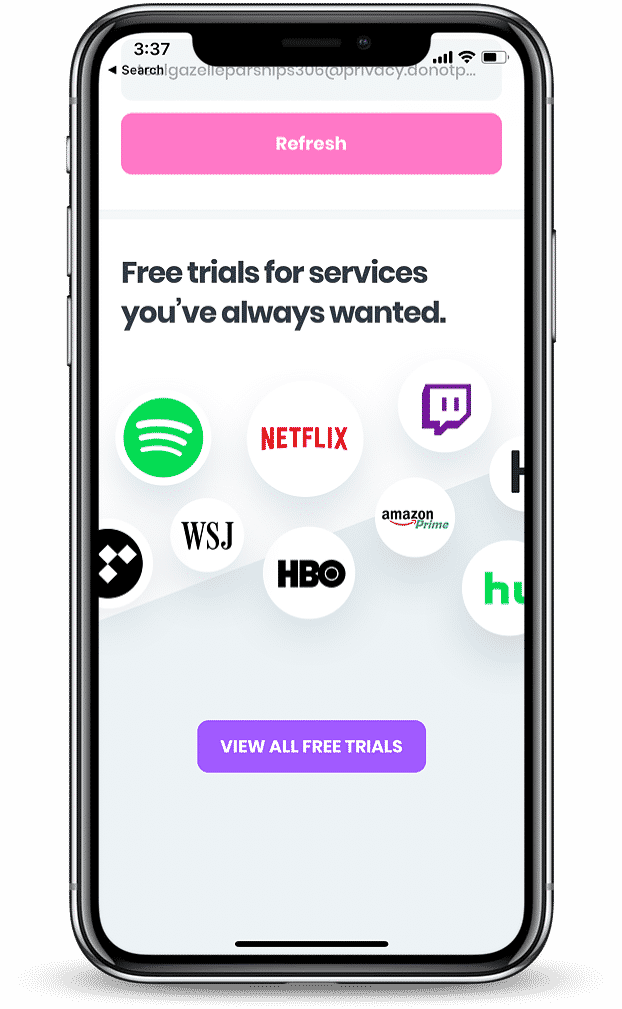 Free trials remain an exceptional sales strategy, especially when we're talking about intangibles like apps, games, software, and analytics. The glitch is that millions of Americans find themselves entangled in a web where once the trial ends the company can start charging tester credit or debit cards. Consumers get taken for millions every year because of free trials.
DoNotPay offers virtual credit cards to anyone who wants to try a free trial without getting hit with unwarranted fees or charges.
How a Virtual Credit Card Works
Virtual credit cards are devices randomly generated that let you sign up for a free trial service. You can also have a virtual card for online purchasing.
Virtual cards can have unique properties. In the case of free trials, the card has a number, expiration date, and CVV but there's no actual credit information to connect to. Ergo, anyone who tries to charge the card will be unable to do so.
You'll be able to test any service you'd like and never worry about forgetting to cancel the subscription or getting it with an auto-renewal.
The irony is, companies shouldn't need credit card information to test their services. Why can't you test without providing financial info? Simply put, it's a marketing strategy where companies hope you forget. Others use deception to get you to sign up.
Virtual Credit Card vs. ProtonVPN
Unfortunately, virtual credit cards won't work with a ProtonVPN free trial. As explained, ProtonVPN's free service isn't free. They charge your card and offer a refund later. That means a virtual CC likely won't work here.
Here are a few tips for not ending up with unwanted membership fees.
Be clear about the trial period terms. Sign up and create a reminder on your calendar. Perhaps for the day before the renewal.
Reach out to your bank or credit card company and stop any payments.
Be wary of a service that claims to be free but you're still expected to pay for it.
Be wary that companies may not be forthcoming about their terms. Think and investigate before you sign up for an online free trial.
How Much Does a ProtonVPN Cost After the Trial?
Depending on how much usage and budget you can allot to your VPN software, below are three packages offered by ProtonVPN which you can choose from:
| | |
| --- | --- |
| Subscription Type | Cost |
| Basic 1-year Plan | $4.00 a month |
| Basic 2-year Plan | $3.29 a month |
| Plus 2-year Plan: | $6.63 a month |
Charges from the company will show up on your financial statements as PROTONVPN.
What Are the Most Popular Alternatives to ProtonVPN?
There are most likely thousands of VPN services available on the interwebs. If you're looking to avoid ProtonVPN's free trial charge, here are sound alternatives.
Express VPN
NordVPN
Surfshark
CyberGhost
What Else Can DoNotPay Do?
DoNotPay can help you with a broad range of services. 
Sign-up with DoNotPay today and discover a whole new smorgasbord of tasks and services that the app can handle for you.