How to Get a Prezi Free Trial Without Giving Your Credit Card Information

If you work in a business or a school where you need to present new information online, you've probably seen your fair share of online presentation apps and tools. Prezi is such a tool which allows presenters to record videos of their presentations alongside relevant and attractive graphics to engage audiences.
If you're interested in trying Prezi but aren't sure it's the right platform for you, you can get a  to help you test it out and make the right choice.
Does Prezi Offer a Free Trial?
Prezi offers a 14-day free trial for all three of its subscription plans. You can test out the Standard, Plus, or Premium subscriptions for two weeks entirely free. You can try these options whether you're an individual, a student or educator, or a business professional.
How Do I Start a Prezi Free Trial?
To start a Prezi free trial:
Go to Prezi's pricing page.
Select the type of subscription you want to try.
Create an account by signing in with Google, Microsoft, Apple, or Facebook, or by entering an email address and password.
Enter your credit card or PayPal information.
Start testing out the Prezi product.
Does the Prezi Free Trial Automatically Renew into a Paid Subscription?
Yes, the Prezi free trial will automatically renew into a paid subscription if you don't cancel it before your two weeks are up. Prezi will send you a reminder two days before your subscription ends, but if you forget to cancel you'll be charged full price the day your free trial ends. You are not able to receive a refund from Prezi after canceling a subscription.
How Much Will Prezi Cost After the Free Trial?
There are a few basic options for Prezi subscriptions:
| | | |
| --- | --- | --- |
| Package | Subscription fee | Inclusions |
| Basic | Free | Create up to 5 projects |
| Standard | $5 per month | Create unlimited content |
| Plus | $15 per month | Create unlimited content + live presentations and presentation voice-over |
| Premium | $19 per month | Create unlimited content with additional services such as branding, portable presentations, presentation analytics, advanced training, and phone support. |
As a student or educator affiliated with a school that subscribes to Prezi, you can purchase a Plus plan for $3 a month or a Pro plan (the same benefits as Premium) for $5 a month. 
How Do I Cancel My Prezi Account?
Canceling a Prezi account or subscription is simple.
Go to your account.
Choose the license tab (if you're trying a paid version).
Choose to Cancel Subscription.
If you simply have a basic free account:
Go to your profile.
Select Delete Account.
Select Delete Account again.
Confirm Deletion through the email from Prezi.
How to Avoid a Prezi Automatic Renewal With DoNotPay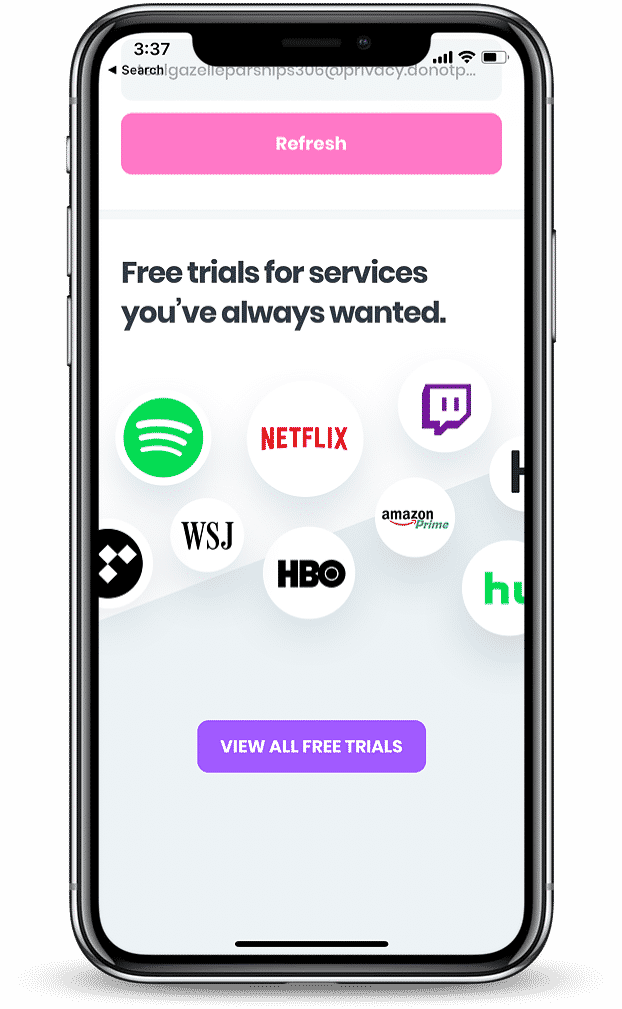 It's common for people to forget to cancel free subscriptions. You, like all others, lead a busy life with lots of events, people, and tasks to keep track of. And you probably have more accounts than you know what to do with. If so, it's not unlikely that you might forget to cancel your  in time to avoid being charged a year's subscription (all Prezi subscriptions are billed annually).
This is where DoNotPay can help you. When you sign up for a Prezi account, you can use DoNotPay's virtual credit card as your payment information. When Prezi attempts to renew your subscription by charging the card, it won't be able to do so. At that time, your account will either revert to a free public account or be deleted.
Here's how to get started with DoNotPay's free virtual credit card:
Search free trial card on DoNotPay and enter Prezi.
Receive a virtual credit card that you can use for Prezi. Copy the card details into the Prezi free account sign up.
Use the card to sign up for your free trial.
Sit back and relax, knowing you won't see any charges on your credit card.
It's that simple! You can avoid paying any fees to Prezi by using DoNotPay's handy credit card service for free.
Other Ways DoNotPay Can Help You

In addition to helping you escape unwanted payments and manage free trials, DoNotPay can help you with a variety of other services intended to save you time and money. With DoNotPay, you can find help:
For help avoiding unwanted payments, clearing clutter out of your life, and saving time dealing with legal and personal issues,  with DoNotPay today.