How to Get a Powtoon Free Trial With a Virtual Credit Card

Ever wish you could animate your PowerPoint presentations? Now you can. Powtoon is a portmanteau word of "PowerPoint" and "Cartoon". It is also a useful piece of software for creating animated presentations and explainer videos. Animated presentations are increasingly popular, from whiteboard drawings to moving diagrams.
Of course, not every presentation platform is the right fit. How do you know if you'll enjoy Powtoon before you buy a year or month subscription? That's where the comes into play. DoNotPay can help you get the most from your Powtoon free and paid services.
Does Powtoon Offer a Free Trial?
If you want to try Powtoon for free, no doubt you're looking around for a handy free trial on the subscription page or among the internet promotions. Good luck, but you won't find one.  is built-in. They offer free access to the dashboard and tools with limited features so that any user can explore the interface itself and decide if Powtoon is a good fit for them.
The free version of Powtoon does have a significantly limited feature list, but with even the basic functionalities, you can get a feel for software you might enjoy using.
Powtoon free trial features include:
Up to 3 minute animations
100 MB Powtoon storage
The following features are only available with Powtoon Pro:
Removed branding
Download files
Privacy control
Support network
Commercial use rights
Character customization
How Can I Get a Powtoon Free Trial?
Accessing the  means you need to sign up for the service, but not a subscription. The free trial is just below the lowest tier of subscription service. Once you are logged in, you should be able to access the online Powtoon dashboard to start creating the presentations you need to rock the meeting room.
Navigate to the homepage.
Click "Sign Up" in the upper right-hand corner
Connect a core login account or create a new account manually
Dive into the Powtoon dashboard.
Initially, the dashboard and basic features are all you need to learn the platform and stay occupied making your first animated presentations. Over time, you may want to upgrade your free Powtoon account to a paid subscription to access more advanced features and longer presentations.
Does the Powtoon Free Trial Automatically Renew Into a Paid Subscription?
No, your free trial of Powtoon starts the moment you make an account, before you sign up for a subscription. You don't need to give payment information to enjoy the baseline features and platform provided by Powtoon. Of course, if you choose to upgrade to Powtoon, it will become an annual and/or monthly recurring subscription.
Avoid Automatic Renewal With DoNotPay Virtual Credit Card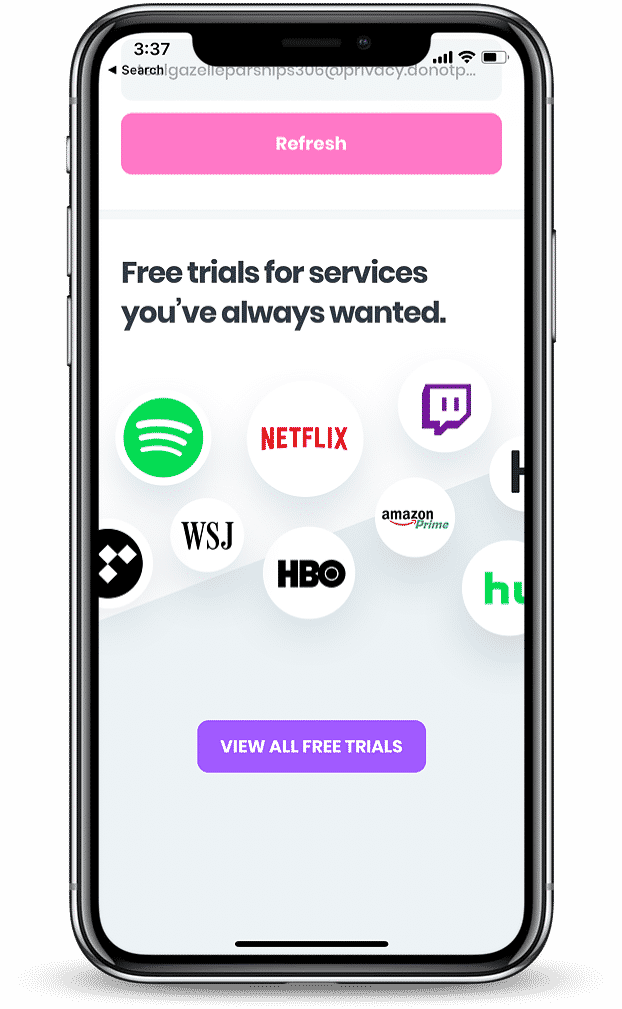 The Powtoon free trial is one of the better setups when it comes to free early access before buying a digital product or committing to a subscription. We love the fact that Powtoon lets you explore their features and UI without holding your payment card for ransom with a pending subscription fee hanging over your head. We also love their student and educator packages.
But what about those free trials that are not-so-free? The type that requires a payment card just to enjoy your free days of access and service. We're not so fond of those, and we bet you aren't either. Fortunately, we found the answer: a virtual credit card.
If you're tired of forgetting to cancel a free trial and getting charged, the virtual credit card is your strategic answer to the problem. Simply enter one of these randomly generated card numbers when you sign up for a free trial. The card number is not attached to any bank, so it will refuse the subscription charge when it fires. Your free trial will end gracefully and you won't be saddled with a subscription you might not want.
How Much Does Powtoon Cost After the Trial
If you choose to upgrade your account after exploring the Powtoon platform for free, you have several paid upgrade options. Fortunately, none of them are forced on you by the free trial system. Right now, if you're considering Pro +, try Agency at it's discounted price for extra features and performance.
Plan
Subscription Cost
Billing
Personal Subscriptions
Pro
$19 /mo
Billed at $229 /yr
Pro +
$59 /mo
Billed at $708 /yr
Agency
$59 /mo

(was $99 /mo)

Billed at $708 /yr
Educational
Student
$4 /mo
Billed at $48 /yr
Teacher
$6 /mo
Billed at $72 /yr
Classroom
$10 /mo
Billed at $120 /yr
What Else Can DoNotPay Do?
DoNotPay has designed our services, products, and tools to help you in many different ways. It's our goal to find every possible avenue to save you money or find you money, to save you time or reduce the hassle of your daily tasks. Fair free trials with scheduled cancellation and virtual credit cards are only the tip of the iceberg.
Here are a few more services you might find helpful. Explore our dozens of services to discover more ways we can make your life easier this year.