How to Get a PosterMyWall With a Virtual Credit Card

Are you a graphic designer, or are you new to digital marketing? Are you aware that PosterMyWall is the best tool for creating professional-looking movies and photos for your business? You require the app, and you will undoubtedly experience difficulties signing up for a free trial on your own.
In any case, have no fear; DoNotPay is here to support you throughout the process. We can also represent you in court if necessary. Additionally, DoNotPay may assist you in acquiring free trials through the use of a virtual payment card.
As a result, you will not be required to pay for these cards, as DoNotPay gives them free. DoNotPay is the best option for individuals who are opposed to being charged for a
Is There a Free Trial Available for PosterMyWall?
Yes, you may  for 14 days. Immediately after the trial period expires, you will be charged for the selected plan. When the trial is about to expire, you will receive numerous reminder emails.
Is It Possible to Earn Money on PosterMyWall?
Once you submit your design to PosterMyWall, you'll receive royalties on each purchase. You receive a 35% royalty on downloads and a 10% royalty on prints. Royalties are paid weekly via PayPal.
What Is the Procedure for Obtaining a PosterMyWall Free Trial?
PosterMyWall provides free downloads of images and films accessible through the editor. It's pretty simple to create a designer account. The following is a step-by-step instruction manual:
Visit www.PosterMyWall.com and click the "sign up" button.
You must complete and submit a form.
You are now able to access your account.
To access the design for free, open it in the editor and click the yellow 'Download' icon on the top bar. By clicking, a pop-up window with three download options will appear. Select the first option, 'basic picture.'
Is the PosterMyWall Free Trial Subscription Automatically Renewed?
Your subscription will renew automatically at the end of your billing month. To determine when your billing cycle expires, navigate to 'Premium Billing' in the profile drop-down menu on the upper right of the homepage. You will incur charges for the renewal of your subscription on your next billing date.
How Do You Cancel Your Subscription to PosterMyWall?
You can cancel your subscription on the Premium Billing page.
After that, you'll be asked to confirm your cancellation. You'll have unrestricted access to PosterMyWall Advanced features for the life of your membership when you authorize, and your card will not be charged when it expires.
Avoid Auto-Renewal With DoNotPay's Virtual Credit Card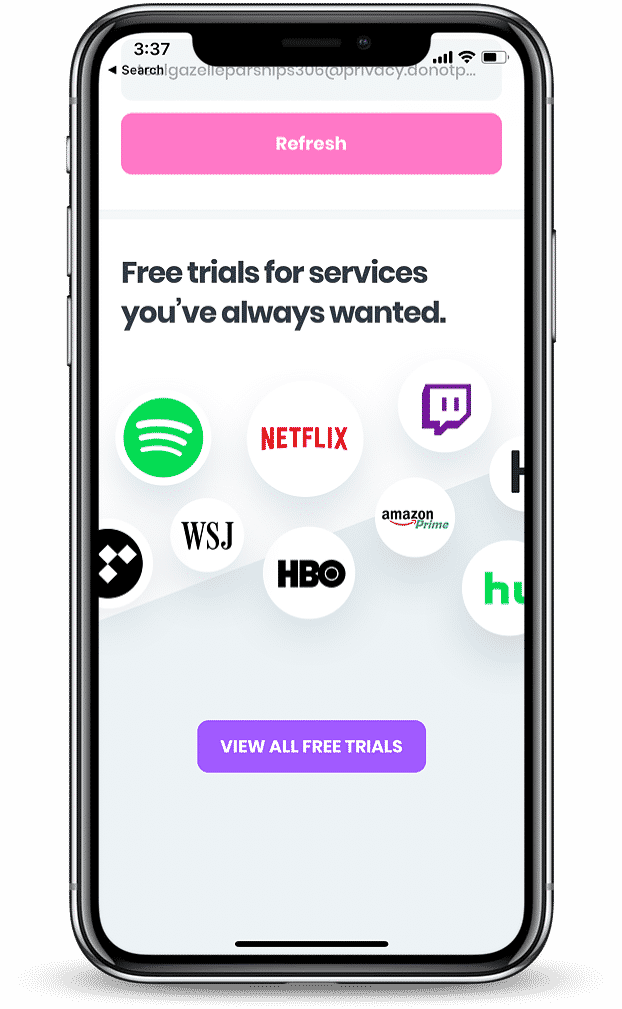 DoNotPay's virtual credit cards allow you to sign up for free trials by bypassing verification. In this manner, you can safeguard your personal credit card information while also ensuring that you are not charged for unauthorized purchases.
You can use virtual credit cards (VCCs) for online shopping. In cases where you fail to cancel your membership after the free trial period, they typically save you from paying for stuff you don't need.
DoNotPay helps generate a random number and credit card details to subscribe to any service. Because there is no money on your card once your free trial has ended, the service will be unable to charge it, and you will be promptly unsubscribed.
How Does the No-Cost Virtual Card Program Operate?
DoNotPay offers complimentary trial cards for all entities, including PosterMyWall. Just browse for it using the company's name.
We will provide that retailer with a phony credit card. All card information that shows on your screen should be saved.
Take advantage of your free trial by using the card to sign up.
Concerning the VCC's, remember that each can only be used once when utilizing our free trial cards.
When a card is used, its activation is canceled, allowing DoNotPay to create another one.
You cannot use the virtual card to make physical purchases.
The card's primary objective is to protect you from being charged for services that you did not request. As a result, you will be unable to make any purchases with it.
Will You Be Charged If You Do Not Cancel the Free Trial?
Our fictitious credit cards prevent payment processing, and you won't have to worry about forgetting to terminate your free trial. Simply by registering, you can join the practices that interest you, use them, and never have to worry about canceling them before they expire again. Therefore, you don't need to worry if you forget to terminate the free trial.
How Much Will PosterMyWall Cost Following the Trial Period?
Below is a table showing the subscription charges for PosterMyWall:
Subscription Plan
Fee
Premium

$9.95 per month
$99.95 per year

Premium Plus

$29.95 per quarter
$ 319.95 per year
How Will PosterMyWall Charges Appear on My Credit Card Statement?
You will be charged if you decide to continue with the premium subscription after the free trial. Payments come directly from your bank account via the company. The costs, as well as the time and date of the transaction, will appear on your bill.
What Are the Most Popular PosterMyWall Alternatives?
If you're not happy with PosterMyWalls' services, you may want to consider choices that offer similar benefits. Simple nursing services have several popular alternatives. These include the following:
Is There Anything Else DoNotPay Can Do?

DoNotPay can help you with almost everything, including:
Why Choose DoNotPay?
You can get free trials and not be charged for using DoNotPay.
DoNotPay saves you time. The time you save by not having to apply for free trials on your own can give you a more enjoyable time with PosterMyWill.
DoNotPay has a simple process. You can access a free trial using the generated virtual credit card and you don't have to worry about canceling when the trial period is done.
With DoNotPay, the process is always successful.