How to Sign Up for a Pluto TV Free Trial The Risk-Free Way

Streaming services have become more popular over the years, and there are currently more options than ever before. Whether you are in search of a platform that offers specific content or you are just looking to have a new experience on a different platform, you may want to do this without spending a cent, like by getting a .
This is where free trials come in. Free trials offer you the chance to enjoy a service at no cost at all, with the hopes that you will eventually subscribe. You must, nevertheless, be careful when signing up for these free trials, especially if you are prompted to enter your credit card information. While it may be hard to avoid falling into these traps, DoNotPay can help you with this easily. Read on for more information on Pluto TV free trials and how DoNotPay can help.
What Is Pluto TV?
While there are currently many streaming services, viewers are beginning to enjoy Pluto TV a little bit more. Whereas the streaming service is not as popular as the likes of Amazon Prime Video and Netflix, the ViacomCBS platform has some hidden perks to it, and viewers are loving it.
Pluto TV has more than 250 well-dedicated live TV channels, in addition to popular TV shows and movies. The best part of Pluto TV is that you can watch all the content for free. Yes, that's right- you don't have to pay a dime. This is because the site is ad-supported. So, if your monthly budget cannot handle another paid subscription, this is the best free streaming service there is for you.
Does Pluto TV Offer a Free Trial?
 because the online streaming platform is completely free. What is more, you do not even have to create an account to enjoy its great content. Pluto TV does not require your credit card information, either.
You are not required to provide any personal information at all. You may use an app or a web-based player to access the content. You will be immediately entertained to your best shows without being even asked for your email address.
That said, Pluto TV provides you with an incentive to stay online for some time. By signing up, you will be able to do two things that others can't:
Save your favorite channels.
Resume watching your preferred shows from a different device.
The sign-up process is only 30 seconds.
What Are the Most Popular Alternatives to Pluto TV?
There are more than 50 alternatives to Pluto TV. Some notable ones are
| | |
| --- | --- |
| Tubi TV | With more than 20,000 movies and on-demand TV shows, Tubi TV is a great substitute for Pluto TV. You will love this platform since it is also free. |
| Netflix | Netflix also has very great movies and TV shows. However, unlike Pluto TV, this is a paid subscription. |
| Crackle | This streaming platform has a wide variety of on-demand movies and TV shows. The platform also offers a free service. |
Other streaming alternatives include:
Xumo TV
Hoopla
Kanopy
The Roku Channel
Stirr
ConTV
FilmOn
Vudu
Popcornflix
IMDb TV
Avoid Automatic Streaming Service Renewals With DoNotPay Virtual Credit Card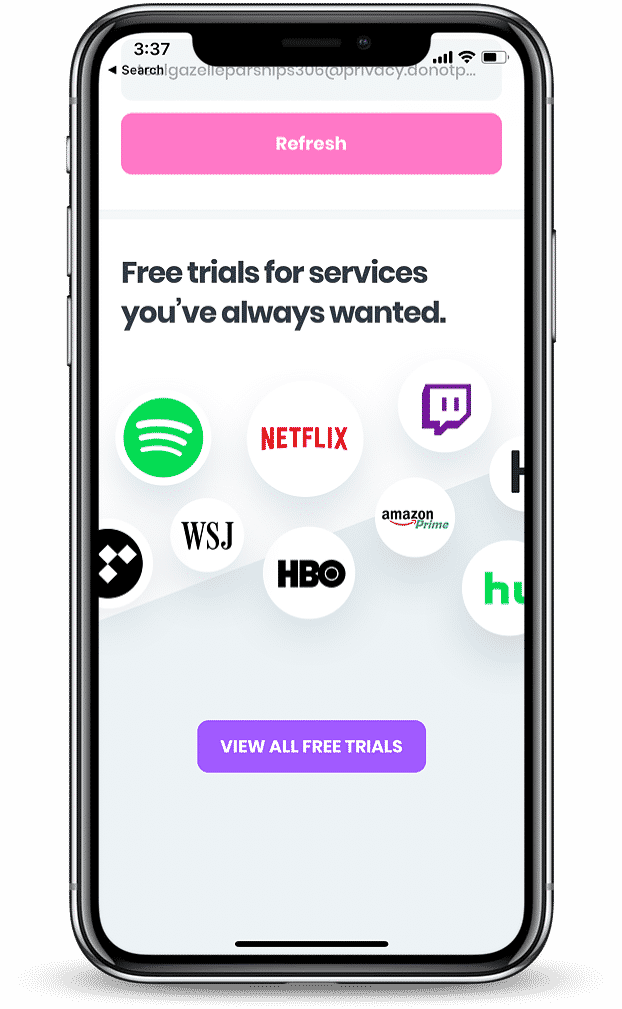 If you are like most people, you will probably forget to cancel your free trial subscription and end up continuously paying for a service that you do not require. Therefore, it is very important to remember to cancel your subscription before your trial period ends.
Maybe you are tired of watching Pluto TV, or you just want to try something else. It may be because of the ads. Most ad-free streaming sites are not free. You may be asked to attach your credit card to get a free subscription. If you forget to cancel your subscription on time, you may be automatically charged.
To avoid all this, you can use DoNotPay's Virtual Card to sign up for all your free trials. Using DoNotPay's virtual credit card is safe because you will not need to use your real credit card or your real name. What is more, you will incur zero charges at the end of your free trial.
How to Use DoNotPay's Virtual Credit Card to Avoid Automatic Renewal
DoNotPay can help you avoid being charged after free trials in 4 easy steps:
Search for the free trial card on DoNotPay, and enter the streaming company you want a free trial for.
DoNotPay will automatically generate a virtual credit card that you can use for that streaming company.
Copy the card details into your free trial account signup.
Use the card to sign up for your free trial. Now, relax because you won't be automatically charged when the free trial is up.
The card will be deactivated and not usable once it's been used once.
What Other Services Can DoNotPay Offer?

DoNotPay is a robot lawyer that provides all-inclusive legal aid services. In addition to helping you sign up for free trials, DoNotPay can offer you so many other services, such as helping you:
And so much more! Sign up with  today to start enjoying these great services.