How to Sign Up for Pluralsight Free Trial Without Giving Your Credit Card Information

Pluralsight is an American privately held company and an online education platform offering various video training courses for creative professionals, IT administrators, and software developers. Founded in 2004, Pluralsight helps tech experts and teams to know more and work cohesively with improved tech skills and technical know-how.
Most people get reeled in to subscribe to a product or service after being offered free trials. Pluralsight doesn't go far from its competitors in offering  that can be used at a limited time.
Companies advertise a timed free trial and make the offer enticing enough so that the user is convinced to provide their credit card details in exchange for a limited-time free subscription..
In its intent to protect consumers like you, DoNotPay came up with single-use credit cards that will save you from being charged when you forget to cancel your free trial and paid subscription automatically kicks in.
Disputing credit card charges can get ugly and exhausting. You will be extremely thankful for coming across DoNotPay's Virtual Credit Card product.
Does Pluralsight Offer Free Trial?
Yes, Pluralsight offers a 10-day free trial for individuals and 14 days for teams. Despite that, Pluralsight free trial has limited features that you will access only by upgrading your subscription.
Your  includes expert-led courses and Pluralsight IQ, which helps you validate skill levels with assessments that take less than 10 minutes. However, the free trial does not provide an expanded library and hands-on learning.
How Can I Get Pluralsight Free Trial?
To get the Pluralsight free trial, head over to the website's pricing page. You may have to consider different factors before signing up for a free trial, such as the number of intended users and whether you want a monthly or annual subscription.
Since you won't be needing to renew your subscription after the Pluralsight free trial, choose whichever package, then click 'Start a free 10-day trial'. Enter your details, including your name, company name, email address, and country of residence.
Pluralsight will ask for your credit card details for the next auto-renewed payment after the end of the trial period.
Does the Pluralsight Free Trial Automatically Renew Into a Paid Subscription?
Yes, Pluralsight's free trial automatically renews into a premium subscription at the end of the ten days. You should cancel your free trial on time—at least 24 hours before the free trial lapses—to avoid Pluralsight charging you automatically.
However, if you forget to cancel your free trial on time and get charged, reach out to the service provider to request a refund. Alternatively, you can contact DoNotPay to help you request the Pluralsight refund following a more effective and fast process.
Avoid Automatic Renewal with DoNotPay Virtual Credit Cards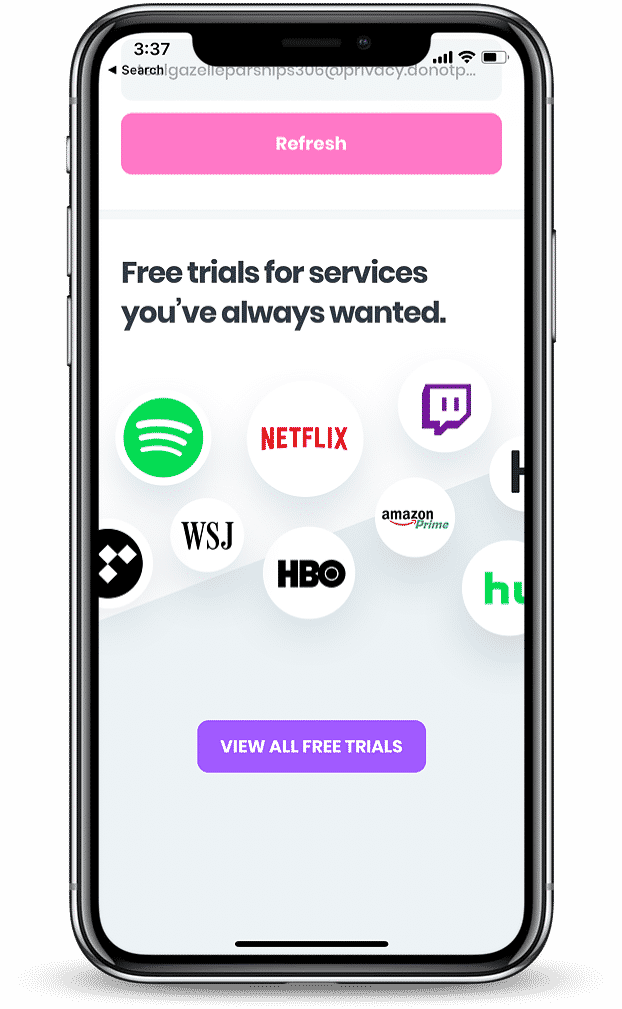 Most people forget to cancel their free trial subscriptions before the automatic renewal. Consequently, there will be an automatic charge despite not needing the service or product anymore.
While it is not always guaranteed that you will remember to cancel your free trial, DoNotPay cancels your Pluralsight subscription on time to avoid automatic renewals. With DNP's virtual credit cards, users can access almost any free trial without getting charged. DoNotPay generates random credit card info and a number that you will use to sign up for the Pluralsight free trial.
Once you have signed up and your free trial has ended, Pluralsight can't charge you since the free virtual credit card doesn't have any money for the automatic renewal. You will then be unsubscribed automatically.
How Much Does Pluralsight Cost After the Free Trial?
Pluralsight has two pricing plans; Standard and Premium. Here is a tabled summary of the pricing plans you can expect after the free trial.
Subscription Plan
Cost
Benefits
$399.00 per user / year

Core library access
Skill and Role assessments
Learning paths and channels
Trend and usage analytics

$579.00 per user / year
Everything under the Starter Plan plus:

14-day free trial
Expanded library access
Certification practice exams
Interactive courses and projects

$779.00 per user / year
Everything under the Professional Plan plus:

14-day free trial
Q&A
Role customization
Priorities:
What Are the Most Common Pluralsight Alternatives?
Different platforms provide varying training modules to help individuals increase their skill sets. Despite Pluralsight's solid reputation in the industry, several other options appear as viable rivals. Below are some of the common alternatives to Pluralsight.
LinkedIn Learning - Formerly Lynda.com, LinkedIn Learning hires effective and passionate educators, who are also recognized in their various fields.
Subscription cost: $29.99 per month (first-month free trial)
Udemy Business - This is Udemy's B2B learning solution that empowers organizations to address their biggest workforce challenges.
Subscription cost: $240 per person per year
CBT Nuggets - The platform offers innovative, engaging, informative, and meaningful IT training. Compared to Pluralsight, CBT Nuggets is better at support and is more usable.
Subscription cost: Starts at $59 monthly and $599 annually.
Cloud Academy - This is an effective and practical way to launch your enterprise tech training program at scale. It is easier to set up and better at support.
Subscription cost: Starts at $49 per month
A Cloud Guru - It is a company founded by engineers who developed a widely recognized school to teach engineers.
Subscription cost: $41.50 per month
Udacity - It provides online courses and credentials designed by Google and AT&T, among others. Options vary from monthly to one-time fees.
Subscription cost: 4-month Nanodegree starts at $399 per month or a one-time $1,356 fee.
How Else Can DoNotPay Help?
DNP is an experienced and skilled robot lawyer providing services across various platforms. Regardless of your issues, reach out to DNP to help you curate an effective and prompt solution.
Besides helping you sign up for a free trial without getting any charges, DoNotPay can also help with:
 to DoNotPay to help you sign up for the Pluralsight free trial risk-free.