How to Get a Planhub Free Trial With a Virtual Credit Card
Computer software has revolutionized every industry over the last half-century or so. Besides, today's SaaS (Software as a Service) makes it easier for users to access most software programs via the internet using a web browser. Usually, the software owner will require people to pay or subscribe to the SaaS plan before gaining access. Planhub is SaaS that is transforming the construction industry.
Launched in 2015, Planhub is a cloud-based software for general contractors, subcontractors, and suppliers in the construction industry. The software enables general contractors to post projects and subcontractors/suppliers to bid for them. Typically, this is how Planhub works:
General contractors post projects on Planhub. They can as well invite specific subcontractors to bid for projects.
Subcontractors can view open projects (depending on the subscription plan) and bid.
Suppliers can also view and bid on available projects.
Does Planhub Offer a Free Trial?

Yes. The service has a 3-tier subscription plan for subcontractors and suppliers, with the lowest being the free trial plan. General contractors aren't required to pay anything to join and comprehensively use the platform. Therefore, general contractors can sign up for free and access all the features, including
Posting unlimited projects
Managing offers and projects, e.g., comparing, bid status, and evaluating
Inviting subcontractors and suppliers to place offers
Can add an unrestricted number of team members
Planhub Free Trial for Subcontractors and Suppliers
Subcontractors and suppliers can opt for the , which offers limited capabilities. With a free trial account, you can only submit bids to general contractors within your network and only have restricted plan room access. However, you can view or download project plans and specifications. You can use the free trial plan for an unlimited time until you're ready to upgrade to premium subscriptions.
How Can I Get a Planhub Free Trial?
Professionals who want to find work using Planhub can register for free. You don't require a credit card or to add any form of payment details when signing up for a free trial plan on Planhub. To start your free trial:
Visit Planhub's homepage.
Click the 'Sign Up for Free" link to go to the account creation page.
Choose whether you're a general contractor, subcontractor, or supplier and fill in the form to sign up.
After successful signup, you can log in and access the free trial or decide to upgrade immediately.
Does Planhub Free Trial Automatically Renew Into a Paid Subscription
No. The for subcontractors and suppliers doesn't require credit card details. Therefore, you cannot be charged by Planhub, and your plan subscription isn't automatically upgraded to a paid one.
Avoid Automatic Renewal With DoNotPay Virtual Credit Card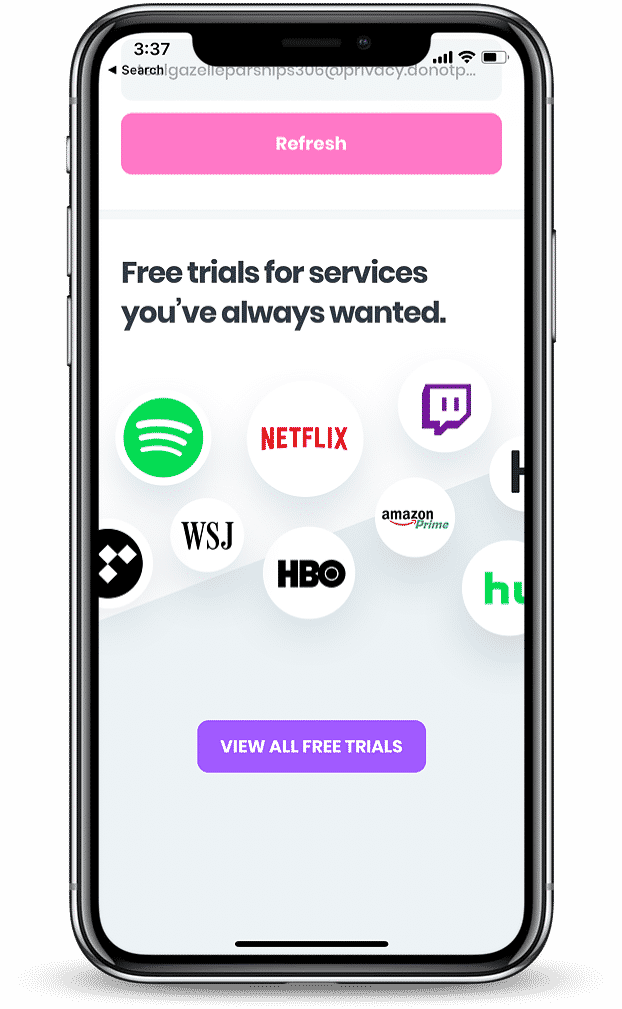 Many service companies cannot allow you to start your free trial without keying in your credit card details. This is especially true for services that offer limited-time free trials, for example, one week, two weeks, 30 days, etc. But here is the catch; they know a significant percentage of people on a free trial can easily forget to cancel the subscription before the free trial expiry date, and thus end up paying for a service they probably won't need or use. Therefore, all they want is to take your hard-earned money. But we have a solution for you, virtual credit cards.
DoNotPay's free virtual credit card allows you to get free trials and never get charged. Here is how the credit card works:
DoNotPay generates random and valid credit card details that you can use to start your free service.
When the free trial period expires, you won't be charged as there will be no funds on the virtual credit card. And also, the virtual card is not linked to your bank account.
Furthermore, if you have free subscriptions that you have already linked to your real credit card, we can help you cancel them. We'll contact the service company on your behalf and request that they cancel your subscription.
How Much Does Planhub Cost After the Free Trial?
As we mentioned earlier, general contractors don't require a subscription to use Planhub software. If you're a subcontractor or supplier but want to upgrade, you have two options — Premier or Nationwide. 
Planhub Subcontractors and Suppliers Paid Plans
The table below shows the Premier subscription costs depending on whether you're paying quarterly or annually. Opting for an annual plan saves you money.
| | | |
| --- | --- | --- |
| Distance (miles radius) | Quarterly  | Annually |
| 50 | $399 | $1199 |
| 100 | $449 | $1299 |
| 150 | $499 | $1499 |
| 200 | $549 | $1699 |
| 500 | $649 | $1999 |
| 1000 | $949 | $2899 |
The more advanced Nationwide plan has no specific subscription price. You can contact Planhub for talks.
What Are the Most Popular Alternatives to Planhub?
Other software programs in the market competing with Planhub in the construction industry include:
What Else Can DoNotPay Do?
From recovering your banned accounts to helping you with section 8 housing, DoNotPay can help you with almost anything. Here are some of our services:
And much more, join us today to learn how easy it's to solve your day-to-day problems.