How to Get a Plagiarism Checker Free Trial With a Virtual Credit Card

It is essential for every writer to make sure they are providing writing that is original. If you are worried about your documents, a plagiarism checker can be a necessary tool. Getting a from a company like Grammarly can be a great way to see how the checker works before you commit.
While there are other options to choose from, finding the right  does not have to cost you a dime. Instead, you can utilize the services of DoNotPay to make sure that a free trial for any plagiarism tool is free without commitment.
Does Plagiarism Checker Offer a Free Trial?
Plagiarism Checker from Grammarly is a  for anyone to use. You can either paste your copy directly into the web browser, or you can upload a file for the plagiarism checker to do its work.
Plagiarism Checker compares your work to more than 16 billion web pages, making sure you know whether you are including similar phrases or sentences to other work online.
While this aspect of Grammarly is free to use, Grammarly also offers a premium version of its services. The premium version of Grammarly provides grammar, tone, plagiarism checking, and more. While Grammarly does not offer free trials for its individual, business, or education subscriptions, it does offer a free version of its services that provides less analysis of your writing.
How Can I Get a Plagiarism Checker Free Trial?
The great thing about  is that it is free for anyone, so you don't have to worry about signing up for a free trial and having to pay for it if you forget to cancel before the trial ends. Since Grammarly's premium services don't include a free trial either, you will be better aware of what you are paying when you sign up.
You can check out the difference between the free version and the premium version, check the table below:
VERSION
FEATURES
PRICING
Free

Spelling
Grammar
Punctuation
Conciseness

Premium

Everything in Free
Clarity-focused sentence rewrites
Example of sentence rewrites
Automatically rewrite hard-to-read sentences.
Tone adjustments
Plagiarism detection
Word choice
Formality level
Fluency
Additional advanced suggestions

Monthly $30.00
Quarterly $20.00
Annual $12.00
Business $12.50 per month per member
Does a Plagiarism Checker Free Trial Renew into a Paid Subscription?
Plagiarism Checker is free to use, so you don't have to give the company any of your personal or financial information unless you want to add grammar checking and other services along with the plagiarism checker from Grammarly. Since Grammarly doesn't offer a free trial, you don't have to worry about forgetting to cancel a free trial and ending up with unwanted charges on your credit card.
Avoid Automatic Renewal with DoNotPay Virtual Credit Card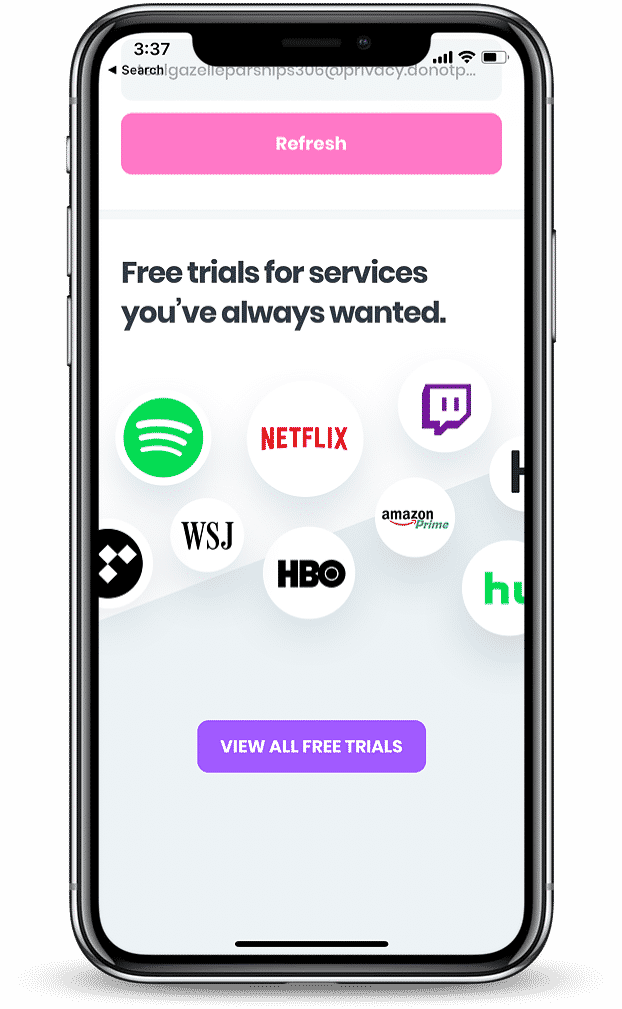 Whether you are looking into trying a plagiarism checker tool or you want to try out the latest subscription streaming service, you have to be aware of the terms of any free trial. Free trials often force you to provide them with your personal information and a credit card so that when the trial expires, you will be charged a monthly or annual subscription to the service.
DoNotPay has a way to let you enjoy free trials for different services without having to worry about canceling the service before the trial runs out. You can use DoNotPay's Virtual Credit Card service to provide the company with the payment details they want and keep your information private and safe. The virtual credit card works by providing a company with random payment details to fulfill the requirement for a free trial signup. The virtual credit card provides:
A randomly generated credit card number
Expiration date
CVV
With the virtual card, you don't have to worry about getting charged for a service you no longer want. Instead, the virtual card will not have the money available on the card, essentially canceling your subscription when the company cannot process the payment.
What Are the Most Popular Alternatives to Plagiarism Checker
Plagiarism Checker is a free service, but you may find that other online tools for plagiarism meet more of your needs. In that case, here are the five most popular alternatives to Grammarly's plagiarism checker service.
1. Copyscape
Copyscape is the standard when it comes to checking for plagiarism. The service costs $0.03 per search for 200 words, then an additional penny per 100 words after that. The benefits of this service include:
The ability to detect plagiarism far better than other services
Easy-to-use interface
The ability to do a side-by-side comparison
2. ProWritingAid
ProWriting Aid provides its plagiarism checking services for $10 for 10 scans per month. The benefits of this service include:
Compatibility with all browers
Provides the ability to use the service inside Microsoft Word
Has integrations for Google Docs and Scrivener
Provides the ability to scan manuscripts and full-length novels
3. Unicheck
Unicheck is a service that works best for those who are detecting plagiarism in an academic setting. Unicheck can cost about $9.97 per month for individual users. The benefits of this service include:
Easy to use
Protects your privacy by not saving your document content
Works well for academic documents
4. Duplichecker
Duplichecker is an online plagiarism checker that provides a check completely free, though it limits the total word count to 1000 at a time. Some of the benefits of Duplichchecker include:
Easy to use
Free
Provides word count, spell check, and grammar check
5. Whitesmoke Plagiarism Checker
Whitesmoke Plagiarism Checker is another tool that works well for students and teachers. The cost of this service is $9.95 per month and offers the following benefits:
Compatible with Microsoft software, include integrations for Outlook and Word
Works with all web browsers
Provides a built-in translation tool
What Else Can DoNotPay Do
DoNotPay has the resources you need to help you get your tasks done. Some of the things that DoNotPay can help you solve include:
DoNotPay can help you solve these issues and more with just a few easy steps.