How to Get a Pigeonly Trial With a Virtual Credit Card

Pigeonly is a service that allows you to send photos and letters to prisoners from your phone. It also allows you to send cards in honor of special occasions, talk to a prisoner for a low rate, and send them articles of interest from the web. If you're interested in taking advantage of, now you can do so risk-free with the help of DoNotPay.
Does Pigeonly Have a Free Trial Offer?
Pigeonly allows users to before committing to payment. One current offer allows the user to try the service for a week before subscribing. You can take advantage of this period to get in touch with an inmate and get a sense of how the service works before deciding whether it is the right service for you.
How Can I Get a Pigeonly Free Trial Offer?
If you would like a free trial of Pigeonly, it's a good idea to keep an eye on their website for an offer to appear. As the company explains in its Terms of Service, "From time to time, to the extent legally permitted, we may offer free trials of certain subscriptions for a specified period of time without payment or card information required. If we offer you a free trial, the specific terms of your free trial will be provided in the marketing materials describing the particular trial or at registration. We reserve the right to modify or terminate free trials at any time, without notice and at our sole discretion."
Given this premise, there is no guarantee that you will be able to try Pigeonly's services for free without providing your credit card information.
To get the process of initiating your free trial started:
Navigate to this site.
Scroll down to "Start free trial."
Enter the information on the inmate you are trying to contact.
Once Pigeonly has found your inmate, proceed with entering your other information as required.
Does the Pigeonly Free Trial Automatically Renew To a Paid Subscription?
If you are required to enter your credit card information upon creating your account for a free trial, you can generally expect that your account will become a paid subscription after your 7-day free trial is up. In fact, the Better Business Bureau has fielded complaints from Pigeonly customers regarding charges posted to the credit card even after having canceled their free trial before the 7-day trial period was up.
Avoid Automatic Renewal With DoNotPay Virtual Credit Card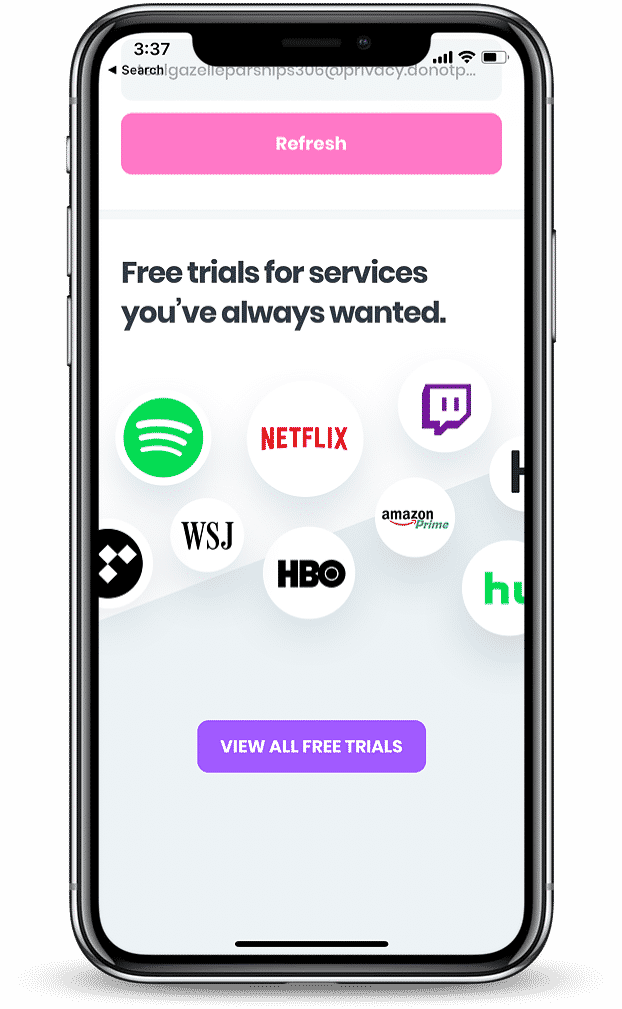 If you want to avoid the experience that the customers who contacted the Better Business Bureau had, or you're afraid that you might forget to cancel your Pigeonly subscription before the free trial ends, now there's a better way: get a virtual credit card from DoNotPay.
With a virtual credit card, you can count on the following:
DoNotPay will generate a random number and associated information that you can provide to Pigeonly as your payment information when you sign up for a trial.
The card number will not have any money associated with it, so when Pigeonly tries to start charging you for service after your free trial ends, they will be unable to do so.
How Much Does Pigeonly Cost After the Trial?
After the free trial, if you don't cancel your subscription, Pigeonly will charge you $11.66 per month to continue helping you contact your inmate. The membership includes:
| | |
| --- | --- |
| Service | Description |
| Send Pictures to Inmates in Jail or Prison | Send photos from your phone or computer to your inmate. Shipping and handling is included with your membership. |
| Write a Prisoner | Send mail to jail and at any county, state, or federal correctional facility. You can write an inmate right from your phone, tablet or computer. |
| Send Postcards to Inmates | Send postcards from your phone or computer to your inmate. Pay for shipping & handling for additional postcards you send. |
| Send Greeting Cards to Inmates | Send greeting cards for birthdays, holidays, and more all from your phone or computer to your inmate. Shipping & handling is included with your membership. |
| Send Articles to Inmates | Send articles from your phone or computer to your inmate. Shipping & handling is included with your membership. |
| Inmate Phone Calls | $4.99 per additional line *Restrictions may apply |
What Else Can DoNotPay Do?
The good news about DoNotPay's free virtual credit cards just got even better. Because not only can DoNotPay give you a virtual credit card that allows you to take advantage of a free trial of Pigeonly, but it can also offer you services very similar to Pigeonly–plus more!
Connect With an Inmate With DoNotPay
With DoNotPay's Connect With an Inmate product, you can:
Send letters to inmates easily and with very little hassle. Rather than worrying about going to the post office, making sure your envelope is addressed properly, and more, you can let DoNotPay take care of all of that for you.
Ask DoNotPay to set up a virtual mailbox for you that will allow you to receive responses from your inmate no matter where you are.
Get Refunds and Cancel Subscriptions
And that's just the tip of the iceberg of all the services DoNotPay offers. If you ever find yourself stuck with a subscription to a service you didn't want, for example, DoNotPay can often help you cancel your subscription and request a refund.
Other Services
Take a look at this assortment of other daily tasks that DoNotPay can assist with:
If there's a hassle or bureaucratic challenge in your life, there's a good chance that DoNotPay has found a way to help. Give it a try today, and see all the ways it can save you time and money.