How to Sign Up for PBS Masterpiece Free Trial Without Submitting Your Credit Card Information

The PBS Masterpiece Amazon channel is just like the many TV options such as Showtime, Starz, and HBO.
Over the years and with client subscriptions, Masterpiece has been constantly presented cherished programming from classics like Bleak House, well-known favorites such as Sandy and Victoria, and mysteries such as Wallander, Inspector Lewis, and Endeavor, among others.
Does PBS Masterpiece Have Free Trial?
Yes, it does. PBS Masterpiece comes with a , allowing you to access amazing entertainment without getting charged. Fortunately, there is no limited feature for the PBS Masterpiece free trial, allowing you to enjoy every offering of a paid subscription for the next seven days after signing up.
How Can I Get a PBS Masterpiece Free Trial?
To access , ensure you have logged in to your Amazon account. Head over to Amazon's video site, click 'Start Your Free Trials'. You will be directed to a payment section to add your payment details. Amazon accepts major credit cards and debit cards as payment forms.
Though it is a free trial, you will be charged at the end of the seven days.
Does the PBS Masterpiece Automatically Renew Into a Paid Subscription
Yes, it does. In case you sign up for the PBS Masterpiece free trial, ensure you cancel the service at least a day before the end of the trial period. This is to avoid being charged automatically.
However, if you get charged at the end of the seven days, you may request a refund if you didn't want to switch to a paid subscription but failed to cancel on time.
You will have to reach out to the customer service team to request a refund. Unfortunately, the chances of getting the refund are slimmer. DoNotPay can help you secure a PBS Masterpiece refund if your free trial is accidentally charged as a paid subscription after seven days.
Avoid Automatic Renewal with DoNotPay Virtual Credit Card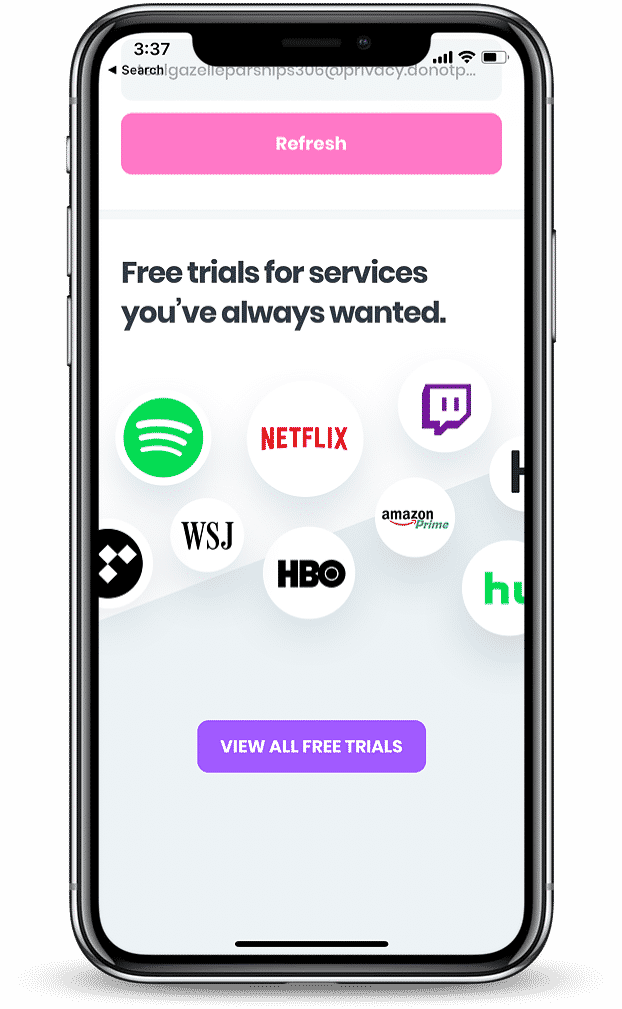 Most people who sign up for the PBS Masterpiece free trial tend to forget to cancel the service. This means getting charged for a service they won't use. DoNotPay can help you sign up for a PBS Masterpiece free trial and avoid the automatic renewal at the end of the trial period. 
With DoNotPay's free virtual credit card, you can save money you would ordinarily pay for the premium subscription. DoNotPay generates a random number and credit card information that you will use to sign up for the PBS Masterpiece free trial risk-free.
This means that once the 7-day trial period is over, the service provider won't be able to initiate an automatic renewal from a free trial to a premium subscription. This is usually because DoNotPay's virtual credit cards do not have any money.
Here's how it works:
DoNotPay will generate a random number and credit card information that you can use to subscribe to any service.
Once the free trial expires, the service can't charge the card because there isn't any actual money on that card and the subscription will be canceled automatically.
It's good to use a virtual credit card when signing up for a free trial for the following reasons:
While the credit card number is real, it cannot be used to purchase anything and it can only be used once.
The card will be deactivated after it is used for your free trial subscription. This eliminates the need to provide your credit card information.
A virtual card also eliminates the need to remember to cancel free trials.
As a result, the service provider will automatically unsubscribe you from the service. Reach out to DoNotPay to help you enjoy all the features of a PBS Masterpiece free trial risk-free.
How Much Does PBS Masterpiece Cost After the Free Trial?
PBS Masterpiece channel costs $5.99 monthly after the 7-day free on Amazon. However, you may pay less from time to time, especially if it is on offer.
What are the Most Popular Alternatives to PBS Masterpiece?
The TV entertainment world is broad, serving various users with varying interests. What one may fancy on one TV channel may ultimately differ from another. Amazon has over 100 different channels, with most of them being small specialty channels fitting into genres such as Romance, comedy, British, kids, among others.
Below are a few examples of the popular alternatives to PBS Masterpiece as provided on Amazon.
| | | | |
| --- | --- | --- | --- |
| Amazon Channel | Monthly Prices | Amazon Channel | Monthly Prices |
| 1. Shudder | $6 | 8. Curiosity Stream | $3 |
| 2. Paramount Plus | $10 | 9. Lifetime Movie Club | $4 |
| 3. Hallmark Movies Now | $6 | 10. Up Faith & Family | $5 |
| 4. Sundance Now | $7 | 11. PBS Kids | $5 |
| 5. BritBox | $7 | 12. Boomerang | $5 |
| 6. Discovery Plus | $5 | 13. Acorn TV | $6 |
| 7. Noggin | $8 | 14. Starz | $9 |
All the above channels are provided by Amazon, with each showing a variation of entertainment. Your choice will ultimately depend on your entertainment preference and budget. Generally, PBS Masterpiece is reasonably priced and has amazing content, unlike some alternatives.
How Else Can DoNotPay Help?
DoNotPay provides a wide range of services dealing with varying issues and complaints. Rest assured, you can rely on DoNotPay to help you with almost anything. Besides signing you up for a PBS free trial, DoNotPay can also help you with:
With DoNotPay's free virtual credit cards, you can access PBS Masterpiece free trial without getting charged at the end of the 7-day trial. If you want to sign up for PBS Masterpiece without getting charged, sign up with DoNotPay to access our free virtual credit cards.