How to Sign Up For Paramount Network Free Trial Without Risking Your Credit Card Information

Paramount Network is a common American cable television channel owned by the MTV Entertainment Group unit of ViacomCBS Domestic Media Networks. Paramount Network is dedicated to bringing you bold scripted and non-scripted series.
For ultimate entertainment, you have to subscribe to the Paramount Network services. The platform offers free trials to new users, giving you a taste of the premium content. After the depletion of the free trial, you will need to upgrade your subscription to continue enjoying the services.
DoNotPay helps you control your subscriptions and prevent automatic upgrade of  to a paid subscription without your consent. Read on to learn how and why we offer you these services.
Does Paramount Network Offer Free Trials?
Paramount Network offers a seven-day  to all its new users. Paramount premium, commonly referred to as Paramount plus, has two plans that users can subscribe to. These plans are:
| | | |
| --- | --- | --- |
| Essential | | Ad-supported |
| Premium | | Ad-free |
New users can access free trials by subscribing to any of the two plans. Paramount plus periodically extended the free trial period to thirty days within their terms and conditions.
To enjoy the free trial, you need to choose between the essential and premium plan and subscribe.
What Is the Paramount Network Free Trial Policy?
The Paramount Network free trial policy dictates that every new user on the platform is eligible for a free trial. All Paramount Network users have equal opportunities to assess periodic discounts and sales per specific terms and conditions of each offer.
University and college students in the US can enjoy 25% off their monthly ad-supported plan. The discount is applicable for a period of four years only.
These free trial and discount offers are only given once to a single user. Attempts to gain extra free services and discounts through the creation of multiple accounts is a breach of the free trial and discount policy.
How Can I Get a Paramount Plus Free Trial?
To  get the , follow the following steps:
Visit the Paramount Plus website
Now click on the "Try it free" banner available on your screen
Next, click on "Continue" and choose your plan
Choose either the "Essential" plan, which is the ad-supported plan, or the "Premium," which has no ads
After selecting the plan, enter your information to create your account and select a payment method
Once you're done, you can now sit back and enjoy your favorite shows with the Paramount Plus free trial.
Does the Paramount Plus Free Trial Automatically Renew Into a Paid Subscription?
Yes, the Paramount Plus free trial automatically renews into a paid subscription if you fail to cancel your free plan on time. To avoid this auto-renewal, you should cancel your free trial at least 2 days before the trial period is over.
Paramount Network tells you the exact date that you will be billed and will send you a reminder when the free trial is about to expire. Paramount Network will not notify you of the automatic billing. You will, however, receive a billing notice from your payment service provider.
Money deducted from your account after the upgrade is not refundable.
How to Register for a Free Trial With DoNotPay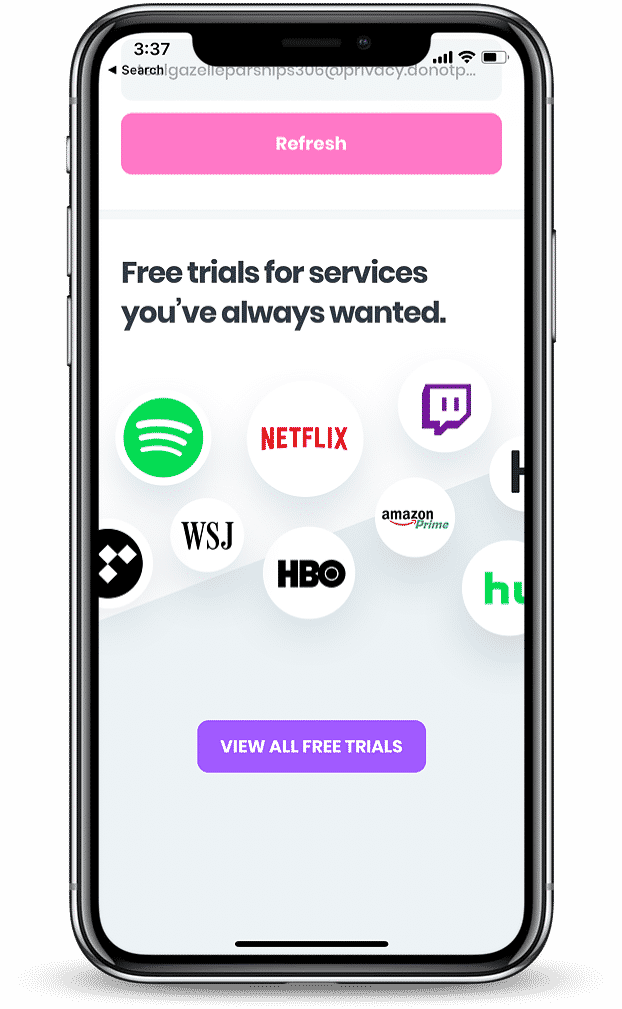 Inputting your banking details during the registration process gives Paramount Network the authority to bill you for their services without notice. You will be billed for the subscription fee, along with any other taxes or transaction fees which may apply to your use of the Paramount+ Service.
If you fail to cancel your free trial on time, your account will automatically upgrade to a paid subscription as per the plan you chose while signing up.
DoNotPay allows you to sign up for Paramount plus without using your credit card. Through our free virtual card services, you can access free trials without worrying about unplanned automatic bills and timely cancellation of subscriptions. 
Here's how it works:
Search Free Trial Card on DoNotPay and enter the company you want a free trial for.
DoNotPay virtual credit card generator will develop a new credit card number not linked to your banking details.
You can use this new card in all your free trial subscriptions.
There is an upside to using our virtual credit card, such as:
You do not need to deposit any money into the credit card
The virtual credit card is not linked to any of your banking details
The gets automatic rejection on subscription pages
The card is accepted on almost all free trial platforms
NOTE: The DoNotPay virtual credit card can only work on platforms that do not require pre-authorization.
What Else Can DoNotPay Help Me With?

DoNotPay is a well of inexhaustible resources and we got your back. Go to our website to enjoy the following services and more within minutes:
Look no further. We work with government entities and private companies to make your life as comfortable as possible.  today with DoNotPay!