How to Get Your OWN Show Free Trial Without Giving Your Credit Card Informaton

Love the Oprah Winfrey Book Club? Then you will love the Oprah Winfrey Network. It streams all the desirable shows and holiday movies you have been wanting to see! Start binge-watching your favorite series now by signing up for a free trial. DoNotPay may assist you in obtaining a risk-free trial period.
Be at ease watching your favorite OWN shows and allow DoNotPay to get you there. With an  or any free trial that does not require immediate payment, you can use a virtual credit card to get access fast. Read on to discover how you can start streaming now.
How to Get a Free OWN Trial
Do you desire to watch family Christmas shows, reality TV, and cooking shows all chosen by Oprah Winfrey? Then a subscription to  is what you need. Not sure? Use the free trial to determine if you want to continue your subscription.
You can catch a free trial with the streaming service Discovery+, which includes OWN and many other channels for your entertainment. OWN does not offer a free trial on its own, and access to their channel is limited to your subscription to your cable network provider. Where there is a will, there is a way to stream it!
How to Sign Up for OWN Streaming
Watching OWN is simple once you create an account. There are two different ways to stream from OWN, and it's all in how you sign up for access. In order to create an account, you will need to provide the following on the OWN app or on the OWN website.
Simply:
Choose a movie or episode and click sign in to watch
Choose your cable TV provider from the list
When prompted, enter your sign-on for your cable tv provider
Start watching!
Alternatively, you can choose to sign up for Discovery+ and use their free trial to access OWN. Other streaming services that include multiple channels also will give access to OWN.
To sign up with Discovery+, you will need:
Visit Discovery+.
Choose to start the free trial.
Choose your subscription plan.
| | |
| --- | --- |
| AD- free | $6.99 monthly |
| Ads | $4.99 monthly |
Then enter your billing information, and that is it! Beware, your credit card will be charged after seven days for the monthly price you chose. DoNotPay can help you eliminate the charges if you forget to cancel the service.
When Does OWN Charge After the Free Trial?
OWN used through a cable service provider is free to use immediately because it is included in your cable services. The Discovery+ service's free trial expires only seven days after signup, so get those shows watched fast.
Even though OWN doesn't offer a free trial on its own, that doesn't mean there isn't a way to watch the entertainment you want without a service provider. DoNotPay can help you activate your free access once you do find a streaming service like Discovery+ that gives you access to OWN.
DoNotPay Helps You Navigate Free Trials Without Paying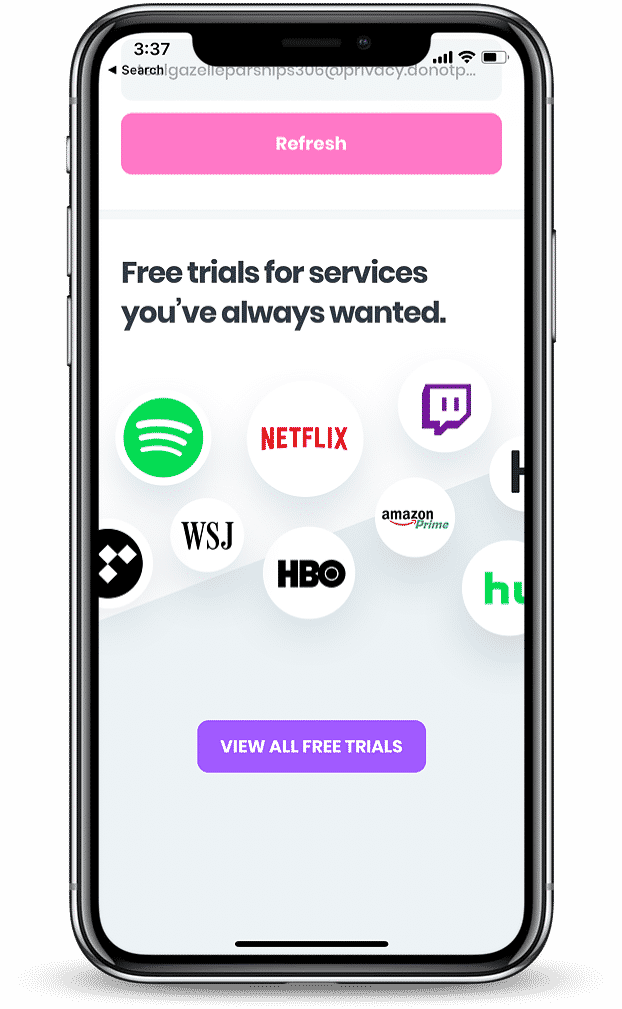 No worries! DoNotPay has access to free virtual credit card numbers to help you try out any service or product that has a free trial, so long as you do not have to pay immediately. Saw a TV show recently and want to read the eBook? Sign up for the free trial and use the virtual credit card.
Signing up for free trials has become risk-free since the virtual credit cards do on connect to or contain any funds. Once the free trial is over, should you desire to keep the service, simply change the funding source on the service so that the appropriate charges are made. DoNotPay can help with overcharging refunds and chargebacks as well.
What Are Other Services Like OWN?
Streaming services are popping up like crazy these days. Signing up used to be a hassle, entering credit card information and recording how long the trial is and when you have to cancel it. DoNotPay makes finding something to watch much easier and stress-free. You can get a free trial risk-free on many of the streaming services like:
Disney+
Peacock
Netflix
HBO Max
Philo
Never let a free trial charge stand in your way from watching that movie or episode that is only on a certain streaming app. Let DoNotPay help you achieve all of your entertainment goals. It even works with gaming-free trials.
See What else DoNotPay Can Do for You

After an evening of sitting back, eating popcorn, and laughing at the shows on your , you could begin wondering what else DoNotPay can help with.
There are so many subjects available to help you save time and money like:
Let DoNotPay assist you with these topics and more, all with a few clicks of a button.