How To Make the Most out of the Orbitz Refund Policy
If you're a fan of everything travel at a discounted price—including flights, cruises, packages, rental cars, or hotel accommodation—chances are you're well-acquainted with Orbitz, the online equivalent of a traditional travel agency.
Founded in 2001, Orbitz is an American travel metasearch engine website that's owned by Orbitz Worldwide, Inc., a subsidiary of the Expedia Group.
Say you've booked an exciting vacation on Orbitz recently, but your travel plans suddenly went awry. Understandably, now you want your hard-earned money back.
Keep on reading, because DoNotPay can help you secure your Orbitz refund sooner and simpler than you expect.
Key Facets About Your
Orbitz Refund
To Consider

Orbitz is a facilitator between the customer (you) and the service providers (hotels, airline companies, rent-a-car agencies, etc). Your refund eligibility will hinge upon the rules and conditions stipulated by the service provider, which you had to agree to when you made the booking.
Orbitz also has no liability and will make no refund in the event of any:
Delay

Cancellation

Overbooking

Strike

Force majeure, such as war or natural disaster

Other causes beyond the company's direct control
If for whatever reason you need to cancel a service you booked through Orbitz, here is what you need to know about the Orbitz:
Flight refund policy

Hotel refund policy

Vacation packages refund policy

Cars refund policy

Cruises refund policy

Activities refund policy
Orbitz Flight Refund Policy
If you cancel the booking within 24 hours of making the reservation, you will likely be eligible for a full refund.
If your flight is non-refundable, you may get a flight credit in lieu of a refund that can be used for a future booking.
All Orbitz Bargain Fares tickets are final and cannot be changed, exchanged, or refunded.
Orbitz Hotel Refund Policy
Most hotels will issue the entire amount of the refund if you cancel before their deadline.
If you cancel a non-refundable hotel booking or miss out on the deadline to do so, the chances of obtaining your money back are slim.
Orbitz Vacation Packages Refund Policy
If you booked your vacation package:
Within the last 24 hours, you may be entitled to a full refund

After 24 hours since you made the reservation, your service provider may charge a cancellation fee
Orbitz Cars Refund Policy
Check your rental car itinerary for details and see if your reservation is refundable. If so, you will need to cancel the booking at least 6 hours before you pick up the vehicle.
You won't be refunded for any unused time if you return the car earlier than it was originally scheduled.
Orbitz Cruises Refund Policy
Most cruise bookings grant full refunds if you cancel your booking no later than 90 days before departure.
Orbitz Activities Refund Policy
To get your money back, make sure to cancel the activity before the cancellation deadline. Certain activities are non-refundable, so check the terms and conditions of your purchased tickets.
Leave It Up to DoNotPay To Secure Your Orbitz Refund

The admin involved in requesting a refund can be tiring and time-consuming. There's no need to develop a headache over getting your Orbitz money back when DoNotPay can step in and handle the request on your behalf.
All you need to do is the following:
Access DoNotPay from your

Select the

File a Chargeback

option

Answer the questions from our chatbot regarding your personal details, your bank, and the vendor in question

Provide a digital signature

Submit your request
Once that's all done, DoNotPay will contact your bank as soon as possible with a chargeback request. To expedite the process, we will also enclose all applicable VISA and Mastercard codes that are relevant to your case, as proposed by the Fair Credit Billing Act.
How To Get an Orbitz Ticket Refund by Yourself

The fastest and most straightforward way to get your Orbitz money is through DoNotPay, but you can also handle the entire process on your own. These are all the options at your disposal:
| | |
| --- | --- |
| Can You Request a Refund Via | Yes/No |
| DoNotPay | Yes |
| Email | No |
| Phone | Yes |
| Letter | No |
| Website | Yes |
| In Person | No |
Request an Orbitz Refund on the Phone
For any questions about your cancellation and/or refund, you can reach out to Orbitz Customer Service at:
1-888-656-4546 (within the United States)

312-416-0018 (outside the United States)
Make sure you have your itinerary number handy.
Is Orbitz customer phone service making you wait for ages? Let DoNotPay hold the line for you until someone finally picks up.
Request an Orbitz Refund Online
You can also log in to Orbitz's website and request the compensation you're entitled to. Here's how you can do this:
Go to

My Trips

Find the service you wish to cancel in your itinerary

Hit

Cancel

Follow the instructions as prompted (they will differ based on the service you're canceling)
How Long Will It Take To Receive an Orbitz Refund?
According to Orbitz's customer service portal, refund processing times are as follows:
Maximum of 48 hours since the cancellation request if you booked a car, hotel, or activity (regardless if booked individually or as part of a package)

Maximum of 12 weeks for flights, depending on the airline (regardless if booked individually or as part of a package)
The time until the funds show up in your bank account will depend on the issuer (the bank or payment provider, such as PayPal). To track your refund, reach out to the issuing bank or payment provider.
The refunded amount will be issued to your original payment method. Once your request has been processed, you can expect an email from Orbitz about your refund amount, as well as how and when you'll receive it.
How To Check the Status of Your Orbitz Refund Request
To see where your Orbitz money is at any given moment, go to Trip Help and choose your itinerary from the drop-down menu. Here you will be able to see the status of your refund claim.
The 1001 Ways DoNotPay Can Assist You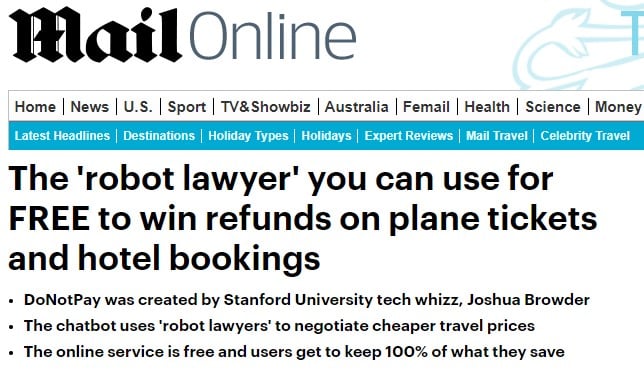 Traveling is fantastic when everything goes well, but can quickly turn into a globetrotter's worst nightmare when you need to make a change, cancel a service, or request reimbursement.
Thankfully, you now have DoNotPay to fight for your rights and handle things on your behalf. Using artificial intelligence, we have automated processes with only one end-goal—to save you precious time, money, and effort. Let us know what you need help with, and our app will tackle the task in the most straightforward way possible.
To give you an idea—we can assist you with navigating Expedia's customer service, understanding Qatar Airways' refund policy, or claim United Airlines compensation.
Our app excels at helping you with tasks like:
Fighting speeding tickets

Overturning traffic tickets
Let's get started! You can access DoNotPay from your .