How to Sign Up for an Openfit Free Trial With a Virtual Credit Card

Getting into shape without leaving your home has never been easier with fitness apps, such as Openfit. As with any home fitness plan, you must try it first to see if it'll work with your lifestyle and workout routine.
For those thinking about signing up for Openfit, you can do just that by starting a 14-day . However, if you're concerned about giving your credit card info for another subscription service, DoNotPay can help.
DoNotPay's virtual credit cards let you sign up for an Openfit free trial without using your own credit card info and unwanted payments after the trial expires. With a free virtual credit card, you'll receive a random number and credit card info to only use to sign up for the free trial. Therefore, once the trial ends, you'll automatically be unsubscribed and be free from recurring charges (unless, of course, you choose to continue with the services using your personal credit card).
What Do You Get with an Openfit Free Trial? 
As a popular fitness app, Openfit offers a  for users to stream workouts and access meal plans to help them get fast results without any upfront costs. The 14-Day Results Plan says you can lose up to nine pounds by just giving Openfit a try by providing:
Results-driven on-demand workout programs
Live classes hosted by personal trainers
Personalized daily meal plans
Expert advice to help you reach your fitness and nutrition goals
Free streaming to your favorite device
How to Get a Free Trial of Openfit
Being on your way to achieving fitness success is only a few clicks away with an Openfit free trial. To get unlimited Openfit access and start seeing noticeable results, follow the steps below.
Head over to their website.
Click the "Join Now for Free" button.
Select the 14-Day Free Trial plan.
Sign up for a new account.
Choose your payment option and enter your credit card info.
Start trying out the service
You will need to input your credit card number to start your 14-day free trial of Openfit, and if you do not choose to deselect auto-renew on the sign-up page, you'll need to remember to cancel within the trial period to avoid getting charged.
If you are worried about giving out your credit card info or forgetting to cancel, DoNotPay can help. DoNotPay's virtual credit card service will allow you to try out Openfit risk-free while avoiding unwanted payments.
What Is the Cost of Signing Up for an Openfit Free Trial? 
Boasting as a cheaper alternative to a gym membership, Openfit is an affordable, fun, at-home way to achieve your fitness and nutrition goals. Openfit offers 3-month, 6-month, and 12-month plans broken down below.
| | |
| --- | --- |
| Plan | Cost |
| 3-Month Plan | $57 |
| 6-Month Plan | $78 |
| 12-Month Plan | $96 |
Will Your Openfit Free Trial Automatically Renew Into a Paid Subscription?
Yes, if you do not cancel your Openfit subscription before the free trial ends, it will automatically start the recurring paid service. 
When signing up for the 14-day free trial, the 3-month plan is automatically selected. After the initial 14 days, you are billed $57 every three months, which breaks down to $19 per month.
Openfit offers a cancel at any time policy. Therefore, you can follow the Openfit cancellation instructions on their website to end your renewal.
How DoNotPay's Virtual Credit Card Helps Avoid Unwanted Charges for Free Trials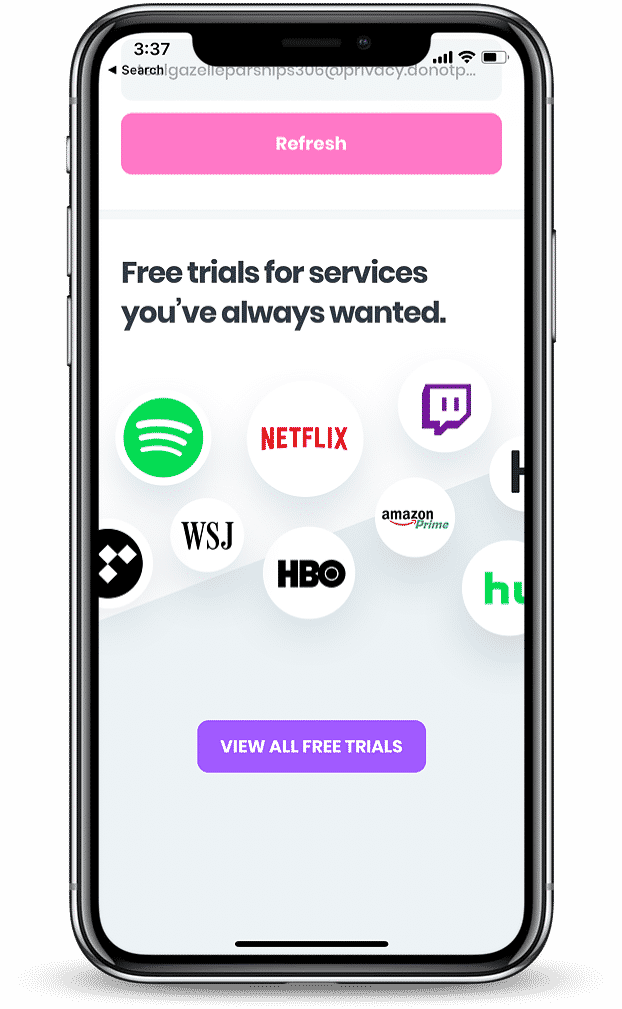 Remembering to cancel your Openfit subscription within the trial period can throw off your fitness training and affect the benefits you could gain. It is not only stressful, but if you miss the deadline, it can impact you financially with an upfront 3-month charge hitting your account. Luckily, DoNotPay has an easy solution for keeping your money and credit card info safe while you enjoy a 2-week trial of Openfit.
With the Virtual Credit Card service, DoNotPay generates a random number and provides you with credit card info for the sole purpose of trying out a service during a free trial period. The card is deactivated after the initial use, resulting in you being automatically unsubscribed when the trial ends and the virtual card is processed again.
Search Free Trial Card on DoNotPay and enter the company you want a free trial for.
We'll automatically generate a virtual credit card that you can use for that merchant. Copy the card details shown on your screen.
Use the card to sign up for your free trial and sit back to relax and enjoy.
You'll reap all the benefits of the free trial without the worry of your card getting charged or dealing with the hassle of fighting for a refund. Contact us to see how simple it is to get free trials without getting charged using virtual credit cards. 
Let DoNotPay Help Make Things Easier

Helping you stay fit and reach your health goals with an  is just one of the many ways DoNotPay can make your life easier. Here are other services: