How to Start Your OnStar Free Trial With a Virtual Credit Card

OnStar is an in-vehicle assistance program built directly into millions of modern vehicle models. If OnStar is built into your vehicle by the manufacturer - with a blue OnStar button above your rearview mirror - then you are also eligible for a one- to a three-month free trial of OnStar Services.  An OnStar free trial includes a variety of helpful onboard services and features ranging from integrated media to crisis response and roadside assistance.
However, not every car is eligible for OnStar, and not every model receives the same level of service. DoNotPay can help you make sure that you enjoy a full  and only move forward on paid services on your terms.
How the OnStar Free Trial Works
The OnStar free trial comes with one month of completely complimentary services. However, OnStar pitches the free trial period as up to 3 months. This is because once you choose and sign up for a paid plan, you can redeem up to 3 months of free time before the automatic payments kick in. The OnStar free trial system is not easy to figure out using their marketing copy, so we'll lay it all out the simple way for you right here.
Who Is Eligible for an OnStar Free Trial?
Whether you can participate in the OnStar free trial depends entirely on how and when your vehicle was built. Only vehicles with OnStar built-in can provide services, and the in-vehicle automation services are only available to those that include those built-in features.
Chevrolets
Buicks
GMC
Cadillac
2015 and Newer
2011 - 2014
2006 - 2010
OnStar 1 Month Free Trial Features
Models 2006 - 2010
Automatic Crash Response
Stolen Vehicle Assistance
Roadside Assistance
Crisis Assist
Emergency-Certified Advisors
Models 2011 - 2014 also get
Mobile App
On-Demand Diagnostics
Vehicle Locate
OnStar Smart Driver
Proactive Alerts
My GM Rewards
Models 2015 and Newer also get
In-Vehicle App Access
3GB Data
OnStar 3 Month Free Trial Model
Where do the other 2 months of free trial go? They are not available for quick-trial activation. However, if you sign up for an OnStar subscription service, you can redeem two additional free months before automated payments begin.
Dealership OnStar Free Trials
You may also encounter specialty free trials for OnStar that come with the purchase of your vehicle. These are comped months or years purchased by the dealership and are not part of OnStar's official free trial program.
How Can I Get an OnStar Free Trial?
Press the Blue Button
Starting your is the easy part. Simply press the blue button while sitting or driving in your car. The OnStar button is a medium blue circular button featured in a row of buttons above your rear-view mirror. Pressing the button initiates a call with an OnStar support specialist who will walk you through setting up your free trial, managing your account, or dealing with a current vehicle situation.
Does the OnStar Free Trial Automatically Renew Into a Paid Subscription?
For the 1 month free trial, no. OnStar will remind you when your free trial is ending and ask if you want to sign up for an official paid plan. However, if you signed up for a 3-month free trial, the plan you selected will begin automatic billing as soon as your comped month or months are complete.
So does an OnStar free trial automatically renew into a paid subscription? Yes, but it depends on the free trial program you're using.
Avoid Automatic Renewal With DoNotPay Virtual Credit Card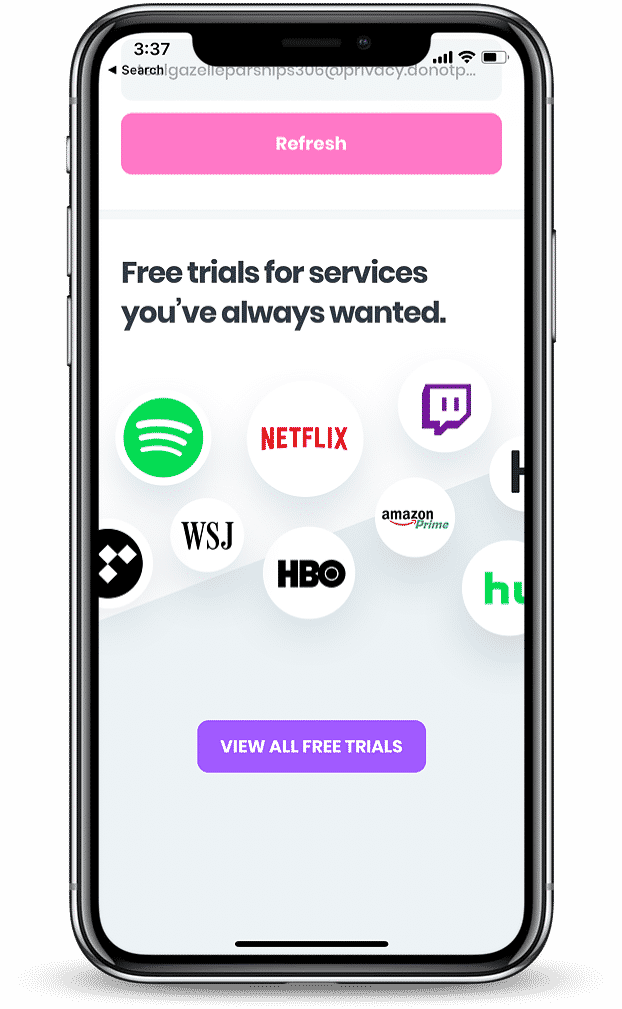 If you find yourself trapped in the second tier of the OnStar free trial, DoNotPay can help. You don't have to default to automatic payments at the end of your free trial. There are two great ways to make sure that your finances are not impacted once you're done claiming the free OnStar services available to you.
The first is a virtual credit card. Like many services, OnStar requires you to sign up and submit a payment method to fully access your free trial. But you don't have to give your real financial information. A virtual credit card provides a number that will be accepted as valid but those automated payments after your trial will simply bounce as your service ends.
The second is the ability to cancel any account. We will help you cancel your OnStar account before they have a chance to charge you for more service than you want to pay for.
How Much Does OnStar Cost After the Trial?
If you choose the 3-month free trial, then your OnStar account will begin automatically charging based on the selected package. How much does OnStar cost when your free trial runs out? There are four options for OnStar services and potential charges.
| | |
| --- | --- |
| OnStar Services | Charges |
| Connected Vehicle | $25 |
| Safety & Security | $30 |
| Essential | $40 |
| Premium | $50 |
Why Use DoNotPay to Get Free Trials and Don't Get Charged 
DoNotPay is fast. Applying for OnStar free trials independently is time-consuming. Therefore, enjoy your experience with DoNotPay.
DoNotPay is easy. It helps you avoid filling out many long forms. Wait for the feedback as DoNotPay ensures that your interests are well taken care of.
DoNotPay is successful. We have been tried, tested, and verified.
What Else Can DoNotPay Do?

DoNotPay is dedicated to making your life easier and more affordable. Here are a few of our many other services that can help you cross items off your to-do list this year and avoid unnecessary costs.
Fighting speeding tickets
Disputing traffic tickets