Sign Up for an OnlyFans Free Trial Without Giving Your Credit Card Information

Free trials allow consumers to make informed decisions before subscribing to a certain service.  allow fans to unlock and enjoy content from a content creator before deciding whether the creator is worth subscribing to. 
To subscribe to OnlyFans free trials, you have to give valid financial information, especially credit card information, as charges automatically apply based on your selected plans. You might not be interested in subscribing to a creator on the platform in the long term. You can opt to cancel the only fans subscription before the free trial period elapses.
Unfortunately, most people forget to cancel their subscriptions. As a result, they are charged unknowingly, as you must provide your credit card information to subscribe to a creator on OnlyFans.
DoNotPay helps you avoid being charged on your credit by giving you a virtual credit card to sign up for the OnlyFans free trials. Virtual credit cards prevent unnecessary payments on credit cards after free trials elapse.
Does OnlyFans Have Free Trials?
While the entire OnlyFans platform does not typically offer free trials, OnlyFans allows its individual creators to give out free trials to their fans. Free trials are a great way for the creators to encourage you to briefly unlock their content, see if you like their content, and then subscribe to the creator after the free trial expires.
OnlyFans content creators allow you to enjoy their content for a minimum of seven days and pay to watch it afterward if you find their content interesting. Most OnlyFans free trials last seven days. Some OnlyFans content creators give a month's free trial.
How to Get Free Trials on OnlyFans
You can use four primary methods to get an  for a creator you want a free trial for:
Check out your favorite OnlyFans creator free trials: Most OnlyFans creators give free trials periodically to invite prospective subscribers to watch their content and subscribe to their content afterward. You can enjoy the 7-day free trial from different OnlyFans content creators.
Messaging the OnlyFans creator to get a free trial: This approach is speculative but may be worth trying. Some content creators might not see your message considering the numerous messages in their inboxes. Some OnlyFans content creators give free trials, especially if most people who request free trials subscribe to their content afterward.
Checking your favorite OnlyFans creators' social media pages: Most OnlyFans creators have social media pages where they post their latest updates. You can check updates on free trials and grab them.
If you had previously subscribed to a creator, but let your subscription end, they may give you a free trial to encourage you to subscribe again afterward: Keep this in mind if you have any expired subscriptions.
How Much Do OnlyFans Subscriptions Cost After Free Trials?
OnlyFans creators are allowed to set their own subscription prices, so each creator has a different price to unlock their content. And some have different subscription tiers to allow people to unlock more content for more money.
Since OnlyFans takes 20% of its creators' subscription revenue, most creators set their starting price at around $9.99, but this can vary greatly. Some OnlyFans creators also give discounted packages for their subscriptions. For example, they may charge $25 for a 3-month subscription. Many creators are willing to offer discounts because if you subscribe to them, they make more money and get more subscribers.
How to Cancel OnlyFans Subscriptions
OnlyFans subscriptions vary based on the content creator.  on the auto-renew subscription model. Therefore, you can only enjoy your subscription if you have time to watch all the content your favorite OnlyFans content creators post. Unfortunately, OnlyFans is a liability if you have limited time to consume content. Follow the simple steps below to cancel your subscription:
Log in to your OnlyFans account
Choose the user profile to unsubscribe from
Turn off the Auto-Renew switch
If you are subscribed to more than one creator, you will have to turn off auto-renew for each individual creator.
Prevent OnlyFans Automatic Subscription Renewal With DoNotPay Virtual Credit Card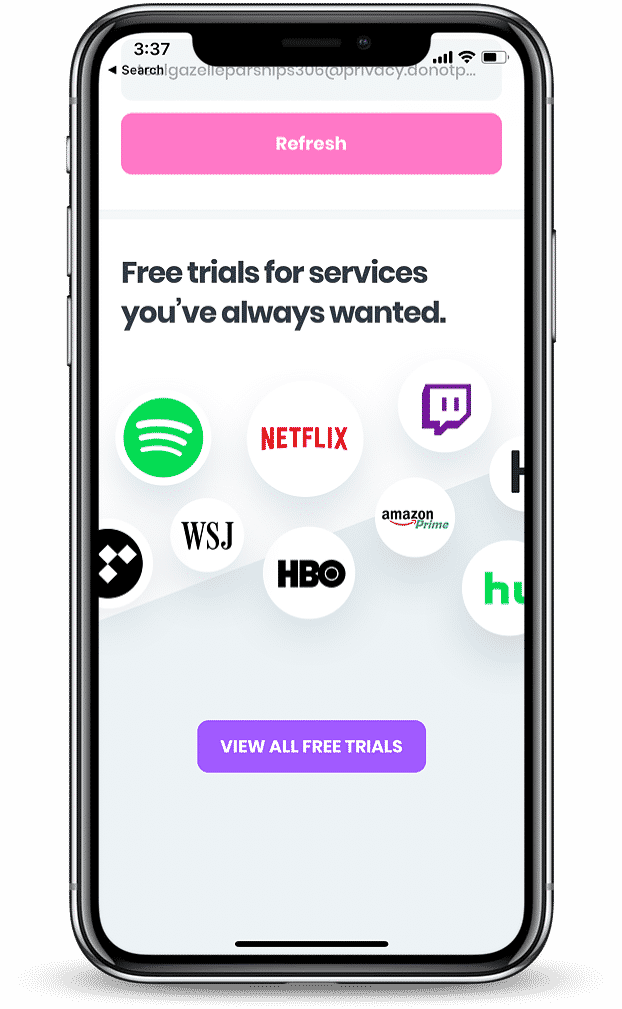 Most people often forget to cancel their subscription after enjoying OnlyFans free trials, especially if they have received free trials from multiple creators. If you have subscribed to several OnlyFans content creators, your monthly costs will start to add up quickly. You are likely to get a huge deduction on your credit card. DoNotPay helps you avoid deductions through a virtual credit card.
DoNotPay's virtual credit cards help you bypass the authentication process, easing the worry of being charged after a free trial elapses. The virtual credit card helps you protect your credit card from being charged even after forgetting to unsubscribe your OnlyFans subscriptions.
Getting a virtual DoNotPay credit card is easy. You follow simple steps on the "Get Free Trials" products. The steps are as follows:
Sign up on DoNotPay.
Access the free trial card on DoNotPay.
Enter the company (OnlyFans) you want a free trial for.
DoNotPay will automatically generate a virtual credit card you can use for OnlyFans.
Copy the details on the credit card and use them to sign up for the free trial.
Relax and enjoy the free content, without having to worry about the subscription automatically renewing.
Tips You Should Know While Using DoNotPay Virtual Credit Card for OnlyFans Free Trials
Here are some FAQs and answers about virtual credit cards:
| | |
| --- | --- |
| Question About Virtual Credit Cards | Answer |
| How many times can I use one virtual credit card number? | The card is only used once. DoNotPay deactivates the virtual credit card soon after it is used. You can always get another virtual credit card for your next free trial. |
| Can I use it to make real purchases to avoid the charges? | You cannot make any purchase with the card, as it is not linked to any bank. |
| How much does it cost to get a virtual credit card? | Getting a virtual credit card is free on DoNotPay. |
| What can I use the virtual credit card for? | The card is exclusively used to bypass authentication to enjoy free trials. It cannot work for other purposes. However, it does also keep your real credit card number and information safe. |
Benefits of Using DoNotPay 
It is fast. You follow simple steps, and DoNotPay will handle your problem on your behalf. You will have your virtual credit card number in no time.
It is transparent. DoNotPay has no hidden charges.
DoNotPay is dependable. You are guaranteed to address your problems with DoNotPay. We can help you get free trials, cancel subscriptions, get refunds, and much more.
What Else Can DoNotPay Do to Save You Money?

DoNotPay offers many social and legal solutions to various problems you might be facing. It only requires you to follow simple prompts on the platform to benefit maximally. Some of the services include:
 on DoNotPay to get your virtual credit to help you sign up for OnlyFans free trials!