Get Octosniff Free Trials Securely With a Virtual Credit Card

You are probably familiar with IP sniffers if you are an avid gamer. These network tools are used to "sniff out" fellow players' information. If you've never used an IP sniffer, you might want to try an .
Free trials are a fantastic way to try out new services, programs, and more. The period during the trial allows you to decide if a product is right for you. Other times, you might only want a product for a free trial duration. For example, you could sign up for a Netflix free trial to binge a series and cancel after you are finished.
A lot of times, people forget to cancel their free trials. In fact, companies count on people forgetting, as this generates revenue. Unfortunately, this can add up to a lot of unwanted charges on your credit card and bank account. Luckily, DoNotPay has the perfect solution to trying free trials without the risk.
What Is OctoSniff?
Understand Octosniff before you check out a . Gamers use sniffers across all consoles, including PCs. Sniffers are software tools that help to keep track of internet traffic. This can help gamers for a variety of reasons.
Why Do Gamers Use IP Sniffers?
Optimize your game connection
Know what packets are on your system
Know where and why the packets on your system are from
Know the IPs of everyone you are playing with
Increase your wins
What Sets OctoSniff Apart From the Competition?
The only IP Sniffer that offers a P4 AI
Keep your gaming experience safe with DDoS protection lookup
Interface customizability
100% malware-free
What Systems Does OctoSniff Support?
There are several IP sniffers on the market, so you want to make sure you have one that supports your console of choice. OctoSniff supports the following:
PS3, PS4, PS5
Xbox 360, Xbox ONE
Windows
Does OctoSniff Have a Free Trial?
If you have never tried an IP sniffer or you would like to try a new one, OctoSniff might be the right choice for you. To make that decision, you might want to try an . A button on the OctoSniff website says "free trial," but unfortunately, it is no longer active. OctoSniff ended its free trials on April 30, 2021. However, they do have a couple of options for purchase.
Plan
Fee
Inclusions
OctoSniff Standard Version
$19.99

Lifetime Updates
One Month PlayStation AI Access
Access to all OctoSniff features

OctoSniff Ultimate Version
$29.99

Lifetime Updates
1500 points to use on the OctoSniff website
Access to all OctoSniff features
One month Playstation, PC, and Xbox Decryption
Does OctoSniff Offer Refunds?
Considering OctoSniff offers no free trial, you might be leery of purchasing the software. In addition, you might not want to give your secure information to the website.
OctoSniff's refund policy isn't clear, making giving your sensitive information even more worrying. They state clearly that they do not offer refunds, but in the same section state, they might issue a refund if the software hasn't been downloaded.  Whether you are purchasing a product or service or trying a free trial, keeping your identity secure is vital.
Avoiding Unwanted Charges With DoNotPay's Virtual Credit Cards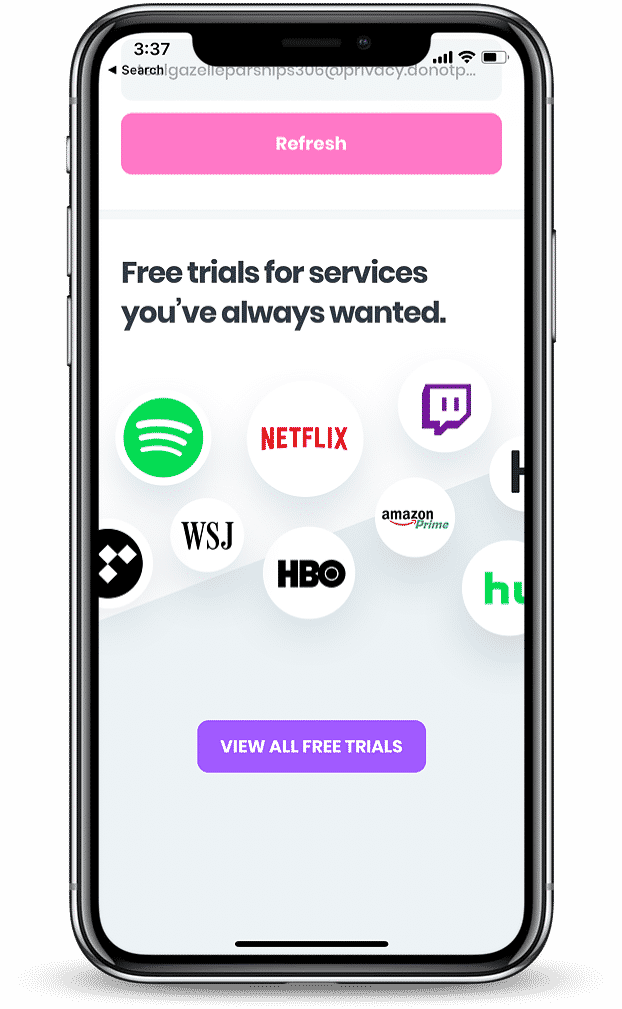 Your personal information is essential, and keeping your identity secure can affect many aspects of your life. Luckily DoNotPay's virtual cards ensure your personal information is kept private. They also help you with unwanted fees on sites that do offer free trials. Best of all, generating a virtual credit card with DoNotPay is simple!
How to Create a Virtual Credit Card Using DoNotPay
If you need a virtual credit card, DoNotPay makes the process quick and simple. You just need to follow a few simple steps
Go to DoNotPay and search "free trial card."
Enter the merchant you want to create a card for.
DoNotPay will generate credit card information for your specified merchant.
Copy the card details and paste them onto the purchasing website.
Why Use a Virtual Credit Card?
A virtual credit card will obviously save you time and money. You won't have to spend time canceling free trials. Doing so can be lengthy, ranging from simple online forms to calling customer service. Furthermore, DoNotPay protects your identity.
Financial Information: Your credit cards, debit cards, and bank accounts will be secure.
Name: DoNotPay masks your name, ensuring your information is kept private.
Email Address: DoNotPay will generate a temporary email address for you. This email address will forward pertinent emails to your private address but block unwanted spam. Also, the merchant will not have access to your personal email.
What Else Can DoNotPay Help You Do?

DoNotPay's services don't end at virtual credit card generation. We can help with just about anything. DoNotPay is here to save you time and aggravation for a lot of life's tasks. These include but aren't limited to: