Sign Up for Nuuly Free Trial Without Giving Your Credit Card Info

 is a women subscription clothing rental service. With $88 a month, you can get any six items of your preference from more than 150 brands and other sections from our free people, urban outfitters family, and Anthropologie. Nuuly curates a thousand styles designed for you ranging from party dresses to premium denim and work looks. They have a unique design purposely made to make you look fabulous every day. The company was created in 2019 and geared towards sustainable development, including cleaning and repairing garments.
Nuuly gives a four-week free trial; however, you have to provide your credit card information to be eligible for the free trial. Since you have shared your credit card information, you risk automatic renewal of your subscription when the free trial ends, thus inconveniencing your budget. You don't have to be worried anymore since DoNotPay has got you covered through the Virtual Credit card that prevents auto subscription renewal.
Learn about Nuuly Free Trial to New Subscribers
 for new members. You are provided to choose six pieces for only $88 for the first month. You are restricted to six items for the first free trial, unlike other packages where you rent clothes depending on your subscription.
How Nuuly Free Trial Works
Once you have created an account with Nuuly, you are eligible for a free trial. You can browse their website and pick six items for only $88 stipulated for the first month's free trial. If you want to select more than six pieces, you are charged an additional fee.
After you have selected your items, you confirm your shipment, and your order will be on its way. Before you click the OK button, you must be sure that you have selected the correct items; otherwise, you can't reverse a transaction once you have hit the confirm button.
Nuuly provides updates when your order is shipping by either text or email. Your order comes in a Nuuly bag that you are supposed to keep as you will use it to return the clothes after your free trial ends.
Learn How to Return Nuuly Pieces
When 30 days are over, it is time to say goodbye to the six lovely pieces you have selected. Nuuly recommends you start returning process two days before your next billing period is due. Please understand that your Nuuly account remains locked until you have returned your pieces.
Your next order, if you plan to have one, can only be processed after you have returned the clothes. You can unlock your account before the next billing period is due by returning the items you received and paying the monthly fee early.
Why Does Nuuly Offer a Free Trial to New Customers?
Nuuly offers a free trial to its members for the following reasons:
To give a hint of the clothes rent services they provide to their customers
Free trials are one of the most straightforward marketing strategies, especially for online platforms
It helps reduce friction with customers since they already know what they expect from the Nuuly platform
How to Get Nuuly Free Trials
If you want to get your free Nuuly trial, follow these steps:
Visit the official website
Go to the right-hand side corner and click "Join."
Proceed to create an account
Enter your contact information, billing, and shipping details on the online form.
Build your profile
Select any six items to your first order
Confirm your order
You are now eligible for the first-month free trial
What Details Do You Need to Create a Nuuly Free Trial Account?
Full names
Billing information
Shipping address
Email address
Password
Does Nuuly Free Trial Automatically Renew Once the Free Trial Ends?
You cannot evade an automatic card subscription if you forgot to cancel your subscription before the due dates. Remember you provided your credit card information to get the free trial, and thus Nuuly has access to your bank information. The only way you can avoid auto-renewal is by canceling your subscription before the due dates.
The following steps explain how you can cancel your subscription on your own:
Head to the official website
Go to the right-side corner of your account
Click "setting"
Proceed to click "cancel subscription" from the list of options provided.
Click "confirm"
You will receive an email address confirming your exit
After canceling, you will stay with the six pieces of clothes you selected until your free trial period is over.
However, your mind is occupied with so many responsibilities, and it won't be a surprise if you forget to cancel your subscription. You will have to pay for a service you had planned to opt-out of. Why mess up your budget when DoNotPay Virtual Credit Card has a perfect solution for you.
Evade Nuuly Automatic Renewal with DoNotPay Virtual Credit Card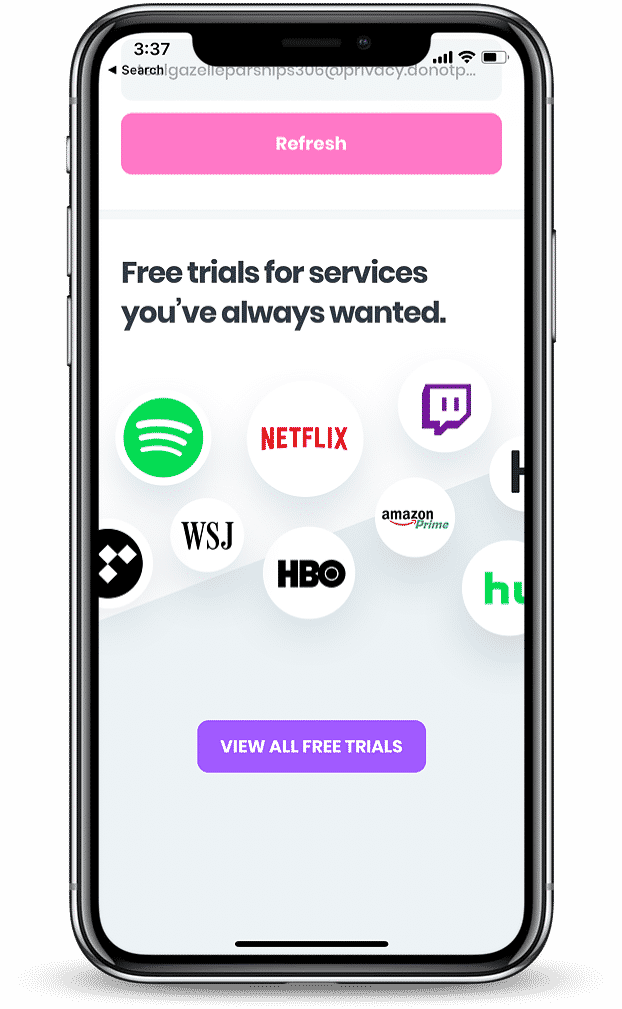 DoNotPay Virtual Credit Card brings to an end all your fears of automatic free trial subscription since it cuts the avenue where Nuuly can access your credit card information. See how it works:
It gives you a random credit card number to subscribe to Nuuly's free trial service. DoNotPay Virtual Credit Card contains fake information though it resembles your original credit card. Since it is fake, it does not provide actual bank details, and thus Nuuly won't be able to auto-renew your subscription.
What are the Most Popular Alternatives to Nuuly?
If you cancel your subscription to Nuuly and want to try other services you can check some of them here;
Sites
Pricing
Benefits
Express Style
$59.95/month

Three items per box from your wishlist;
Free exchanges;
Free Shipping;
Free cleaning.

Vince Unfold
$160/month

Four items per box with unlimited exchanges;
Each of their pieces retails at $100-$600 so it is worth it.

Fashion Pass
$79-$109/month

2-4 pieces of clothing per month;
1-3 pieces of accessories per month;
Trendy selection and variety of brands.
Can You Solve Other Issues with DoNotPay Virtual Credit Card?

There are other solutions that DoNotPay can offer to you:
today and access our virtual credit card to save money at the click of a button!