How to Start Night Exchange Free Trial The Risk-Free Way

Night Exchange is a popular chat line where individuals can discuss their personal and steamy needs while having a fantasy chat with someone they're interested in. Finding a gorgeous and sexy individual from hundreds of local singles on a  has never been easier.
You will always feel comfortable using this secure and private chat service, as the company guarantees total privacy and secrecy to each member. The Night Exchange is open 24 hours a day, seven days a week, so that singles may fulfill their desires anytime they choose. You may go as nasty as you want on Night Exchange while remaining entirely secure and discreet.
Does Night Exchange Offer a Free Trial?
Yes. For first-time male callers, a  30-minute trial is provided. Women can utilize the Night Exchange for free at any time. To connect for your steamy discussions immediately, choose the package from their Buy Minutes website and the payment method.
How Can You Get a Night Exchange Free Trial?
With Night Exchange free chat trial , first-time callers may experience free adult phone chat. Please fill out the form on the left side of the page as soon as you open it. Your email address, first name, gender, and phone number are required. After that, you'll need to link your credit card information, and you'll be all set.
To get started with Night Exchange, go to the website and look for your local phone number, which you will need to dial. You will then be given a mailbox number and instructed to write anything in it.
What you enter in your mailbox number is crucial since it will decide how you connect with the website's hundreds of hot singles. Once you've received your mailbox number, you'll need to record your greetings in your sultry voice to gain access to the live chat room.
Call your local system right now to get started with your free conversation minutes. Your minutes will be added to whichever phone you used to make the call, so be sure it's the one you want to use.
Does Night Exchange Free Trial Automatically Renew into a Paid Subscription?
Before the 30 minute , you will choose a package and enter your information through the Secure Checkout Page. So, when the free trial ends, you'll need to buy a time package. The auto-renew function ensures that members are never cut off in the middle of a sensual discussion.
However, you can unsubscribe from Night Exchange at any time. You can unsubscribe at any moment once you've found what you're looking for and quit this online dating platform.
Avoid Automatic Renewal with DoNotPay Virtual Credit Card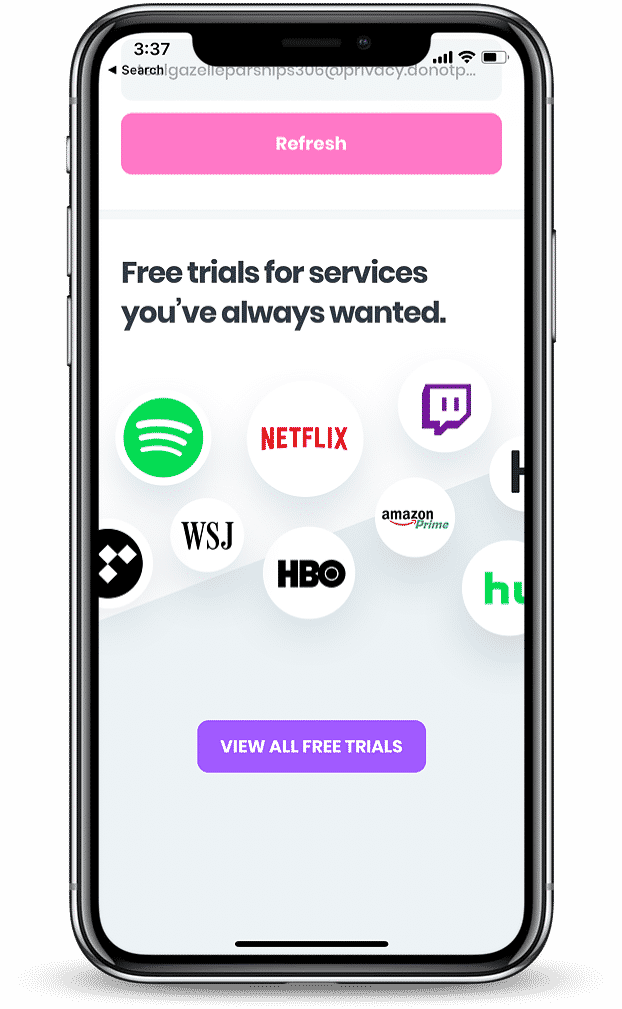 How many times have you joined up for a , put your credit card information in, and then promptly forgotten about it? You've paid for a service that you never use and have completely forgotten about. As you check through your transactions, you see a subscription for that new streaming service, the fitness program you've never used, or the VPN service you've forgotten about.
It is a well-known issue throughout the world. To prevent losing money, use a virtual credit card instead of your actual credit card when signing up for a free trial.
DoNotPay's Free Trial Card is an ingenious and time-saving technique for saving money and time.
What Is DoNotPay's Virtual Free Trial Card and How Does It Work?
A virtual credit card (VCC) uses a random credit card generator to establish a temporary account number, making it difficult for a fraudster to use. The virtual card can't be used for illegal activities because it's usually limited to one transaction, one merchant, or one spending amount.
You can utilize any name or address, the VCC number, and the expiry date issued by the DoNotPay app while using the DoNotPay Free Trial Card.
You effectively obtain free credit card numbers and, as a chip credit card, may use the virtual credit card to sign up for a free trial of any service.
You can sign up for these services using a temporary email address provided by the DoNotPay app. The application will generate a random email account and send messages to them. This erases any tracking information about your location and any information that other organizations may use to promote their products to you.
It demonstrates that you will be secure when you sign up for services. Your email address will also be protected, keeping you off email marketing lists that firms use to advertise their services and convert leads to paying customers.
How Much Does Night Exchange Subscription Cost After the Trial?
The time and cost may differ by a few minutes or dollars, depending on where you reside. Here are the various packages:
| | |
| --- | --- |
| Subscription plan | Monthly cost |
| | $31.99 |
| | $109.99 |
| | $1693.99 |
What Will Night Exchange Subscription Charges Look Like in My Statement?
Because your credit card statement will show the charges, here is an example:
PurchaseFromnightexchange.com

NIGHTEXCHANGE.COM *ICFTECHN 900-893-8671 CA

PaymentTo nightexchange.com

NIGHT EXCHANGE.COM 900-893-8671 CA

NIGHTEXCHANGE. COM *ICFTECHN 900-893-8671 CA
PaymentTo nightexchange.com

NIGHT EXCHANGE. COM 900-893-8671 CA

NIGHT EXCHANGE. COM *LATOURAINE 900-893-8671 CA
PurchaseFromnightexchange.com

NIGHTEXCHANGE. COM *ICFTECHN 900-893-8671 CA

PaymentTo nightexchange.com

NIGHT EXCHANGE. COM 900-893-8671 CA

NIGHT EXCHANGE. COM *LATOURAINE 900-893-8671 CA
Authorization to nightexchange.com
NIGHT EXCHANGE. COM *MGBILLIN 900-893-8671 CA
NIGHT EXCHANGE. COM *LATOURAINE
What Are the Most Popular Alternatives to Night Exchange?
Here are the most dependable, well-known, and frequently-dialed chat lines, all of which offer free trials:
Service provider
Free Trial
Benefits
LiveLinks
One-hour Free Trial

Women chat for free
You can add people you like to your Hot List

Redhot Dateline
30-minute Free Trial

Ideal for steamy phone chat

Vibeline
30-minute Free Trial

The 30-minutes can be spread out over time

Fonochat
30-minute Free Trial

An exciting place for Latino people
You can create a Hot List of potential partners
What Else Can DoNotPay Do?
You can open DoNotPay can help you with almost anything. Including:
Protecting yourself from stalking and harassment
Getting refunds and chargebacks from companies
Dealing with issues with credit cards
Getting revenge on robocalls
Signing up for free trials risk-free
Scheduling a DMV appointment fast
Getting rid of spam text messages
Getting compensation for delayed or canceled flights
Getting rid of spam mail forever
Disputing traffic tickets
Fighting speeding ticket
Contesting parking ticket
Canceling subscriptions or memberships
Don't give your credit card information to a free trial app. When using DoNotPay's virtual credit cards, you can reap the benefits of actual free trials while protecting yourself from unwanted charges. Contact  today.