Start Your Night Connect Free Trial Without a Virtual Credit Card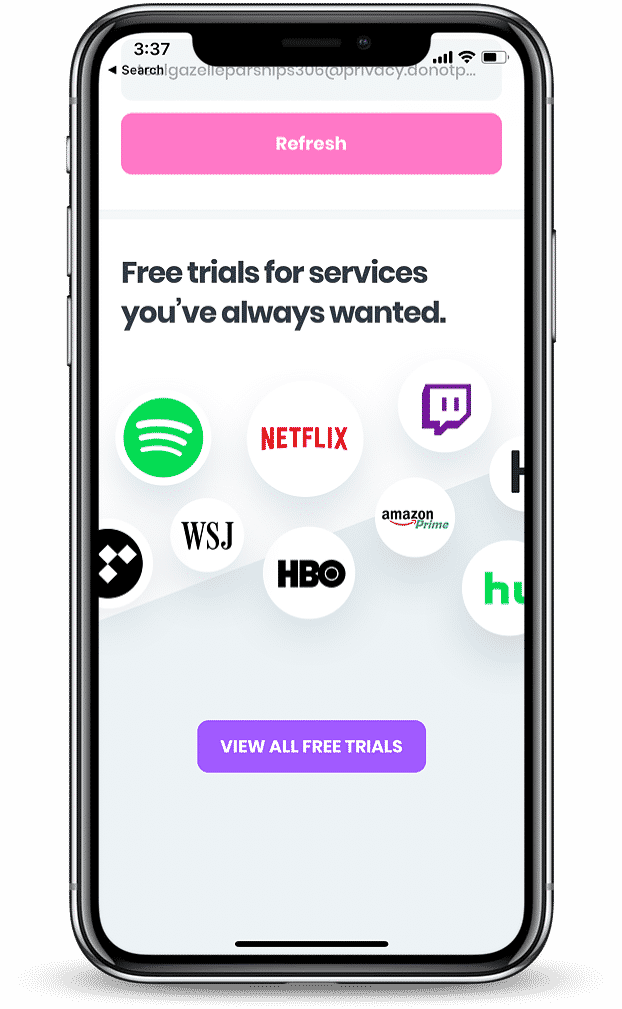 Night Connect is a phone dating and flirting line service that might be a little controversial for some but does before paying in. Getting that free trial involves a little time setting it up, not including being charged for use of their phone lines.
How can you enjoy the free trial and then not be charged on your credit card? Our DoNotPay app helps you avoid this with our virtual credit card system.
Details About Night Connect's Free Trial

To , visit their website and their Free Trial page. There, you can:
Dial a number to get your free trial set up. The number is 305-702-1500.
Night Connect helps you set up a voice messaging system for free during your trial to connect with other people.
While Night Connect doesn't explicitly state how long their free trial is, outside websites say it's only 30 minutes before you're charged for phone time.
Once the 30-minute mark is up, you're charged $10 for the first ten minutes. The charges go up significantly if you talk long, including $60 if you talk for 100 minutes.
Here's an overview of how to get started.
Enter your area code on the Coverage page and call.
Set up your free voice mailbox.
Introduce yourself with a free recorded greeting.
Get ready to connect.
And that's it!
Does the Night Connect Free Trial Automatically Renew Into a Paid Subscription?
Yes, they'll take your credit card number after your free trial is over. Since this is just a 30-minute free trial (based on the length of your first phone call), you'll likely be charged on the first day you use this service.
Fortunately, you have a way to avoid this using one of our most prominent features here at DoNotPay. It can allow you to get at least 30 minutes of free time using Night Connect without charge if you don't want to use their service anymore than that.
Avoid Automatic Renewals at Night Connect With the DoNotPay Virtual Credit Card
One good workaround to Night Connect's automatic subscription after 30 minutes is to use our free Virtual Credit Card on our DoNotPay app. You can make this work using our three easy steps:
DNP generates a random number and credit card info that you can use to subscribe to any service, like Night Connect.
Once the free trial there expires after 30 minutes of phone time, the service can't charge you because no money exists on the card. You get unsubscribed automatically.
Read up for more information.
Virtual credit cards are the best way to avoid being charged when your life becomes overly busy. Automatic charges on credit cards often become overlooked by many and keep occurring without them even knowing. You may be charged significantly at Night Connect and not even realize you're wasting money if you don't really want the service.
What Will Night Connect's Charges Look Like on My Statement?
Night Connect usually makes it clear who they are on your credit card statement. Just keep in mind you can't access their full subscription without giving them a credit card number first. The reason is that everyone has to prove they're over 18 to use their phone lines.
No other alternative payment methods are available, making our virtual credit cards all the more useful to avoid a charge on the same day if you go over 30 minutes.
What Are the Most Popular Alternatives to Night Connect?
Phone dating lines are a huge industry, making Night Connect only one of many alternative choices. A small list of other phone dating services includes:
| | |
| --- | --- |
| Live Links | This may be the most popular phone dating service out there. They give you a free trial for up to 60 minutes. |
| Free Chat Girls | As another popular phone chat line, they offer a free trial for up to 30 minutes of chatting, the same as Night Connect. |
| Local Hot Chat | With no credit card necessary here, some contend this is the best chat line of all. The free trial is only 5 minutes of talk time, though. |
What Else Can DoNotPay Do for You?

Did you know we work with many other companies beyond helping you with free trials at chat lines like Night Connect? We can help you solve other issues often occurring when using services from different companies.
For example, we help with various problems you might encounter with credit cards. Plus, we can help you cancel numerous subscriptions and memberships with companies other than phone chat lines.
Some other things we can help with:
In addition to these, we're also a leading service using AI technology. We're here to help make services more accessible without the need to hire and work with a real lawyer. The money this saves you is exponential.
Visit us to learn more about our app's features.