How to Start Newspapers.com Free Trial With a Virtual Credit Card
Newspapers.com, established in 2012, is the largest online newspaper archive. Newspapers offer an unmatched view of the past and can help you understand and connect better with events that happened in the past, thus getting a true picture of an earlier time. Millions of users use Newspapers.com each day for information about their history and heritage. The site is also used for criminal investigations, journalism, and entertainment. Users can also search for additional information such as marriage and birth announcements, obituaries, lifestyle, sports and entertainment news, and so much more. Read along to find out more about  and how DoNotPay can help you avoid charges after your trial period.
Does Newspaper.com Offer a Free Trial?
Yes. Newspaper.com offers a seven-day free trial. You can get this trial by signing up here. However, you will be required to key in your credit card information. To avoid being charged, you should cancel your subscription before the end of the trial period. Head to your Accounts Details page to cancel your subscription.
How Can I Get a Newspaper.com Free Trial?
Follow these steps to start your  week
Log in to the website
Enter your email address and your password
You will be redirected to another page, where you will populate the different fields by entering your name, credit card information, country, and phone number
You will then tick the checkbox to confirm you have read and agree to the terms and conditions of the site.
Click on "Start Free Trial"
Does the Newspaper.com Free Trial Automatically Renew Into a Paid Subscription?
Yes. If you find the service enjoyable and wish to access the premium images, you will not need to take any action. Your free trial will automatically renew into a paid subscription. You will automatically get 6-months of full access to Newspapers.com with Publisher Extra. Therefore, it is important to remember to cancel the trial period before it ends if you have no plans to subscribe to the paid service. Preferably, do this 24 hours before the lapse of your trial period.
How Much Does Newspaper.com Cost After the Trial?
After the end of your free trial, the system will then bill your credit card for $74.90, or $19.90 per month.
How to Cancel Your Newspapers.com Free Trial by Yourself
Access Newspapers.com website through an internet-enabled device
Use your email and password to log in
Scroll down to the Help section at the bottom of the page
Tap the "Cancel" link at the bottom of the page to cancel your account
Is It Hard to Cancel the Trial?
Some people have complained over the past that they still ended up paying for the full trial despite having canceled their subscription. If this happens to you, do not worry.  Ancestry.com is the parent company of Newspapers.com and has a Better Business Bureau membership. You can raise your complaint on the BBB site, and your issue will be addressed.  What is more, people have received refunds after forgetting to cancel their subscriptions a few days past the deadline. However, you should raise this issue with the Newspapers.com support team first.
The Most Popular Alternatives to Newspaper.com
The following are the top alternatives to Newspaper.com if you find Newspaper.com too expensive or not satisfactory for you. You can explore them before deciding to subscribe to Newspaper.com.
| | |
| --- | --- |
| Newspaperarchive.com | |
| Findagrave.com | helps you access millions of cemetery records |
| Archive.org | contains free and borrowable books, in addition to billions of archived web pages |
| Fold3.com | contains valuable collections of original copies of military records. |
| Ancestry.com | gives you a better understanding of your genealogy. It has family trees that can take you back generations. |
Avoid Automatic Newspaper.com Renewal With DoNotPay Virtual Credit Card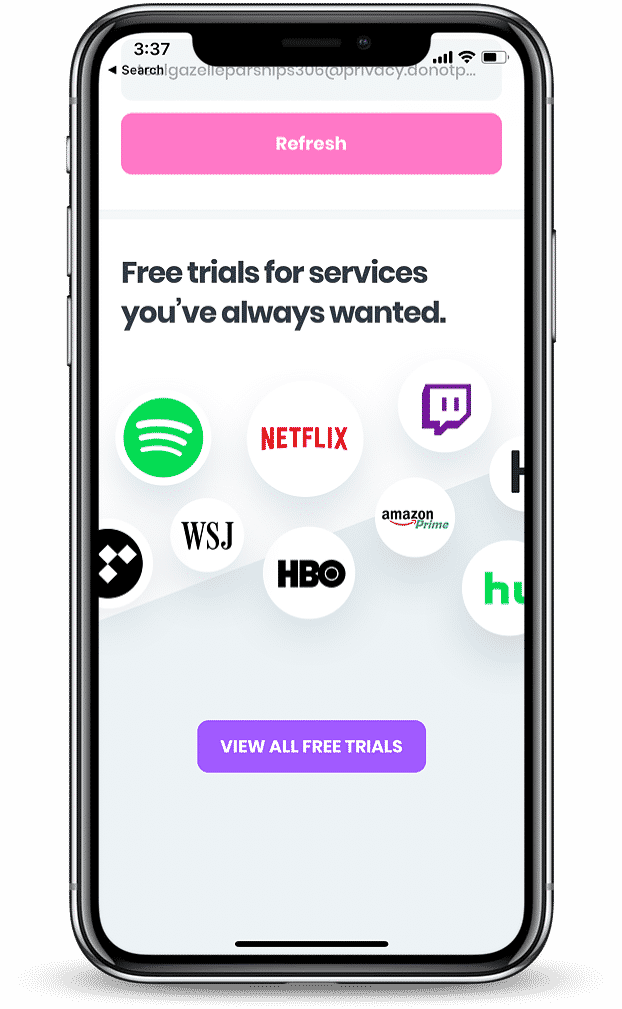 Subscription services are all over the internet today, and so are free trials. And thank goodness for trial periods. They allow users to try out a service, to see if it's worth subscribing to. But if you are not cautious, you might end up paying for services you had no intention of using after the end of your trial period.  The good news, however, is that you can take advantage of DoNotPay's Virtual Credit Card product to avoid such charges.
To Use DoNotPay's Virtual Credit Card Feature by Following 3 Easy Steps:
Search for a free trial card on DoNotPay and enter the company you want a free trial for.
We'll automatically generate a virtual credit card that you can use for that merchant. Copy the card details shown on your screen.
Use the card to sign up for your free trial and sit back to relax and enjoy!
 Why DoNotPay Is Awesome
Using its free virtual credit card, DNP generates a random number and credit card info that you can use to subscribe to any service.
Once the free trial expires, the service can't charge you because there's no money on that card, so you get unsubscribed automatically.
What Else Can DoNotPay Do?
 DoNotPay can help you with almost anything. Including: 
Conclusion
DoNotPay has many services to offer you. with us today to solve your social and legal issues.