How to Sign Up for Neutratone Free Trial Without Giving Your Credit Card Information

We all love free trials on online services and products to test their quality and value. A  lets you try out skin products and how effective they are in solving skin-related issues. But that's also a successful practical means for the brand to get new consumers to sign up.
However, there's a catch – most online merchants will always ask you to enter your credit card information. While they promise not to charge you, they often set the subscription on auto-renewal. When your trial period expires, they automatically start charging you.
With DoNotPay, you no longer have to give your credit card details. We help consumers bypass the verification process and the financial risks by creating virtual credit cards with random numbers and information that they can use to subscribe to Neutratone's free trial without getting charged.
Does Neutratone Offer a Free Trial?
No, Neutratone doesn't offer a free trial on its website. However, it occasionally offers a risk-free trial program. That allows new consumers to try the brand's skincare product before buying it. The product isn't free in a real sense since consumers get charged the product's total retail price after the trial.
The free trial promotions run for a limited time. Typically, the program is backed by a 30-day money-back guarantee. That means: If a Neutratone product doesn't satisfy your need within the 30-day window, you'll receive a refund.
Apart from incurring product costs after trial, consumers will also be required to offer their credit card information for shipping and processing fees at the timeline Neutratone deems fit to run the free trial. Still, you can easily cancel the trial promotion by contacting the merchant at (866) 936-9036.
How Can I Get a Neutratone Free Trial?
Neutratone sells its anti-aging skincare products at $98.00 for one 1.7 ounces can, excluding a $3.95 shipping fee. That's pretty expensive compared to other brands, and consumers are often reluctant to spend that much on a single product without knowing for sure how the product works on their skin.
Nonetheless, Neutratone partners with affiliate marketing websites where you can get free trials for the products. Besides , these third-party websites offer a 14-day trial. Again, you'll be required to provide your credit card information so that they charge you the full product cost after the free trial.
Consumers are implored to read the small print explicitly to avoid unwanted costs, as the free trial is programmed on auto-renew. You'll be enrolled in an auto-shop plan, which implies you'll be charged after the free trial. Canceling the subscription is the customer's responsibility.
Does the Neutratone Free Trial Automatically Renew Into a Paid Subscription?
As mentioned above, Neutratone's website doesn't offer a free trial on its skincare products, but affiliate programs do. They typically provide a 14-day free trial. Once the trial expires, you'll be charged the product cost using the credit card details you provide. Additionally, the free subscription auto-renews every month until you cancel the subscription.
Avoid Automatic Renewal With DoNotPay Virtual Credit Card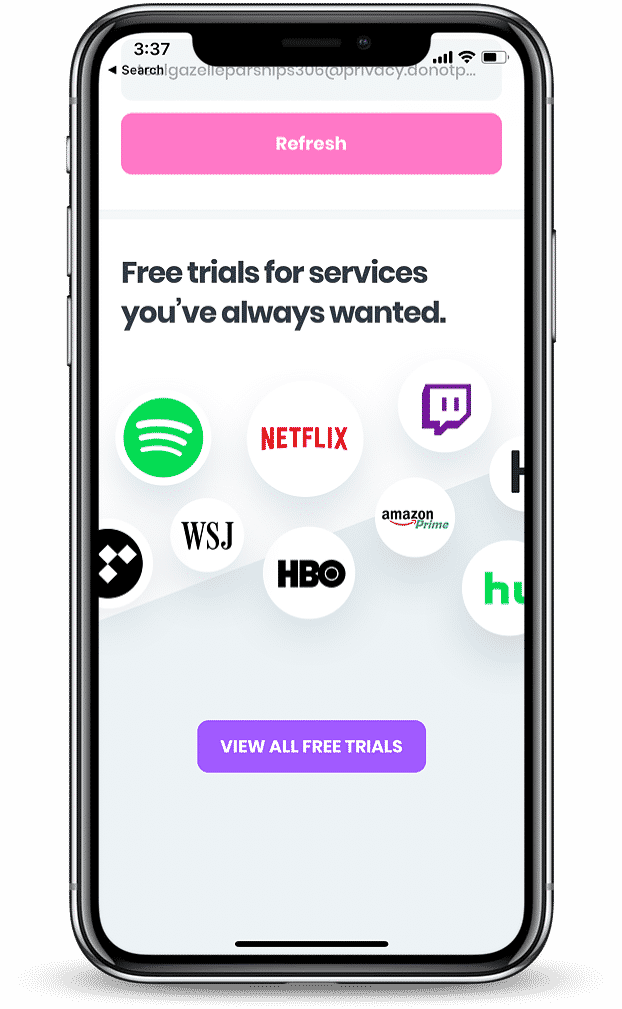 According to statistics, about 48% of online consumers say they forget to cancel their free-trial subscription before being charged by a service's auto-renewal system. But you can avoid that by leveraging DoNotPay's virtual credit cards.
A free virtual credit card (VCC) comes with a random number and details that you can use to enjoy free trials from any merchant without any financial risks after your free trial expires. They are an excellent means of bypassing verifications and giving out your credit card information.
Since they are random numbers, the card won't process any transactions even if a company's auto-renewal is activated. However, a virtual card only is used once, after which it expires. And because there is no money credited in the card account, you can't use it to make online purchases, but you can enjoy free trials without worrying about canceling the plan.
Virtual credit cards help you do these things:
Don't give out your real financial information
Don't pay for rollover subscriptions after free trials
Explore dozens of free trials without hassle or financial risk
Here's how virtual credit cards work:
Virtual credit cards are used to provide a valid card number to a service you have no intention of paying after the free trial is over.
DoNotPay gives you a temporary, random credit card number.
You copy that number into your free trial sign-up.
The card exists until you use it, then is deactivated without ever accepting a charge.
Here's how you can use DoNotPay to avoid being charged after a free trial:
Visit DoNotPay and search for the "Free Trial Card" product. Enter the name of the company/service you wish to get a free trial from.
We will generate a virtual card with a random number that you can use for the service or company. The credit card details will be displayed on your screen; copy them.
Use the credit card details to sign up for your free trial and enjoy the experience without worrying about auto-renewal charges.
What Are the Most Popular Alternatives to Neutratone?
If Neutratone anti-aging product didn't meet your skincare needs during a free trial, it is understandable to look for other alternatives. Below are some effective anti-wrinkle products available on consumer markets today:
To learn more about the pricing plans, please click on the link of the brand you prefer to look into.
What Else Can DoNotPay Do?

DoNotPay can help you with almost anything. We are your trusted robotic lawyer, ready to advocate for you in a wide range of legal, social, and financial issues. Below is a list of solutions you can get with DoNotPay: