How to Get NetZero WIFI Free Trial Without Using a Credit Card

Almost everything we do nowadays revolves around the internet –from ordering meals to entertainment, work, booking doctor's assignments, and grocery shopping. It's almost impossible to survive with a stable internet connection. That's why many service providers, including NetZero, try and satisfy the insatiable need for internet consumption.
Nowadays, almost every company provides customers with free trials to help familiarize them with products before deciding whether to keep using the products or services. All one has to do is sign up and create an account with the company and, sometimes, provide their credit card information. While free trials are good, some companies trick you with free trials and end up automatically charging you once the trial period ends. It can be very inconvenient to pay for services or products you no longer need.
But there is no need to worry. DoNotPay is here with the ultimate solution. This article explores how you can enjoy a  without being charged after the trial period with DoNotPay's free virtual credit cards.
The article will also look at:
What's NetZero?
How to get started with NetZero and get a free trial on your own?
If NetZero automatically charges you once the trial period is over, and
Other things, including handling credit card issues and canceling subscriptions or memberships, you can conveniently do with DoNotPay.
NetZero Overview
Founded in 1998 and located in Woodland, Los Angeles, NetZero is a broadband internet, mobile broadband, DSL, and dial-up internet service provider, which also provides web-based email through the NetZero Message Center with protection against spam and viruses, allowing users to create as many email addresses as they want.
NetZero prides itself in offering consumers in over 6,500 cities across the United States and Canada a choice of quality, low-cost internet access services to fit everyone's personal internet needs.
How To Get Started With NetZero
The standard procedure to get started with NetZero requires you to do a series of things:
Sign up by going to netzero.com and selecting the Free ISP option. Follow all the prompts until you successfully create a new NetZero Account. You'll see the Confirmation and Download screen.
Click Download Now to download the NetZero software.
Run the .exe setup from the File Download window.
Install NetZero by clicking Run in the Open File.
Wait as NetZero is installed on your computer.
Once the installation is complete, you'll see a Welcome  Follow the prompt on the screen to complete the setup.
For instructions on signing up for NetZero Platinum or NetZero HiSpeed, click here.
How To Get NetZero Free Trial On Your Own
NetZero doesn't really  but regulated free monthly internet. The NetZero Free Internet Dial-Up gives you ad-supported free internet access, allowing 10 hours of surfing the web for free every month. With this free internet, you can search for job postings, enjoy social media, read or write blogs, and so much more.
While NetZero doesn't automatically charge you, it's advisable to get their lucrative plans, which include the following:
| | |
| --- | --- |
| Premium Internet Service | High-quality internet connections with no banner ads for Windows or Mac for $11.95/month. |
| NetZero HiSpeed | A dial-up internet service with up to five times faster web surfing without any special hardware at $14.95/month, which also incorporates the NetZero Platinum Internet Service. |
Once you subscribe to any of these plans, NetZero offers the first month for free Norton 360's all-in-one protection to protect you from cybercriminals. You can also get a VPN to secure your connections and avoid identity theft.
Here's How To Get Free Trials Using DoNotPay and Not Get Charged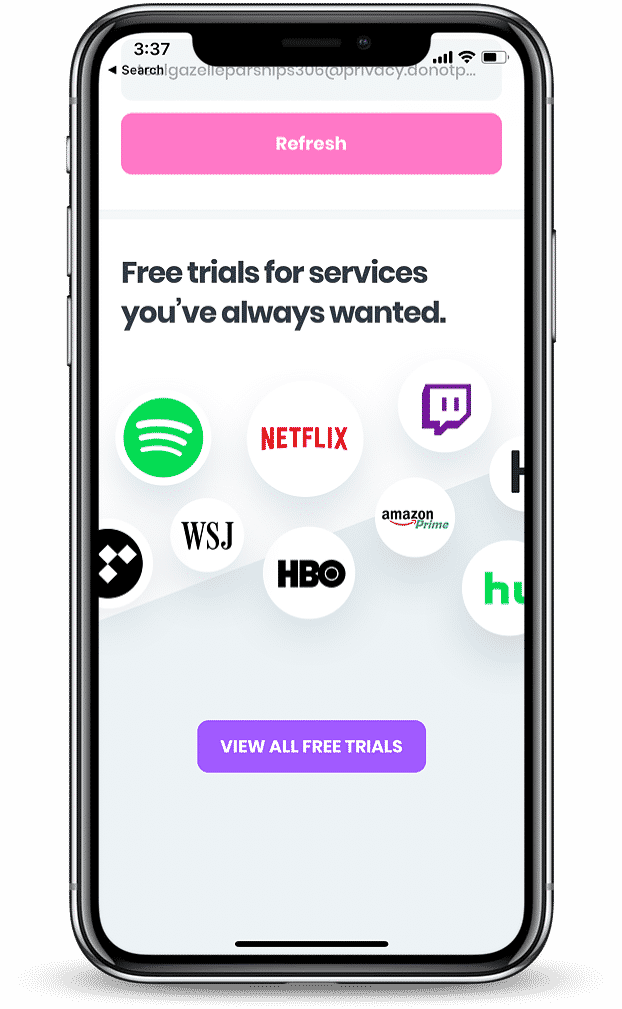 Some companies are cunning and use their free trial offers to lure you into eventually paying for their services or goods without your consent once the trial period is over. Unless you cancel a subscription before the trial period ends, you get automatically charged. It's even worse with some companies that don't allow you to cancel your subscription during the trial period.
To save you this inconvenience, DoNotPay has come up with a solution to ensure you enjoy free trials without being charged afterwards:
With DoNotPay's free virtual credit card, you can delete your account and cancel automatic renewals or subscriptions at your own convenience. You don't have to worry about being automatically charged even you find a company that won't allow you to cancel your account during the trial period.
DoNotPay generates free virtual credit card numbers for you to use when signing up to companies for free trials. These numbers aren't real, meaning the subscription will automatically terminate once the trial period is over.
There's More You Can Do With DoNotPay

DoNotPay can also help you with:
Please don't hesitate to  today and explore the unlimited world of DoNotPay.