How to Get the MyMathLab 14-Day Free Trial With a Virtual Credit Card

Online learning has become an essential part of schooling today. From elementary to university, students today are connecting with their teachers and lessons through online platforms. Pearsons's MyMathLab is a powerful learning product that pairs directly with official textbooks and curriculum lessons. Every US student will eventually have a class where MyMathLab is required for assignments and practice work.
Most students usually gain access with a Course ID provided by their teacher. But as we know, Scheduling hiccups are a common part of any new class. Students don't always have access to the software and IDs they need for their first assignments. This is where the  is the right solution.
MyMathLab offers a 14-day free trial period for students without a Course ID. This can help most students complete assignments and lessons while their teacher secures the correct Course ID for unpaid access. How can you get the MyMathLab free trial without risks or costs? DoNotPay is here to help.
Does MyMathLab Offer a Free Trial?
14-day free trial
For students
Per course
Yes, MyMathLab has a free trial for students who can't access their coursework. Any student can activate 14-day free access for a lesson they have been linked to by a teacher. This method is often used by teachers to temporarily access the great resources on MyMathLab for each lesson.
It's also an important margin allowing delays in student access code distribution. Teachers and systems often get delayed at the first of every class or semester. The MyMathLab free trial provides a great deal of flexibility while students can access their lessons, assignments, and practices.
Individually, class access ranges between $50 and $80 per student, per class. But students are rarely if ever presented with a price sheet. Instead, the use of MyMathLab depends on the institute to cover the cost as part of their educator client accounts.
How Can I Get a MyMathLab Free Trial?
are accessed through individual course pages. Instead of a platform-wide trial, the trial applies to individual courses only. This allows both teachers time for first-of-semester delays in distributing Course IDs and to dip into temporary lesson materials without acquiring student access codes.
Create a Pearson account
Or access your existing student account
Navigate to your MyMathLab course
Enter Course ID
Follow a class link
Scroll to the bottom of the page
Select the link "Get temporary access without payment for 14 days"
Complete the process
Access your coursework
Every student can find a link to their 14-day trial on the course page itself. Click this instead of entering a student access code. The link says "Get temporary access without payment for 14 days".
Does the MyMathLab Free Trial Automatically Renew Into a Paid Subscription?
No. MyMathLab is not a subscription service at the student level. For the most part, students are not expected to pay for the cost of student access codes for each course. Instead, Pearson continues its partnership with schools established as a textbook publisher. At the end of the 14-day trial, students will lose access to their coursework without a student access code.
DoNotPay Can Help Secure Your Student Free Trial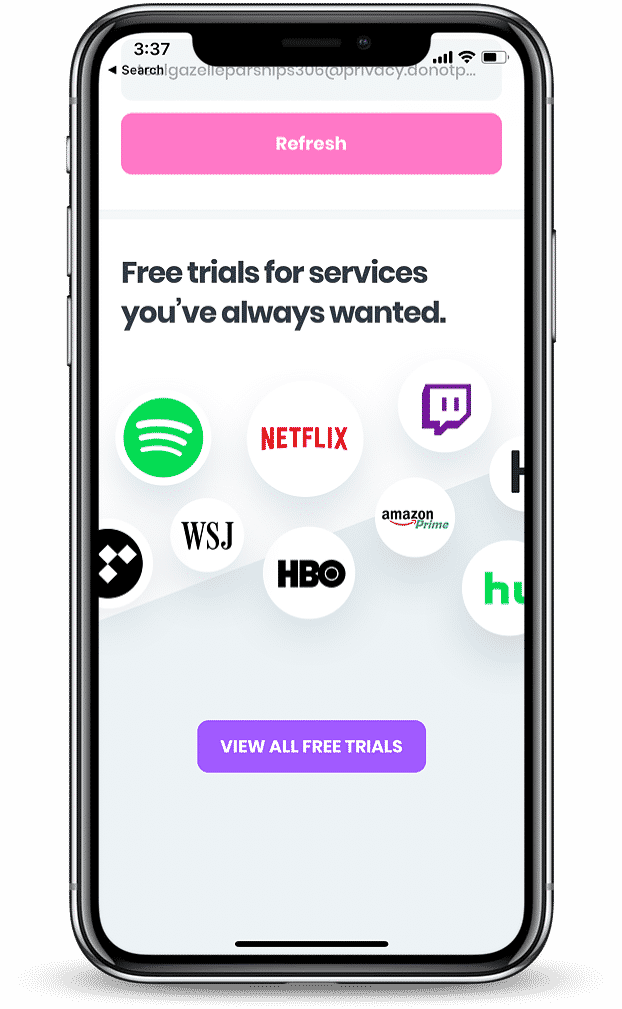 Access to the MyMathLab free trial is often a required part of starting your coursework. If you're having technical difficulties, DoNotPay can help. Our online admin and services can help you quickly step around on-site errors and customer service red-tape. When you need quick access to your coursework, we can make it happen.
| | |
| --- | --- |
| Contact account services | Activate or cancel the account |
| Virtual credit card | Find and apply for scholarships |
In addition to your student account issues, DoNotPay can also help you safely access free trials that are connected to subscriptions. One of the biggest risks for students is that a free trial will roll over into a paid subscription month. You can use a virtual credit card; a number that doesn't accept charges; to protect yourself when the free trial is over. You can easily get a virtual credit card number through DoNotPay.
Why Use DoNotPay to Get Free Trials and Don't Get Charged 
DoNotPay is fast. Applying for MyMathLab free trials independently is time-consuming. Therefore, enjoy your SPSS experience with DoNotPay.
DoNotPay is easy. It helps you avoid filling out many long forms. Wait for the feedback as DoNotPay ensures that your interests are well taken care of.
DoNotPay is successful. We have been tried, tested, and verified.
What Else Can DoNotPay Do?

Is there anything else that DoNotPay can do to make your life easier this year? There's a good chance that the answer is "yes". Our service variety includes dozens of options to relieve the stress or cost of life's big and little challenges. Get your money back, find information, or take care of traffic tickets. We've got a tool or service for almost everything on your to-do list. Here are just a few more of our many services that you might find useful to your needs today.