Start Your myFICO Free Trial With a Virtual Credit Card

Everybody loves the chance to take advantage of a free trial. Unfortunately, we often forget to cancel before the free trial is up, and we end up getting charged for the subscription. Most of the time, it's not even something we want to continue using, and there's almost no way to reverse the payment. This can be avoided, though.
So, can you get a myFICO free trial without the risk? With DoNotPay's Virtual Credit Card product, you can sign up for any free trial without having to enter your own credit card information. Instead, DoNotPay will generate a random card number for you to use. No need to worry about any extra charges!
What Is myFICO?
myFICO is a service offered by FICO to make managing your credit score easier. Credit scores provided by FICO are used by 90% of lenders, so it's important to keep your score in good standing. Using myFICO can help you stay on top of changes to your credit report, get updates on your score, detect identity threats, recover from identity theft, and build your credit skills. 
Does myFICO Offer a Free Trial?
Unfortunately, myFICO does not currently offer any free trials, and their plans can be a bit pricey. However, it's worth it if you need help improving your credit score.
All of their plans provide great help in building your credit score and protecting your identity. What's not to like? Here's a breakdown of the available plans:
| | | |
| --- | --- | --- |
| Plans | Monthly Fee | Inclusions |
| Basic | $19.95 | Experian coverage, updates every month, $1M identity theft insurance, scores and credit monitoring, 24/7 identity restoration |
| Advanced | $29.95 | All three credit bureaus, updated every three months, $1M identity theft insurance, scores and credit monitoring, 24/7 identity restoration, identity monitoring |
| Premier | $39.95 | All three credit bureaus, updated every month, $1M identity theft insurance, scores and credit monitoring, 24/7 identity restoration, identity monitoring |
How Do I Sign Up for myFICO?
Signing up for myFICO is easy. You will have to enter some sensitive information, such as your social security number, but myFICO is a secure and verified service. You won't have to worry about your information getting leaked.
To sign up for myFICO:
Go to myFICO's website.
Select a plan.
Enter your email and create a password.
You'll be prompted to enter your name, SSN, address, and date of birth.
Click continue.
After that, you'll have to enter your payment information before continuing.
Review your information and click submit.
myFICO will need to verify your identity before your account is processed. This may take some time.
Avoid Automatic Renewal With DoNotPay's Virtual Credit Card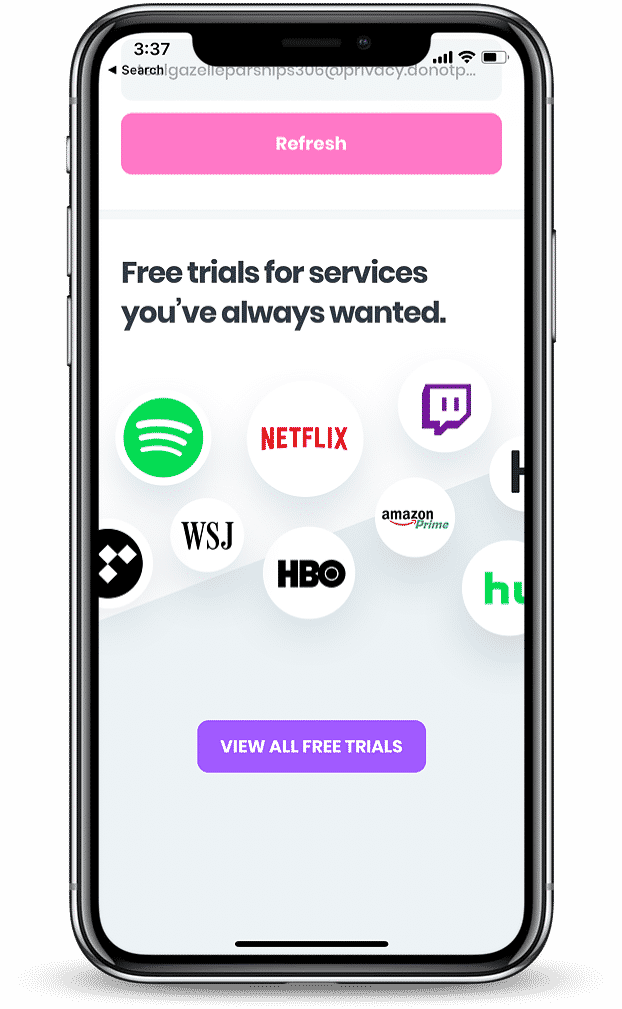 It's not uncommon for anyone to forget about a free trial they've signed up for. In most cases, they only realize their mistake once they see the charge on their card. At that point, it's usually too late to cancel and get your money back. However, you can avoid this problem entirely when you go through DoNotPay. They'll generate a one-time use credit card for you to use to sign up for any free trial. It really is that simple!
To get your free virtual credit card:
Search free trial card on DoNotPay and enter the company you want a free trial for.
DoNotPay will automatically generate a virtual credit card that you can use for that merchant. Copy the card details shown on your screen.
Use the card to sign up for your free trial and sit back to relax and enjoy!
That's it! You can enjoy your free trial without worrying about canceling it on time.
Alternatives to myFICO
There are some alternatives you can try out if you don't want to use myFICO. Some resources are free, but may not be as good as paid services.
Here's a short list:
Experian - $9.99/month
Credit Sesame -  $19.95/month
Credit Karma - Custom; you can use this service for free or sign up for a paid premium
CreditWise - Free
Intuit Mint - $16.99/month
Identity Guard Credit Monitoring - Custom price
Identity Force Credit Monitoring - $17.99/month
TransUnion Credit Monitoring - $24.95/month
PrivacyGuard Credit Monitoring - $9.99/month
Most alternatives offer the same services as myFICO, though it will differ between them. Some offer more, less, or the same services as myFICO.
What Else Can DoNotPay Do?
Almost anything! DoNotPay is essentially an online lawyer, so they can help with almost any legal or everyday problem, no matter how big or small it seems. Whether you need help taking someone to small claims court, scheduling a DMV appointment, or getting rid of spam texts, DoNotPay can do it all.
Other products include:
DoNotPay can help with almost anything else you can think of! Before you spend all your time trying to solve a problem, try using DoNotPay and let them do the hard work for you.