How to Secure a Mural Free Trial Without a Credit Card

As one of the world's most sophisticated online whiteboards, Mural was developed to help teams collaborate to resolve problems and generate fresh ideas. If you are thinking about adding Mural to your team's collection of collaborative tools, then a trial is the next logical step to determine whether Mural could be worth your long-term investment. If you're considering a Mural free trial, you may have the following questions:
"How can I secure a Mural free trial?"
"Are there limitations to Mural's free trial?"
"How much does a Mural subscription cost?"
"What are some popular alternatives to Mural?"
In addition to these natural questions, you may wonder if it's possible to secure a free Mural trial without providing your credit card information. Read on to discover the answers to the questions above and how you can secure your  today.
Does Mural Offer A Free Trial?
For years, . But on August 17th, 2021, Mural discontinued their Free Trial and replaced it with their "Mural Free Plan".  The Mural homepage showcases a bright red "Sign Up Free Forever" button on the right-hand side of their top navigation bar. The Mural "Pricing" page also lists Mural's free option and outlines the following benefits of signing up for their Free Plan:
User-friendly templates for a vast array of popular meeting types
Visual collaboration tools such as sticky notes and diagramming
Other popular features such as voting, timers, and celebration confetti
Access to learning courses to improve your teamwork
Are There Any Mural Free Trial Limitations?
Yes. Mural's Free Plan is quite generous, but there are a few fairly significant limitations. You are limited to 5 murals, and you will not have access to private rooms, priority support, live in-app chat, or advanced integrations such as Jira and GitHub. You also won't have access to security reviews, 90-day onboarding, or advanced administration you would receive with some of the paid subscription plans.
How Much Does Mural Cost?
Pricing for a Mural subscription depends on which plan you choose. The least expensive paid plan is Mural's Team+ Plan, which costs $9.99 per member per month.  All plans list monthly pricing rates, with billing occurring annually. You can choose from one of the following four Mural plans:
| | |
| --- | --- |
| Free | Users are able to use the features outlined above for an unlimited amount of time |
| Team | $9.99 per member per month |
| Business | $17.99 per member per month |
| Enterprise | You must contact Mural for pricing on their Enterprise plan |
Do Mural Free Trials Automatically Renew to Paid Subscriptions After the Free Trial Ends?
If you previously subscribed to a Mural Free Trial that expired, you can now upgrade to Mural's Free Plan at no charge. Because there are no time limitations on Mural's Free Plan, you don't need to worry about your credit card being automatically billed upon completion of a free trial. If you decide you want to upgrade to one of Mural's paid plans, you simply purchase the plan that meets your needs.
Avoid Automatic Renewal of Paid Subscriptions With a DoNotPay Virtual Credit Card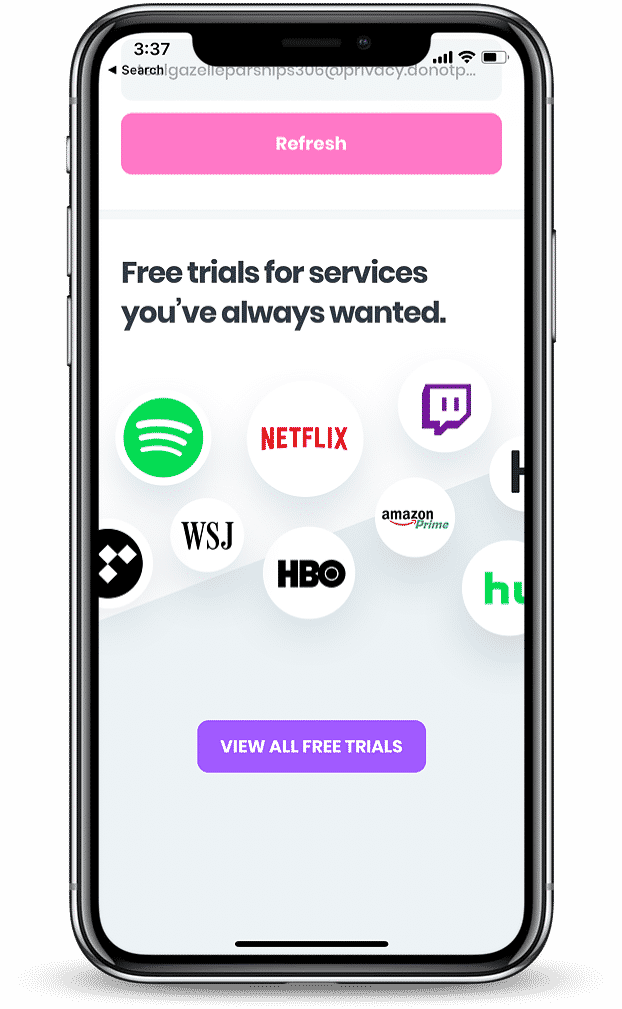 Mural's Free Plan is unique because you can use it for an unlimited amount of time, and you don't have to provide any credit card details to sign up. However, you might decide to sign up for free trials to compare other platforms to Mural's. Because many platforms similar to Mural do require credit card information, it's important to keep an eye on your calendar to avoid the possibility that your card will automatically be billed for a paid subscription if you forget to unsubscribe at the end of your free trial.
Fortunately, there is now a fast, simple way to prevent your card from being automatically billed. With the help of a DoNotPay virtual credit card, you can sign up for free trials without providing your credit card details. The process works like this:
Find a free trial for an online team collaboration platform that interests you.
Request a free virtual credit card from DoNotPay. This virtual card will feature randomly generated numbers.
Next, use the free virtual credit card (instead of your personal credit card) to sign up for the free trial.
The random number will then deactivate after you use it. This prevents you from being automatically billed moving forward.
What Are Some Popular Alternatives To Mural?
If you are looking for a good alternative to Mural, you are in luck! You can choose from a wide array of team collaboration platforms similar to Mural. Here are some popular alternatives to Mural:
Miro has been around for years and has over 30 million users worldwide. Like Mural, Miro offers a total of four plan selections, including a Free Plan with a user-friendly sign-up process. Miro is highly regarded by industry professionals and offers the following benefits:
Three editable boards with Mural's Free Plan and unlimited boards with paid plans
Premade templates with Mural's Free Plan and customized templates with paid plans
Premium support and advanced security features with Mural's Enterprise Plan
Bluescape is a bit more costly than Mural but is popular among hybrid teams seeking customized teambuilding solutions. Bluescape encourages prospective users to schedule a demo in order to take full advantage of the platform's many benefits.
Other Alternatives To Mural
How Else Can DoNotPay Make Each Day More Rewarding?

Securing free trials without being charged is just one way DoNotPay helps you minimize expenses while freeing up more time to enjoy all that life has to offer. Here are a few other ways DoNotPay can help you make each day more fulfilling:
If you are looking for a fast, convenient way to maximize your time and money, we invite you to . You can sign up quickly and easily to start enjoying DoNotPay's many perks right away!