How to Get an MTV Free Trial for TV and Movies With a Virtual Credit Card

MTV is not just a channel available on a half-dozen streaming platforms. It's an entire family of channels. MTV has reality television, drama, music videos, and behind-the-curtain inside specials. They have live TV and trending news. But how do you watch your favorite MTV shows on a free trial without paying subscription streaming prices?
If you're looking for an , you won't find one. But you can get a free trial for MTV content by starting a new account with a streaming platform that offers MTV channels. Like many streaming channels, MTV has a network of providers who will host and stream their content. From DirectTV to Hulu, there are seven different providers of MTV channels - and they all have a free trial of their own.
Ready to create your own MTV free trial? DoNotPay can help you keep that trial completely free with no surprise costs or rollover subscriptions.
Is There an MTV Free Trial?
There is currently no official free trial for MTV content. However, you can start a free trial with a service that offers MTV  and experience practically the same thing.
There are only two rules to access your free trial for any of the seven platforms. The first is that you are a brand new customer with a newly registered account. The second is that you enter your credit card information before the free trial begins. Don't worry, we have a solution to requirement #2.
Simply pick one of the following platforms that you are not yet a customer of and find the MTV channels that you want to watch before making a free trial account.
Free Trial Platforms With MTV
How to Sign Up for an MTV Free Trial
How do you activate a free trial for MTV? It all starts with your chosen provider. Once you make a new account, follow the sign-in path to claim your free trial and select a subscription plan you likely don't intend to follow through with. Then enter your payment card information, submit, and enjoy up to a month of free access to your favorite MTV content.
Register with a Television Provider
Pick the Subscription Plan
Make Sure Your Free Trial is Active
Enter Your Payment Information
Create the Account
Access 7-30 Days of MTV
Cancel Before the Charge
Don't forget to cancel your free trial on the last or next-to-last day so there's no risk of being charged. Or you can use our handy DoNotPay solution to free trial payment cards.
Does the MTV Free Trial Automatically Renew Into a Paid Subscription?
Yes. Watch out, an will always roll into a new paid subscription when the free trial expires. Streaming television free trials are designed to funnel you into paid subscription months. If you want to continue with your subscription, this is fine. But if you'd rather have a guaranteed free trial, this can be a treacherous and potentially very expensive default setting. Be careful, television subscriptions can be very expensive if you don't expect the cost.
Monthly charges cost less per charge but can renew for months after your free trial
Annual charges are a big hit to your bank account but only drop once a year
Avoid Automatic Renewal With DoNotPay Virtual Credit Card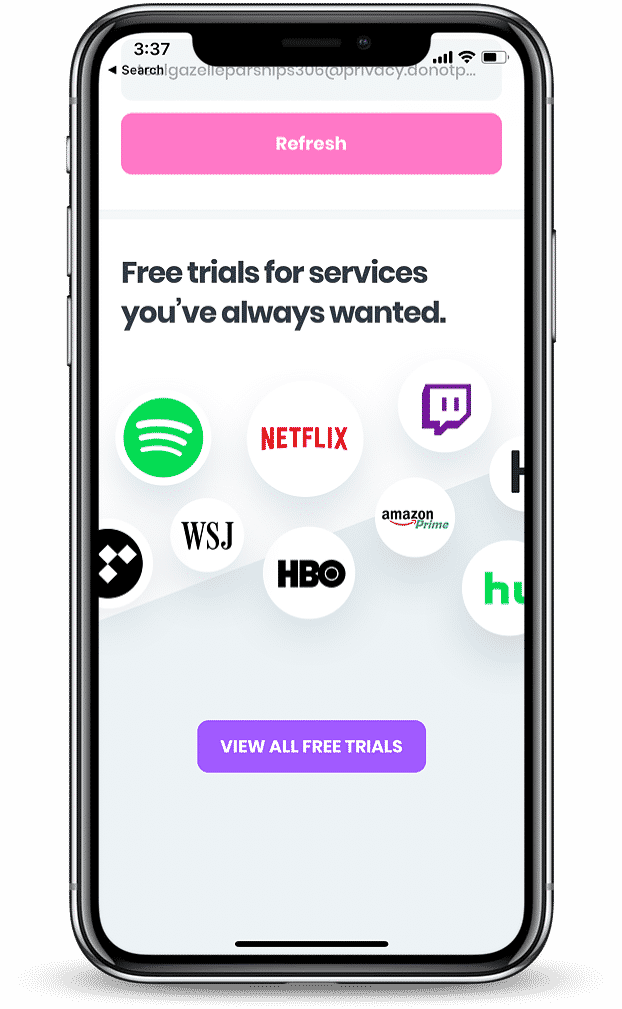 How do you sign up for a free trial without giving them a payment card? How do you keep your bank account safe from that rollover subscription charge when you just want to enjoy some free content? The answer is a virtual credit card. This is a randomly generated number that takes the place of your payment card number when you sign up for a free trial. It is accepted as valid at check-out but when the company tries to charge you for a month or year of subscription service, the payment will bounce.
A virtual credit card is an ultimate protection against cancel-delay and forgetfulness. The charge simply can't hit your account.
This gives you the freedom to decide which free trials you want to subscribe to, and which you prefer to keep as a free experience. When it comes to watching MTV online or through your smart TV, a virtual credit card is the best way to try out apps and platforms without investing in subscriptions until you are ready. Just pick up a free virtual credit card any time you're ready to try a new free trial.
How Much Does MTV Cost After the Free Trial?
What happens if your MTV free trial expires and you forget to cancel in time? It depends on the platform you chose. Here is a quick run-down of all the platforms that offer MTV channels and how much that first month will cost if it is allowed to be charged to your payment card.
Why Use DoNotPay to Get Free Trials and Don't Get Charged 
DoNotPay is fast. Applying for free trials independently is time-consuming. Therefore, enjoy your SPSS experience with DoNotPay.
DoNotPay is easy. It helps you avoid filling out many long forms. Wait for the feedback as DoNotPay ensures that your interests are well taken care of.
DoNotPay is successful. We have been tried, tested, and verified.
What Else Can DoNotPay Do?

Our services go above and beyond free trial management. Explore our vast selection of services to find more ways we can make your life easier and help you complete important tasks this year.
Disputing traffic tickets
Fighting speeding tickets