How to Get Monogram Wizard Plus Free Trial Without Using a Credit Card

If you enjoy embroidery/monogramming, you might benefit from checking out the Monogram Wizard Plus. This program gives you access to many different fonts that you can use for your embroidery/monogramming. The guide below will have information regarding a .
Unfortunately, the original makers of the Monogram Wizard went out of business in 2018. You can still buy the Monogram Wizard, but there is no longer any support for it. If you need a credit card to get a free trial, you can use a virtual credit card from DoNotPay.
Does Monogram Wizard Plus Have a Free Trial?
Since the original creators of the  are no longer in business, it is probably difficult to get a free trial. However, you can reach out to people selling the program to see if you can do a trial run.
SewingMachinesPlus
Here is the contact information for SewingMachinesPlus:
713 Center Drive San Marcos, CA, 92069
4606 Mission Bay Drive San Diego, CA, 92109
Sew Irresistible
Here is the contact information for Sew Irresistible: 
Albertville, Alabama:
256-878-0023
212 N Broad St Albertville, AL 35950
Gadsden, Alabama:
256-459-5355
2104 Rainbow Dr Gadsden, AL 35901
How Can I Get a Free Trial for Monogram Wizard Plus?
Follow these steps to try to get a free trial for Monogram Wizard Plus.
Pick one of the above locations.
Contact the location either by phone or by going to their physical stores.
Explain that you want a free trial of Monogram Wizard Plus.
They will either say yes or no.
If they agree, work out an agreement on what the trial will look like.
Will My Monogram Wizard Plus Free Trial End up Charging Me?
Since there is no official free trial for the Monogram Wizard Plus, it is up to the person you are getting the program from how your free trial works. When you are asking about the free trial, establish whether or not the seller will automatically charge your credit card when your trial is over.
You should also discuss with the seller what their refund policy is. The stated refunds on the websites are as follows:
SewingMachinePlus: 60-day money-back guarantee
Sew Irresistible: Not stated, but you might be able to work something out with the seller.
However, keep in mind that since you're asking for a free trial, the refund policy could be different.
Avoid Having Your Card Automatically Charged by Using DoNotPay's Virtual Credit Card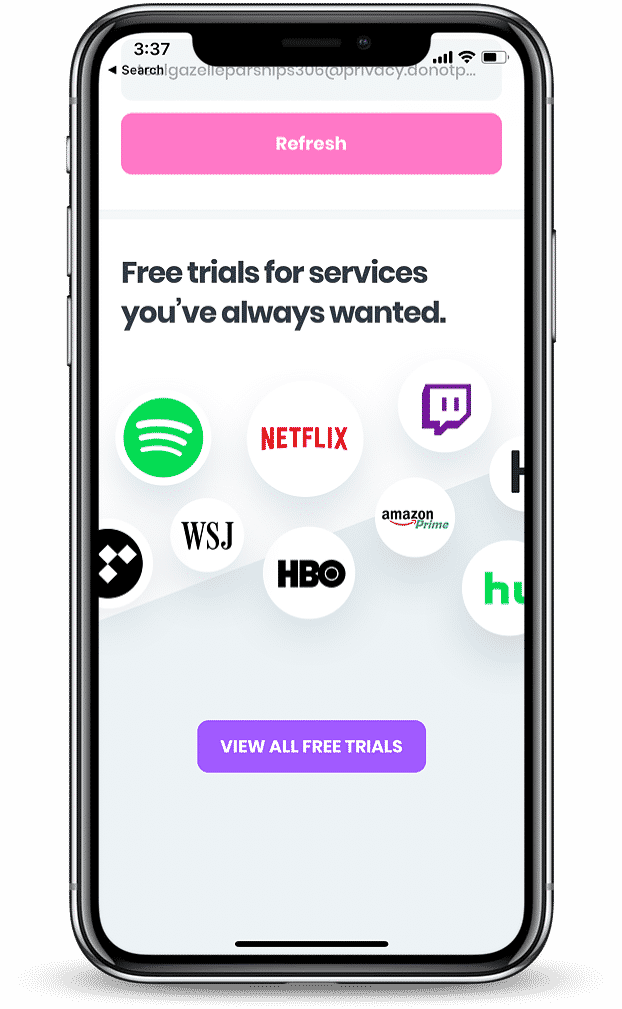 Many companies will offer a free trial period for their service. However, you often have to enter your credit card information to set up the free trial. Companies do this so that they can charge you if you forget to cancel the trial. Unfortunately, it's fairly common for people to start the trial and completely forget to cancel before payment time comes up.
Thankfully, DoNotPay offers a virtual credit card that you can use to access free trials. This is how it works.
You apply for a virtual credit card to sign up for your free trial.
DoNotPay generates a virtual card with all the needed information.
You use the virtual card to start your free trial.
At the end of the trial, the card cannot be charged, and you are automatically unsubscribed from the service.
How Much Does the Monogram Wizard Plus Cost?
Since there is no longer an official seller of the Monogram Wizard Plus, your cost will vary based on where you buy it from.
SewingMachinePlus does not have a price listed on their website, so you will need to call them to find out. If you buy it from Sew Irresistible, it will cost you $349 at full price. However, you might be able to get it on sale.
How Will the Monogram Wizard Plus Program Appear on My Statement?
Depending on which business you buy it from, you should be looking for the amount you spent along with the company name. So, for instance, if you buy it from Sew Irresistible, your credit card statement should show a cost of $349 and be listed under Sew Irresistible.
What Are Some Popular Alternatives to Monogram Wizard Plus?
There are a couple of other programs that do similar things to Monogram Wizard Plus.
Embird Machine Embroidery Software
Here is a breakdown of prices for Embird Machine Embroidery Software.
Basic program license
Plug-in modules

Font Engine US $145
Digitizing Tools part of Studio  US $150
Pre-digitized Alphabets  US $15 each
Iconizer US $20
Sfumato Stitch part of Studio  US $90
Cross Stitch US $75
Embrilliance
Here are prices for various Embrillaince products.
| | |
| --- | --- |
| Embrilliance Essentials | |
| Embrilliance Enthusiast | |
| Embrilliance Stitch Artist | |
What Else Is DoNotPay Capable Of?

DoNotPay is happy to help you access a free trial by using one of our virtual credit cards. However, we would also like to assist you with many other tasks. Here are some examples.
Embroidery can be a lot of fun, but finding the right program is important. Consider checking out Monogram Wizard Plus, Embird, or Embrilliance for a useful embroidery program. If you can do a free trial, use DoNotPay's virtual credit card, so you don't risk being charged. Contact us today to see how we can help you get a free trial for your embroidery program.