How to Get Metaboost Free Trial Without Using a Credit Card

Metaboost is a fitness, weight loss, and wellness program.  Offered through Svelte Training, it is a program specifically designed for women over 40 that promises to ignite the body's cellular engine by boosting your metabolism.  Supplementation and exercise combine to boost your metabolism and turn your body into a fat-burning machine. And the best thing? They offer a seven-day
But before you jump on the Metaboost free trial bandwagon, there are a couple of things you should know:
You must give up your credit card information when you sign up for the free trial.
Once your seven-day trial expires, you will be charged the full price of $49. 
Many companies count on people just like you to forget to cancel their free trials.  They already have all of your credit or debit card information.  So then what do you do?  This is where DoNotPay helps out.  DoNotPay offers a virtual credit card that guarantees that you can avoid being charged after your free trial period is up.
How Do I Sign Up for a Metaboost Free Trial?
Metaboost offers a complete fitness and nutrition plan, specifically engineered to help women over 40.  If you choose either of their main programs (One and Done or MetaBoost) you will be offered a  at sign up.  Since all the membership materials are digital, you do not have to wait for something to be mailed to your home.  If you decide to cancel, you must do so before the end of the trial period.  Simply enter your email address here.
But, oh, no, you forgot to cancel.  If you have not canceled within the 7-day trial period, your credit card will be charged $49 per month until you decide to cancel.  If you do not cancel and get charged, they will refund your money for up to 60 days if you are not totally satisfied.  You must complete the form you find when you hit the contact button on the website.
What Is Included in My Metaboost Subscription if I Decide to Continue?
The Metaboost program creators have mapped out a "how-to" selection to optimize your fitness and health.  Included in the totally digital program are the following modules:
| | |
| --- | --- |
| MetaBoost Metabolic Flush | Gives you a jump start to get your body primed |
| Belly Blast | A ten-day nutrition plan that works to reduce unwanted belly fat |
| Metaboost Body Video | Maps out the six best isometric workouts that supercharge your metabolism. |
| Workout Manual | Guide you to optimize your workouts |
| Complete shopping list | Included together with healthy and nutritious recipes |
| MetaBalance | Suggest natural remedies for hormonal imbalances. |
You will be able to access your entire digital membership through an account you create.  Videos can be viewed on your laptop, phone, tablet, or smart TV.  You will find all the foods included in your plan readily available at normal grocery stores.  It is recommended that you follow the program as closely as possible for the best results.
What if I Only Want a Free Trial, but I'm Afraid I Will Get Charged?
This is where DoNotPay comes in. With DoNotPay's virtual credit card, you never have to worry or stress out about remembering to cancel subscriptions before you are charged.  With our virtual credit card, not only will you never have to worry about being charged, you never have to give out your personal credit card information.  Our virtual credit card makes it easy and secure for you to try any free trial without ever being charged.
How Does DoNotPay's Virtual Credit Card Work?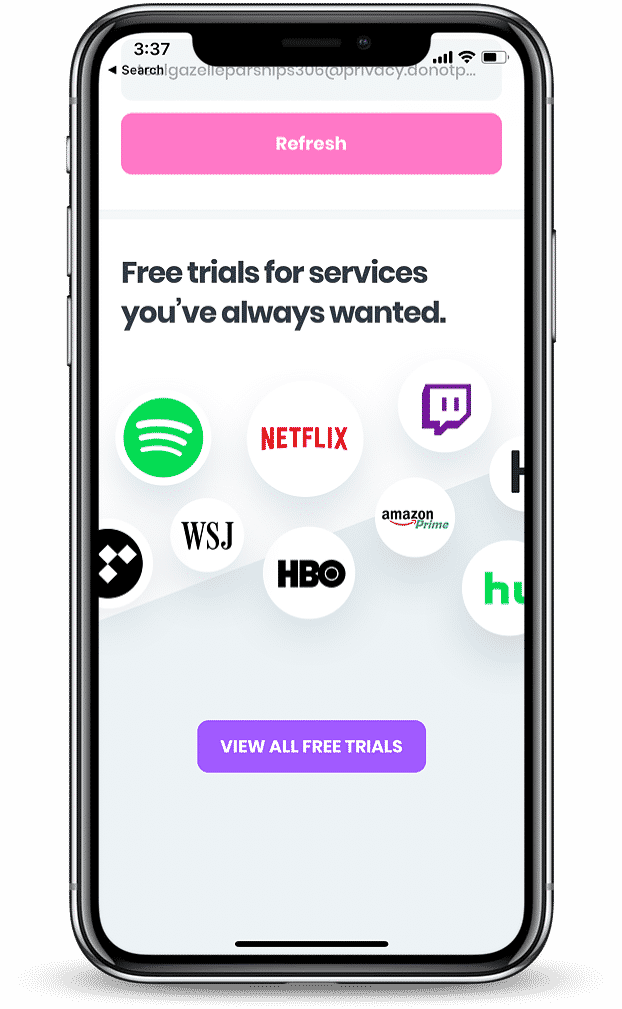 DoNotPay makes it easy to use a virtual credit card so that you will never be charged if you forget to cancel a subscription.  Here's how it works:
Go to DoNotPay and search for Free Trial Card.  Enter the company, in this case, MetaBoost, that you want a free trial for.
DoNotPay automatically generates a virtual credit card number and information for you to use.
Use the information that you copy from your screen to sign up for the free trial.
That's all there is to it.  Sit back and never stress out about being charged. Easy. Peasy.
A Couple of Things to Keep In Mind About DoNotPay's Virtual Credit Card
DoNotPay's virtual credit card was created for one main purpose:  so you do not rack up unwanted charges.  For this reason, remember:
You can not make any purchases on the card.
The card is deactivated after one use.
When the merchant tries to put charges against the card, it will be declined, causing your subscription or membership to be automatically terminated.
What Else Can Donotpay Help Me With

DoNotPay has experience helping people just like you solve the problems that take up their time, add to their stress, and cost them money.  We can help with a huge variety of problems, find fast and easy solutions, and get the best outcome for your case.  Some things we can help with are:
 Let DoNotPay help you solve your problems today.