MegaMates Free Trial Without the Free Trial Stress

Are you a single person looking to connect with quality like-minded singles like yourself? The is paid subscription service that gives you the fast, easy, and fun way to meet quality local singles in your area.
MegaMates caters to the gay, lesbian, and straight communities with dozens of phone numbers that will 'hook you up with people just like you looking for either a playmate or a soulmate!
In this post, let's take a look at how you can using Virtual Credit Cards from DoNotPay. If you don't know what a Virtual Credit Card from DoNotPay is you can learn about them and how to use them for a MegaMates free trial without any hassle or stress!
What Is MegaMates?
In 1993 what is now MegaMates then was Telemates and Megaphone. The two entities now operate under a single combined name, MegaMates. This is an interactive, safe, and discreet place to call, chat, and connect with quality singles in their area.
The new user at MegaMates will be glad to know that yes, MegaMates does offer a free trial. But, this is not your average
The MegaMates Free Trial Period
Since MegaMates is a phone dating service their free trial period is based on minutes rather than days. The 30-minute free trial gives the new user a chance to look over the features of the different paid plans while accomplishing the basics of those plans.
For instance, at any package level you need to;
Create a user profile
Set up your mailbox for receiving messages
Record your mailbox greeting\
Those are required of all packages and your 30-minute free trial does not start until you begin using 'paid' functions such as;
Retrieving messages from your mailbox
Sending messages to other mailboxes
Using live chat to talk to the person you have chosen or vice versa
Leaving a priority message
It is free to browse through the available clients on MegaMates no matter which package you choose.
How Much Is the MegaMates Package Going to Cost?
There are a total of six packages for you to select from when referring to the costs associated with MegaMates. The packages range from 'Free' to $49.99 per month.
Let's look at the features of each package.
Plan
Package Price
Features
MegaMates Free

Create profile
Set up and maintain a mailbox
Create a personal ad
Browse chat room users
Retrieve and listen to incoming mailbox messages

MegaMates 24-Hour Plan
$11.99

24-hours of unlimited message retrieval
24-hours of live chat and direct connection to incoming messages or through browsing
2 Free pre-paid priority messages with sign up
1 extra day of message retrieval free with sign up

MegaMates 1-Week Plan
$19.99

1-week unlimited message retrieval
3 prepaid priority messages
Plus all features of the 24-hour package

MegaMates 1-Week Plus
$23.99 (most popular)

1-week unlimited live chat
1-week unlimited direct connect
Plus all features mentioned above

MegaMates 1-Month
$39.99

1-month unlimited message retrieval
6 prepaid priority messages
All above features

MegaMates 1-Month Plus
$49.99 (best value)

1-month unlimited message retrieval
1-month unlimited direct connect
1-month unlimited live chat
6 prepaid priority messages
All of MegaMates plans offer a 30-minute free trial. The free trial period is the only time any of MegaMate's features are within a designated time frame. That is rather rare in a service that provides phone messaging and receiving.
What Happens After the 30-Minute Free Trial?
When you have depleted your free time your MegaMate pricing plan you chose at sign up will then be charged to your credit/debit.
Those charges will appear on your card statement discreetly as Progressive Computing LLC.
Would you like to know how to use a Virtual Credit Card from DoNotPay to get your MegaMates free trial without any risk of your card being charged?
Let's show you how to do that and how Virtual Credit Cards work to unlock your MegaMates free trial as well as thousands of others!
Learn More About Virtual Credit Cards from DoNotPay!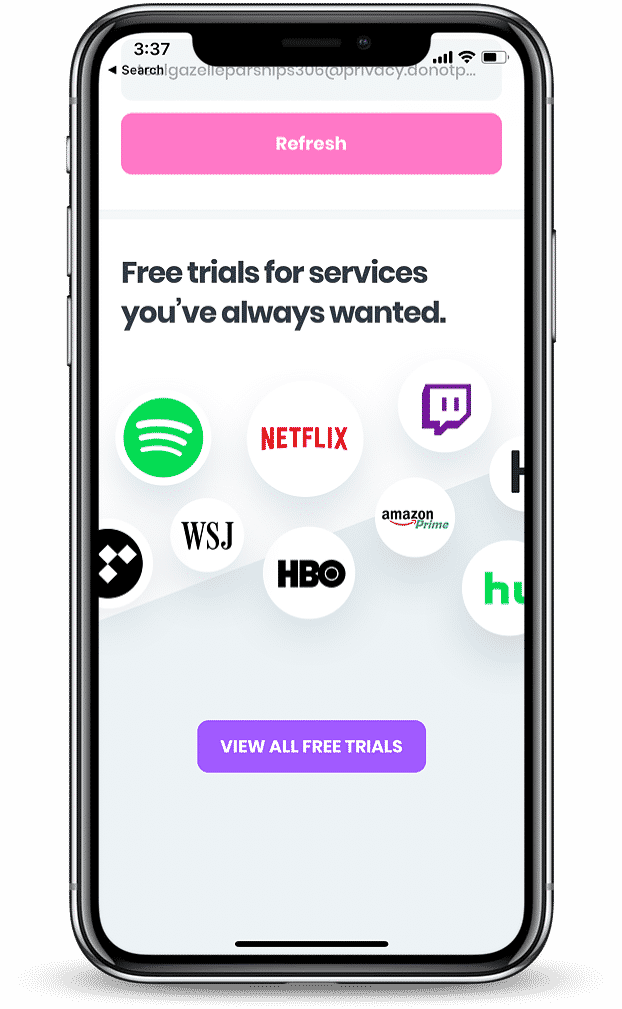 DoNotPay is the fast, easy, and successful way to your MegaMate free trial without any risk! DoNotPay has helped thousands of people get the free trials for products and services they want without committing to anything!
This is accomplished by using a Virtual Card. Are you new to Virtual Credit Cards? No problem, here is how the Virtual Credit Cards from DoNotPay work;
DoNotPay will generate for you, a Virtual Credit Card number that looks and acts just like your credit/debit card
DoNotPay will give you an additional email for your Virtual Credit Card authenticity
Your Virtual Credit Card will have an expiration date and three-digit security code like the real thing
Your free trial of MegaMates will be canceled when your Virtual Credit Card is billed for your subscription since there is no money tied to this card!
It has never been easier to get a free trial when you use the Virtual Credit Card products from DoNotPay! And since MegaMates only offers a 30-minute free trial you can stretch those billed minutes across as many days as you like!
Discover for yourself what thousands of other people have by relying on the Virtual Credit Card products from DoNotPay.
What Else Can DoNotPay Do?

Solving your free trial issues is one of the many things DoNotPay can help you do. DoNotPay can help you solve several problems you're facing including: 
Want to enjoy the benefits of free trials without worrying about unwanted charges? Contact DoNotPay.