How to Get a MATLAB Free Trial Without Using a Credit Card

MATLAB is a computer programming language developed by MathWorks. The program utilizes computations and algorithms to analyze large amounts of data and present it in visually appealing formats. Millions of engineers and scientists across the world use MATLAB to analyze data and create models.
Does MATLAB Offer a Free Trial?
Yes, . The MATLAB free trial period is 30 days. All you have to do is download and install on your desktop or run MATLAB in your browser to start your free trial. The free trial comes with all MATLAB features and add-ons.
How Can I Get a MATLAB Free Trial? 
You can get a if you want to see what the tool feels like before paying for a subscription. Getting a MATLAB free trial is easy. To get a MATLAB Trial:
Go to the Free MATLAB Trial page (https://www.mathworks.com/campaigns/products/trials.html)
Enter your work or university email address
Follow the prompts to activate your free 30-day trial
Does the MATLAB Free Trial Automatically Renew Into a Paid Subscription?
No. You will be able to continue using your trial license until it expires after 30 days. Your free trial will not renew into a paid subscription unless you renew the license on your own from your MathWorks Account. 
You might want to cancel the subscription prior to trial expiration to eliminate the risk of being charged. MATLAB displays the remaining trial duration on a separate window that opens along with the application, so you can always keep track.
If you didn't want to switch to a paid subscription but forgot to cancel the free trial on time and happen to get charged, you can get a refund. Note that MathWorks will only give a refund if the request is made within 30 days of purchase.
Avoid Automatic Renewal with DoNotPay Virtual Credit Card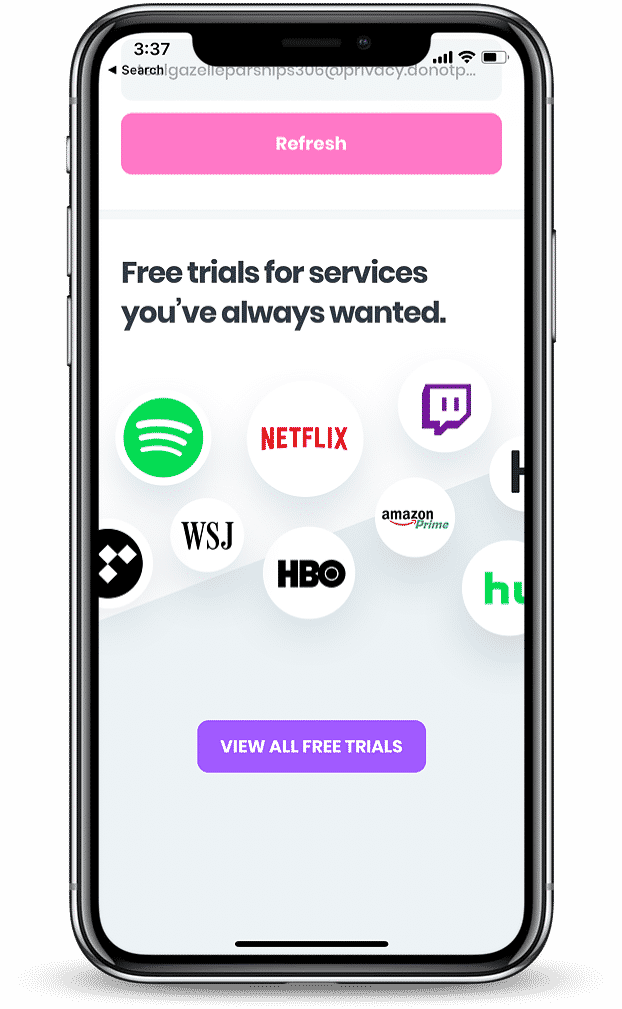 Free trials can be tricky. You have to give the company your credit card information, and after the first month, you are enrolled in an automatic payment plan without even realizing it. You have to cancel the subscription before the trial period ends if you don't want to get charged.
However, people often forget to cancel the free trial before being charged by an auto-renewal and end up paying for services they don't want or use. Many people have expressed their frustration with automatic renewals over the years. Luckily, you can avoid automatic renewal with DoNotPay Virtual Credit Card. 
The DoNotPay Virtual Credit Card allows users to sign up for free trials and automatically cancel the subscription when the trial period ends. This means you could sign up for MATLAB without worrying about being hit with automatic renewal after the month's trial is over.
What Is A Virtual Credit Card? 
A virtual credit card is a special credit card number that allows you to use your main credit card without exposing credit card information. Virtual credit cards use randomly generated card numbers, expiration dates, and security codes that are tied to your real account. Virtual credit cards are ideal when signing up for free trials. 
How the DoNotPay Virtual Credit Card Works
The DoNotPay Virtual Credit Card removes the possibility of getting charged after the expiration of the free trial period, ensuring that the trial is indeed free. The virtual credit card is connected to your actual credit card, but it has its own fake credit card information i.e., a bogus name, address, and email address.
The DoNotPay Virtual Credit Card creates a card number and expiration date that appears valid on MATLAB systems. Since there is no actual credit card information, the company will not be able to charge you when the trial period expires. The card will automatically decline any payments when the trial period comes to an end, effectively ending your subscription to the service.
Think of a virtual credit card as a burner credit card that you can use to sign up for free trials without the risk of being charged. You don't even have to link the virtual credit card to your actual card for a MATLAB free trial or any other subscription service, for that matter. You can sign up for any number of free trials using the DoNotPay virtual credit card.
The best part about the DoNotPay Virtual Credit Card is that it's completely free!
How Much Does MATLAB Cost After the Trial?
MATLAB employs a case-based pricing structure. The service offers four payment options based on the four most common use cases. These are;
Standard. The standard license is designed for commercial and non-academic users.
Home. The home version is designed to cater to individual users i.e. personal projects.
Student. The student package is tailored towards student users and other academic individuals who can't afford traditional licenses. The student package is available in two tiers:
Standard Student. Base MATLAB version
Student Suite. Includes Simulink and other Add-Ons
Education. The MATLAB education package is designed for use in academic institutions.
The pricing for each MATLAB package is as follows:
Package
Price
Standard

$2,150(Perpetual)
$860 (Annual)

Home
Student (Standard)
Student (Suite)
Education

$500 (Perpetual)
$250 (Annual)
What Else Can DoNotPay Do?

In addition to signing up for free trials without being charged, there are numerous issues that DoNotPay can help you solve. Some of these include:
Get the DoNotPay Virtual Credit Card today free of charge.