Sign Up for Mastering Biology Without Giving Your Credit Card Information

The capacities of online education have increased in importance in the last couple of years, and will only become more vital in the future. For students, Pearson's Mastering Biology platform is a great tool to learn and internalize the tenets of science. But concerns about money are an evergreen problem, and any chance to save some cash always goes down well. In this article, we will show you how to get a free trial for Mastering Biology, and how DoNotPay can help you get one without using your real credit card information.
Does Mastering Biology Offer a Free Trial?
There is a free entryway into Mastering Biology, but it only lasts for a short amount of time. Pearson offers temporary access to join a course for 14 days in Revel, their online app for higher education, before having to pay. You can upgrade to full access at any point during those two weeks. Once your temporary access time expires, you will be prompted to either enter an access code or purchase full access from the Courses page.
How Can I Get a Free Trial From Mastering Biology?
Before beginning a free trial, you first have to create an account for the Mastering course. To do that, you'll need these three things:
A valid email address
Your instructor's Course ID
An access code, a credit card, or a PayPal account (this option is only available to students in the U.S.)
After making that account, you can register for temporary access by:
Going to the Pearson Course ID page
Joining your course using the course invitation link
Choose the option for 14-day Temporary Access
Your temporary access begins on the day you click Start Temp Access on the Purchase Materials page. This page appears after you click your course to enter it from your My Courses page. If you want to use this feature, it's important to note that the day your instructor sends the invitation link is probably not the same day the course starts. If that is the case, it's smarter to wait until joining the course until you're closer to the start date.
Does the Free Trial Automatically Renew as a Paid Subscription?
Mastering Biology will give you plenty of chances to fully upgrade your account. The app will send a notification reminding you that an upgrade is available once every 24 hours. But if you don't take them up on their offer, then your free trial will expire without becoming a full subscription.
You can choose to upgrade your account in different ways depending on the status of your free trial. If it has already expired, then you open your course page, click the link to Mastering Biology, enter an access code, or buy one from the site.
If you still have temporary access, then you can accomplish the same task by clicking the link under Change your temporary access to full access by using an access code or paying online in your email or by purchasing full access from your MyLab page like this:
Enter your course.
Select the MyLab & Mastering Tool.
Select a link to open the MyLab Course Home link under the student section of the tools page.
Select My Courses from the main course menu.
Select Upgrade access in the temporary access alert message for the course.
If you want a refund from Pearson, you have to email customer service with your name, account, or order ID, and the reason for your refund request. The request must be sent within two weeks of purchase. The refund process is as follows:
Go to Pearson's contact page.
Under the Product name, select your product from the menu.
Under the Issue category, select Refunds.
Follow the on-screen instructions.
Avoid Automatic Renewal With DoNotPay's Virtual Credit Card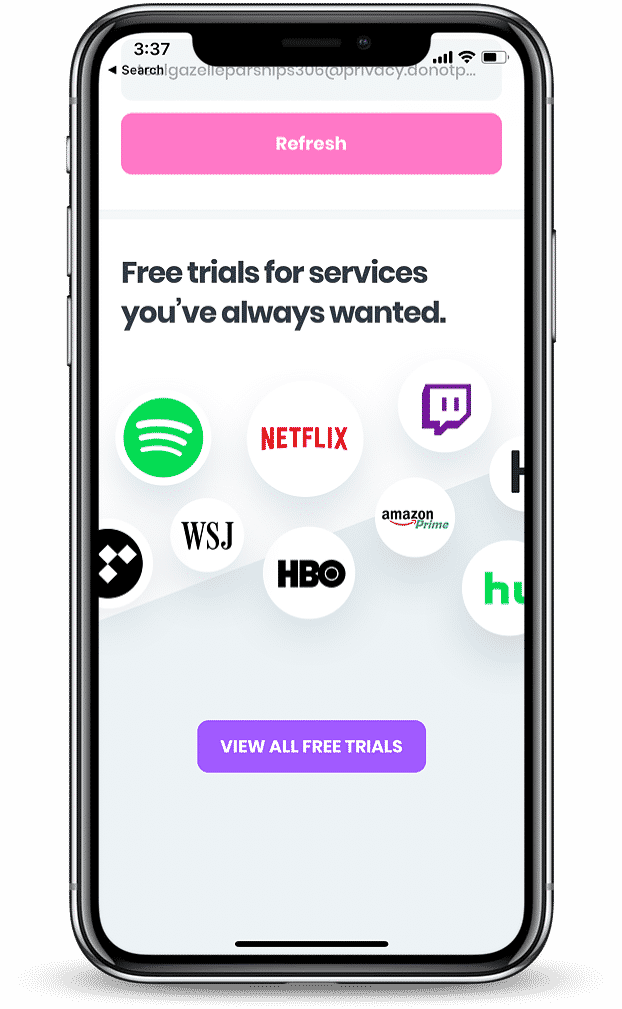 Keeping track of when your free trials are ready to expire can be tricky amid the hustle and bustle of daily life. It's easy for mistakes to happen, and when it comes to schoolwork or the pursuit of knowledge, suddenly losing the ability to learn would be frustrating.
DoNotPay is here to stop that from happening. Our virtual credit card system allows you to sign up for free trials while also protecting your information and money.
Here's how it works:
Search free trial card on DoNotPay and enter the company you want a free trial for.
We'll generate a virtual credit card with random information that you can use for any service. Copy the card details shown on your screen.
Use the card to sign up for your free trial
Each virtual card will be deactivated after it's used once, and you can't use them to make any real purchases. Once the trial period is over, you can't be charged because there's no money on the virtual credit card, so you'll be automatically unsubscribed.
How Much Does Mastering Biology Cost After the Trial Ends?
| | | |
| --- | --- | --- |
| Course | Cost | Description |
| Mastering Biology | $140.55 | Mastering Biology is typically associated with classes, but that fact doesn't do anything to keep the price down. Pearson sells access codes in their online store for $140.55. |
What Else Can DoNotPay Do?

DoNotPay isn't just useful for free trials. It can also assist you with: