How to Get a Lumin Free Trial Without Giving Your Credit Card Information
Lumin has become a popular option for men to up their skincare game, with a range of products offered to fit any skin type or desired outcome. There is also a  that gives customers the option of trying the products before signing up for a subscription. For anyone hesitant about signing up, DoNotPay can assist by ensuring you can take advantage of the  without anxiety over being charged when the trial concludes.

The Basics of How a Lumin Free Trial Works
A Los Angeles-based skincare company, Lumin advertises itself as a "premium" skincare option for men. Although you can buy stand-alone products on their site, a popular option is to go with the subscription model that includes new products every two months. Here's how it works:
Go to the trial page.
Answer the 14 questions to receive a trial recommendation.
See if you qualify for a free trial (you will!)
Pick a skincare set or use Lumin's recommendation.
Fill in personal and credit card information.
Begin trial.
After officially signing up, you will pay the shipping cost (about $7 as of January 2022), although the trial products will be free.
What to Do After Your Free Lumin Trial
Once you've tried out your trial products, you have a few options to choose from:
Keep current products and start subscription
Change to different products and start subscription
Cancel before the 30-day trial period is over
How to Cancel a Free Lumin Trial on Your Own
If you decide that you do not wish to go forward with a Lumin subscription, make sure that you login to your account and cancel right away to avoid being charged. On the Better Business Bureau's complaint site, Lumin has several complaints of customers attempting to cancel their subscription but still being charged.
It's worth noting that Lumin customer service confirms there is no phone support option and emailing customer service does have a lag time due to high volume. Without the ability to talk directly to a customer service rep, customers should make sure to store any confirmation emails received from the company. If you do not receive a subscription cancellation notice via email, you will need to immediately reach out to customer service so you can make a record of your complaint.
With no email confirming cancellation or a timely message to customer service, within the trial window, it might be difficult to receive a refund for any incurred charges at the end of the 30 days. To get a refund, you might have to pay to ship products back to the company's Los Angeles headquarters.
Address:
Lumin Skin

716 Monterey Pass Road

Monterey Park, CA 91754, USA
Using a DoNotPay Virtual Credit Card for a Lumin Free Trial
About a third of Americans are paying for a subscription they didn't intend to sign up for, according to Yahoo News. Overall, about half of American consumers have paid for an unwanted subscription at the end of a trial period, which tells you everything you need to know about why free trials are offered. While Lumin doesn't do anything unusual to encourage you to take on an unintended subscription, you still need to be on top of the situation.
But instead of having to set reminders and potentially battle customer service, you can breathe easier by utilizing a DoNotPay virtual credit card for a Lumin free trial. Here's what to do:
Go to the DoNotPay  product for Lumin skincare.
Let DoNotPay generate a one-use virtual credit card.
Copy down the card details.
Enter card information on the Lumin free trial page.
Let the free trial expire after 30 days.
Because the virtual credit card cannot be used again, Lumin will not be able to charge you at the end of the trial period. However, if you do wish to start a subscription, simply go to your Lumin account profile and add in a new credit card to continue with the service.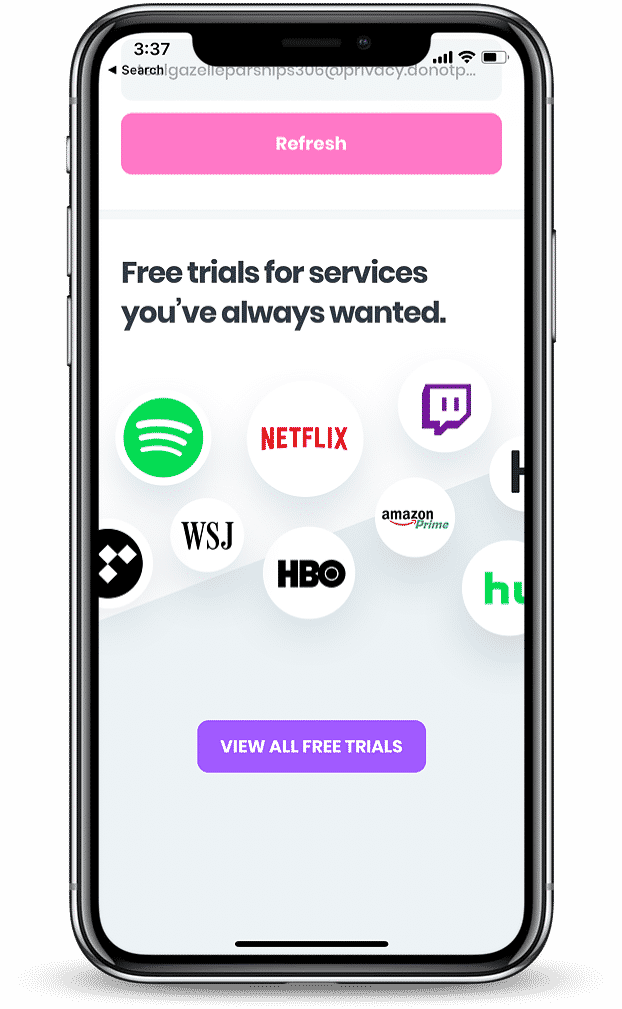 Other Similar Services from DoNotPay
DoNotPay gives you a wealth of ways to control your consumer experience—especially when it comes to free trials. In addition to creating a free virtual credit card for risk-free trials, you can:
While businesses typically have leverage over consumers, DoNotPay helps to level the playing field and secure your personal information when you're signing up for new services. It also helps you avoid lengthy disputes with customer service representatives that can be both frustrating and unsuccessful.
How Else Can DoNotPay Help?
There is no shortage of ways that DoNotPay can assist in the fast-paced modern world, where consumers usually don't have the time to resolve common problems. With DoNotPay, you can appeal a banned account, fight a parking ticket in any city, get refunds and chargebacks without a hassle, and much more. Which problem are you going to let DoNotPay solve for you today?