How to Get a Loom Free Trial Without Giving Your Credit Card Information

Have you ever signed up for a free trial, only to get charged after it finished without even realizing it? If so, you are far from alone. Americans regularly spend their hard-earned cash on services they don't want after , and businesses make huge profits from people forgetting to cancel their services on time. 
With DoNotPay, you no longer have to pay for services you don't want after your free trial expires. Learn more about how DoNotPay works to save you money and time below!
Does Loom Offer a Free Trial?
Yes,  on its Business service. It also offers a free starter service, which gives users limited features, including
A maximum of 50 creators on Lite accounts
A maximum of 25 videos per creator
A maximum of 5 minutes per video created
Team workspaces
Quick editing
Screen recording
This type of account is appropriate for people who use Loom for personal projects. If you decide to go beyond the Starter account, you can opt for a Business account that takes the limits off the number of creators, videos, and recording lengths. Loom offers a 14-day free trial on the Business plan. 
How Much Does Loom Cost After the Free Trial?
After the 14-day free trial for a Business account, Loom costs $8 per creator per month. So, if you have a team of five creators that you want to have full access to the Business Loom service, you are looking at $40 per month. If you are a Business account holder, you can also have up to 50 creators on Lite accounts, which come with the same limits listed above.
This is a more cost-effective option if some team members need the premium features offered on the Business Loom accounts, but other team members only need access to the basic features.
Loom Plans Comparison
Plan
Starter
Business
Enterprise
Price
Free
$8
Price Varies
Workspace Creators & Videos
Up to 50 Creators Lite

Up to 25 videos/person

Up to 5 mins/video

Unlimited Creators

Unlimited videos

Unlimited recording length

Up to 50 Creators Lite

Unlimited Creators

Unlimited videos

Unlimited recording length

Key Features
Screen recording & cam bubble

Viewer insights

Team Workspace

Instant editing

Everything in Starter, plus

Transcriptions & closed captions

Filler word removal

Custom branding

Engagement insights

Everything in Business, plus

SSO (SAML)

Advanced content privacy

Salesforce integration (beta)

SCIM
How Do I Get a Loom Free Trial?
If you're interested in getting a Loom free Business account trial, follow these steps:
Visit the Loom pricing page, and click the purple "Start Free 14-Day Trial" under the Business column
Enter your email address to create a free account
Follow the on-screen prompts, including your credit card information
Hit submit and begin using your free trial
Once you're done signing up, you'll have access to everything the Business account offers for two weeks. Loom automatically charges credit cards after the free trial is over. If you don't want to continue your subscription after the trial is done, you will have to manually cancel it to avoid being charged.
Avoiding Automatic Renewals With DoNotPay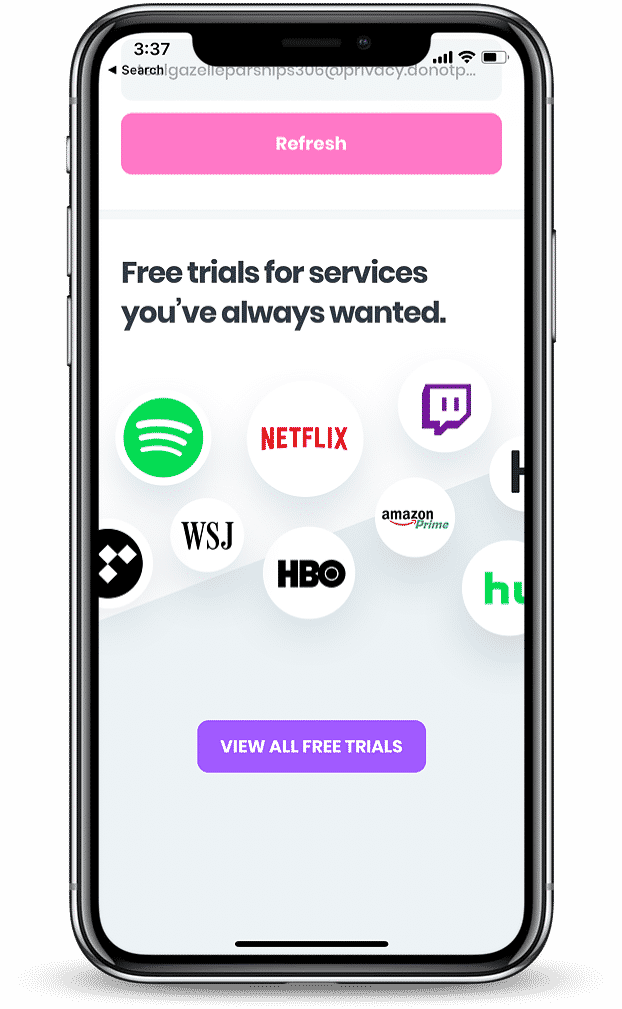 If you struggle to remember canceling subscriptions after free trials, DoNotPay has just the solution for you. With our virtual credit card generator, you never have to worry about getting charged for unwanted services, and it can save you a significant amount of time and money.
To get started, follow these steps:
Find a free trial you are interested in starting, and begin the sign-up process.
Before entering your credit card information, visit DoNotPay's virtual credit card tool.
DoNotPay will generate a random credit card number, CVV, and expiration date, which you will then put into the free trial's credit card field.
Enjoy your free trial until it expires.
The company will try to charge you after your trial is done, but they won't be able to because DoNotPay's virtual credit card doesn't carry a balance.
The team at DoNotPay was tired of getting charged after free trials We decided to make a tool that helps keep more money in your pocket and prevent companies from making more money off of shady business practices. If you're also sick of getting annoying promotional emails from companies after free trials, DoNotPay can also generate a temporary email address that you can use for accounts.
These services can keep your wallet happy and your email inbox clear of all the clutter and junk with offers you don't care about.
Why Use DoNotPay?
DoNotPay makes avoiding automatic renewals easier, faster, and more successful than ever! Instead of signing up with your credit card, potentially putting your account at risk in the event of a security breach, and having to remember to cancel on time, DoNotPay does all of the work for you! With our virtual credit card tool, there is no risk that you will be charged after the free trial, and you don't have to worry about your credit card information getting stolen. 
What Else Can DoNotPay Help Me With?

Besides helping you keep more money in your wallet, DoNotPay can also assist you with:
If you're ready to get more done with DoNotPay,  our website today!