How to Get and Use Logmein on a Free Trial With This Virtual Credit Card

LogMeIn is a remote access software that allows people to control a computer from a different place provided there is an internet connection. The platform also has several features, including an Antivirus to protect you from malware, as well as a password manager for saving your usernames and passwords. Moreover, LogMeIn can be used to print documents from your computer to the closest local printer. The company was introduced to the market in 2003 and has grown over the years to become one of the leading remote access software.
To discover how you can use LogMeIn without receiving any unwanted charges, simply read through the article and find out how DoNotPay can help. 
Does LogMeIn Offer a Free Trial? 
Yes. LogMeIn provides a  to its new users. However, their free trial varies in terms of duration depending on the type of product of LogMeIn. While LogMeIn Pro offers a 30-day free trial period, both LogMeIn Rescue and LogMeIn Central offer a free trial that lasts up to 14 days. All the three are the same, only that LogMeIn Pro was tailored to serve individuals who need to access their personal devices remotely. In contrast, LogMeIn Rescue and LogMeIn Central are mainly for business purposes.
How Can I Get a LogMeIn Free Trial? 
For you to use , you need to follow the procedure below:
Go to LogMeIn free trial website.
Select the product you want to use on a free trial. Whether it is LogMeIn Pro, LogMeIn Central, or LogMeIn Rescue, you can choose either of them and click on the "Start for free" button.
Provide your email address and a strong password.
Next, fill out the fields with your details as required.
Does the LogMeIn Free Trial Automatically Renew into a Paid Subscription? 
LogMeIn will automatically convert to a paid plan once the free trial period elapses. Therefore, it is essential to cancel the subscription to protect yourself from receiving unwanted charges. You can use DoNotPay to cancel your LogMeIn subscription with ease.
In case you find out that you have been charged by the platform after the free trial period has expired, you can still get a chargeback by contacting the customer care service and informing them of the issues. However, it is not a guarantee that you will have your money back, so the best option is to counter-check that you have canceled the subscription prior to the day the free trial expires.
Avoid Automatic Renewal With DoNotPay Virtual Credit Card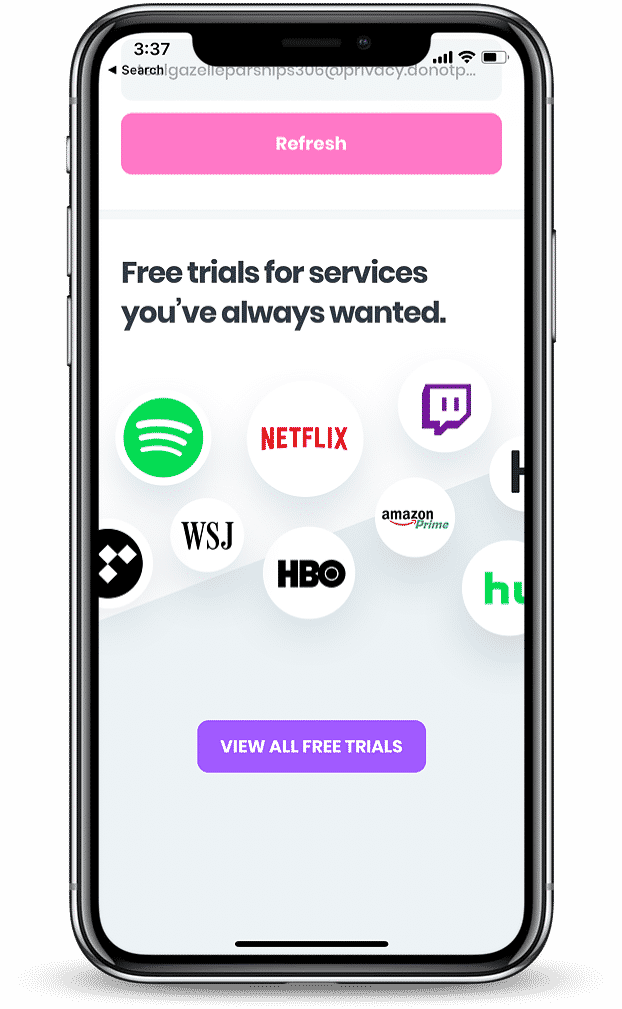 Many users of LogMeIn who have no intentions of continuing using the service forget to cancel their subscription. As a result, they may receive unexpected charges when the product renews into a paid plan. To counter this, DoNotPay developed a virtual card, also known as a free trial card. The primary function of the DoNotPay virtual credit card is to prevent the automatic renewal of services and products such as LogMeIn. This card works in a similar way to a standard credit card, but it has randomly generated credit card details that can be used to register for LogMeIn free trial. The virtual credit has no money in it and therefore can't process any unwanted charges.
Simply access DoNotPay through any web browser and use its virtual credit card to cancel free trials of any services or products LogMeIn included.
How Much Does LogMeIn Cost After the Trial? 
The cost of LogMeIn varies based on the type of product. LogMeIn Pro has three plans:
| | | | |
| --- | --- | --- | --- |
| Plan | Individual Plan | Power User Plan | Small Business Plan |
| Cost | $349.99 per year | $839.99 per year | $3499.99 per year |
The major difference between these plans is that with the individual plan, you can access 2 computers and up to 5 and 10 computers respectively on the power user and small business plans.
LogMeIn Rescue costs $1299.00 yearly, while LogMeIn Central starts from $80 per month, which is billed annually. 
What Are the Most Popular Alternatives to LogMeIn? 
Here are some alternatives of LogMeIn:
Subscription fee of $10.99 per month.
Simple user interface.
Subscription cost is $ 50.90
Good customer support.
It doesn't need router configuration.
Subscription fee of $3.39 per month exclusive of taxes.
Cloud connections
High steaming speeds
What Else Can DoNotPay Do? 

Besides protecting you from unwanted costs while using LogMeIn, DoNotPay can assist you with almost anything. Here are a few examples:
Why wait? Use DoNotPay virtual credit card to protect yourself from being charged while using LogMeIn on a free trial.