How to Sign Up for a ListenClear Free Trial With a Virtual Credit Card

ListenClear is a hearing aid company located out of Savannah, GA, that sells hearing aids via a direct-to-consumer sales model, amounting to around 50-70% savings by selling to doctors, stores, and audiologists directly.
ListenClear has impressive features and benefits, including a patented high-definition tech in their aids, , and amazing payment plans and discounts for when paying online with credit cards.
Does ListenClear Have a Free Trial?
Yes, ListenClear comes with a . This way, you can place your order online or via a phone call to get a free trial and enjoy their products for a full 30 days.
Since ListenClear offers products and not services—which can be limited depending on the pricing plan—you get to enjoy the product fully uncapped. Benefits and features of the 30-day risk-free trial include:
One-year warranty
Unlimited expert assistance
Free shipping
Ready for immediate use
Adjustable and customizable
No tests and fittings are necessary.
How Can I Get a ListenClear Free Trial?
Below is a step-by-step process of getting your ListenClear free trial.
Head over to the product website www.listenclear.com.
At the top menu, click the highlighted 'Risk-Free Trial' button.
Fill the small form with the necessary details, including your name, email address, and phone number, then click 'Learn More'.
The next step will require you to input your payment details. ListenClear requires you to leave your credit card details even when signing up for the free trial. The product is then delivered to you to use without any charges for the first 30 days. ListenClear recommends using the hearing aids for at least 21 days during the free to get fully accustomed to them. However, you may choose to cancel before the 30 days in case you are not satisfied or renew the subscription at the end of the free trial.
Does ListenClear Free Trial Automatically Renew Into A Paid Subscription?
Yes, it does. Fortunately, you can cancel your free trial subscription before the 30 days lapse to avoid getting charged during the automatic renewal after the 30-day window. Ensure you cancel at least a day before the end of the 30 days. Fortunately, ListenClear should be able to tell you when the free trial will end so that you can plan on cancellation.
Luckily, you can get a refund if the free trial auto-renews to a paid subscription, and you don't intend to pay the fees. DoNotPay is the world's first robot lawyer that can help clients get refunds for unintended subscriptions. If you forget to cancel the free trial on time, DoNotPay can help you claim your money back promptly.
Avoid Automatic Renewal with DoNoPay Virtual Credit Card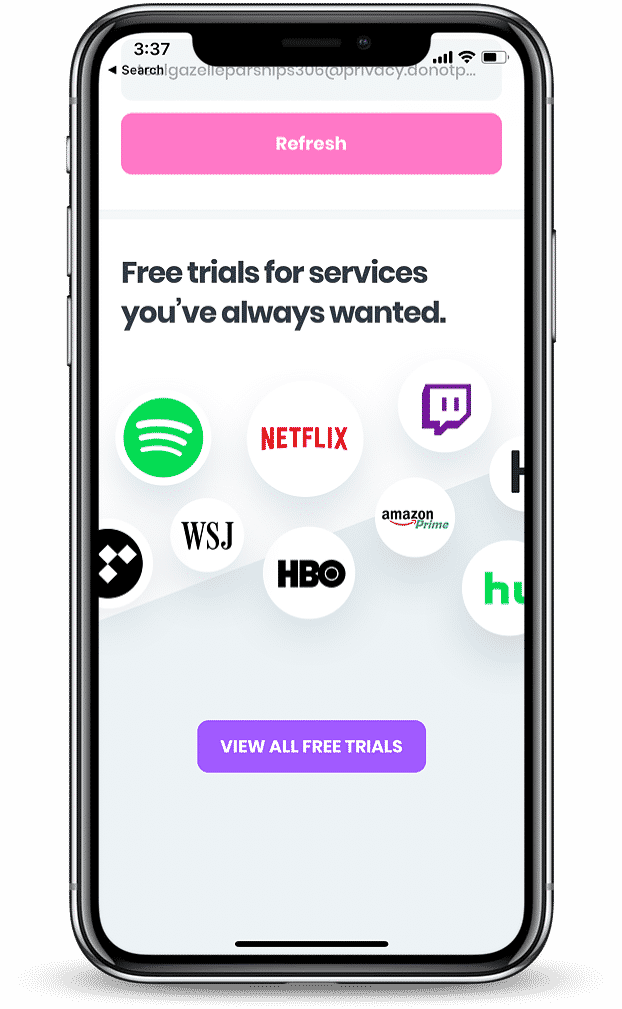 Unfortunately, the majority of people tend to forget to cancel their subscriptions and free trials, then end up paying for products and services they don't want. ListenClear provides a 30-days window that should be enough to cancel the free trial without allowing automatic renewal. On the bright side, DoNotPay can help you avoid such automatic renewals altogether using virtual credit cards.
Ideally, DoNotPay generates a random number and a credit card that you will use when purchasing ListenClear hearing aids. After the 30-day free trial expires, ListenClear won't charge you since there is no money on the virtual credit card. That way, there won't be an automatic renewal, and your subscription will be canceled. Head over to DoNotPay to access this free-trial risk-free.
How Much Does ListenClear Cost After the Trial?
ListenClear comes in four models:
| | |
| --- | --- |
| Model | Price |
| ListenClear Pro | $1,199.66 |
| ListenClear Shadow | $1,874.88 |
| ListenClear Premier 50 | $1,499 |
| ListenClear Premier 70 | $1,874.88 |
Generally, these prices tend to be cheaper than other hearing aid models on the market.
What are the Most Popular Alternatives to ListenClear?
Once you decide that you need a hearing aid, the available choices may be overwhelming. Manufacturers, options, colors, and styles are all factors to consider. Your audiologist will help you choose the most suitable hearing aid for you. There are many hearing aid brands that you can choose instead of ListenClear. Below is a list of the most common alternatives to ListenClear:
Hansaton: Hansaton produces digital hearing aids with top-notch designs and features and features such as speed direction adjustment.
Oticon: The company specializes in aids for individuals with severe to profound hearing loss and devices for individuals with less hearing loss.
Phonak
Resound
Siemens
Starkey
Unitron
Widex
Regardless of your choice, DoNotPay provides you with a free virtual credit card to help you sign up for a free trial without getting charged.
How Else Can DoNotPay Help?

DoNotPay is one of the best internet service providers, helping multiple clients access denied services and solve complaints. Additionally, DoNotPay can help you sign up for almost any service or product provider offering free trials.
Besides helping you sign up for a free trial risk-free, DoNotPay can also help you to:
Use DoNotPay to access  without getting charged!