How to Download a LexisNexis Free Trial Without Giving Your Credit Card Info

When you own or manage a business, you need a helping hand to keep up with regulations and to make sure that you never accidentally miss a step and end up in legal trouble. You need a service, such as LexisNexis, to help you make the most of your opportunities without overstepping laws and regulations. If you aren't convinced that LexisNexis is your best option, you may want to try it out before committing.
If you're considering a , you worry that if you don't want to continue, you'll forget to cancel the free trial or the company will charge you anyway.  It seems like you don't have any easy way to get a LexisNexis free trial and avoid getting charged for a subscription when the free trial period ends. You have options. The DoNotPay app has the perfect solution.
Does LexisNexis Offer a Free Trial?
Yes, LexisNexis offers a free trial for everyone, and it lasts for seven days. You'll need to create an account in order to access the free trial, and the system allows people who have already created an account to activate the free trial if they haven't used the service before now. If you're a faculty member in a law school, you might already have access to LexisNexis, so you need to check before signing up for the free trial.
How Can I Get a LexisNexis Free Trial?
It's easy to get a . You just need to follow these steps:
You start by going to the correct webpage.
If you already have an account with LexisNexis, you need to sign in with your email and password.
If you don't have an account, you need to create one by providing your name and email. You'll also need to provide the way you heard about the service.
After you tell them how you found the service, the form grows, and you need to provide more information, such as your zip code and phone number.
After submitting the form, you receive a code on your phone.
Enter the code and submit
Create a password and security questions.
Click Start Free Trial now.
Does the LexisNexis Free Trial Automatically Renew Into a Paid Subscription?
No, the LexisNexis free trial doesn't automatically renew into a paid subscription. However, if you do subscribe to LexisNexis after the free trial, it automatically renews. If you only need the service for a couple of months, you need a way to remember to cancel and avoid being billed when you no longer need the service.
Avoid Automatic Subscription Renewals and Charges With DoNotPay's Free Virtual Credit Card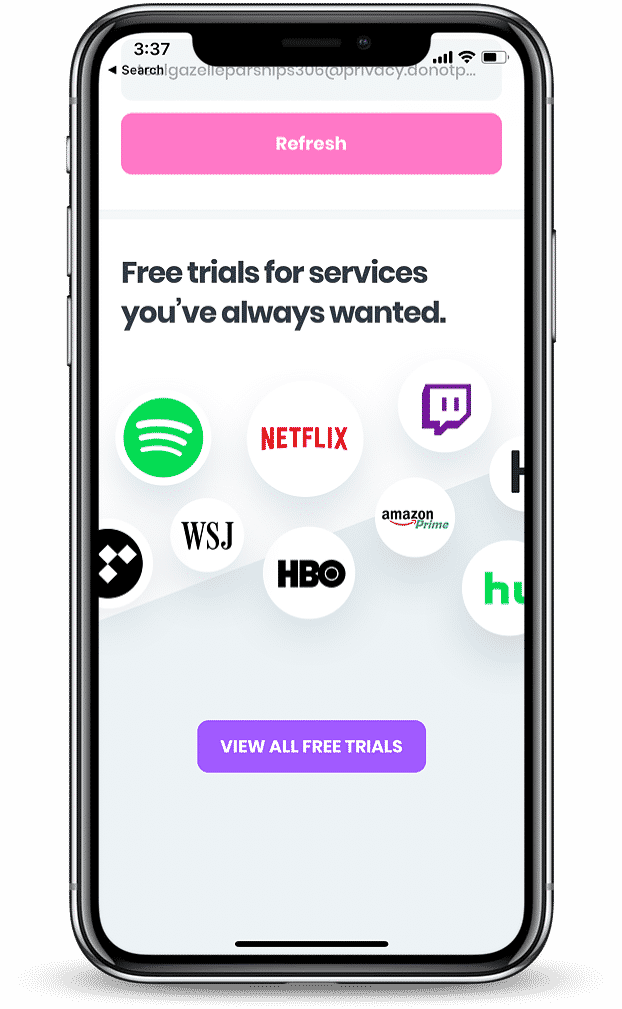 A virtual credit card is an answer for how to avoid more charges for your LexisNexis subscription after your free trial ends than you want to pay for. DoNotPay can help you create a free virtual credit card, and it's easier than you can imagine doing. You need to check out these three benefits of a virtual credit card:
With the DoNotPay app, you get to designate the company that can use the number generated.
DoNotPay produces a virtual credit card that protects your real card number, and LexisNexis can't see your real info.
If you forget to cancel a free trial that automatically renews, the virtual credit card will reject any renewal charges, making all free trials risk-free.
How Much Does LexisNexis Cost After the Trial?
After the LexisNexis free trial, the website offers a fee for the information you access, and this isn't a flat-rate monthly subscription fee. LexisNexis offers a host of legal products, and you'll pay based on the type of product that you want to access. LexisNexis has a lot of pricing information, but here is what you can expect to pay for reports:
| | |
| --- | --- |
| Type of LexisNexis Reports | Price per report |
| Gateway Functionality | $3 per alert per day |
| Intra-Day 3x | $16 each (so $48 total) |
| Daily Search Update | $20 per alert per day |
| Initial Search | $65 per alert |
To see LexisNexis' full pricing information, review their types of products and prices for each one on their website.
What Will LexisNexis's Charges Look Like on My Statement?
You'll see LexisNexis's charges on your credit card statement under their company name. Due to the variety of services, you may see multiple charges from LexisNexis on your monthly bill. You'll need to compare the charges on your statement to the services that you've actually used.
What Are the Most Popular Alternatives to LexisNexis?
You might decide that you need a service similar to LexisNexis, but not the actual service of the company. There are some services that you can explore. Some to check out include:
Case Text
AccessData
IBM
Microsoft
Relativity
Thomson Reuters
Legal Shield
And more!
Get More Help From DoNotPay

DoNotPay can help you get a free trial, cancel LexisNexis, and get refunds for products that didn't match their claims. DoNotPay provides fast and successful solutions to many of your daily problems. Here are just a few things we can do to help you:
Start your LexisNexis free trial and use a virtual credit card from DoNotPay today!