How to Get LA Fitness Free Trial Without Using a Credit Card

Whether it's your New Year's resolution or just a personal health goal driving you, the sounds like a good deal. You're thinking you can go in and sample the equipment and get a feel for the place. Start working on your fitness goals and see just how comfortable you are in the LA Fitness environment before taking the leap to officially enrolling in a membership.
But you're also wondering if that comes with some fine print. Will you have to provide your credit card information upfront? If you forget to cancel, will you automatically become enrolled? LA Fitness free trials, like so many other services, might have auto-subscribe features if you forget to cancel. Here's what you and potential gym enthusiasts need to know about sampling the LA Fitness experience without getting charged.
Does LA Fitness Offer a Free Trial?
are common across the 700 plus gym locations nationwide and in Canada. LA Fitness is one of the largest privately-owned gyms in the country. Based on the location of the LA Fitness near you, you might be eligible for a free trial run or a guest pass.
The LA Fitness Guest Pass
Rules for the guest pass, which allows a non-paying member to experience the gym facility without opting-in, include activation within 30 days of the emailed date. The pass itself is good for 14 consecutive days and is limited to one per person every six months.
The LA Fitness Free Trial
Your local LA Fitness may offer a free trial. Not all gym locations will offer these, but most will extend a basic three-day free pass.
Workout for a Day
If you're in a new-to-you location and just need a place to hit the treadmill, the LA Fitness free trial for one-day passes is a great option.
How Can I Get an LA Fitness Free Trial?
If you want to get your LA Fitness free trial or three-day pass, you can complete the form online. The initial page requires you to enter:
Name
Cell Phone
Email
And you'll be prompted to agree before moving on to receive marketing and non-marketing texts, calls, and autodialer campaigns. You might also be prompted to enter payment information. Once completed, you'll receive your pass electronically to present when you attend the gym, as part of your LA Fitness free trial. Guests must present ID when signing in, children must be accompanied by an adult, and the resident fitness counselor will provide a brief tour and tutorial.
Does the LA Fitness Free Trial Automatically Renew Into a Paid Subscription?
So what happens when your LA Free trial runs out? If your credit card is on file, you may be automatically renewed. Because LA Fitness doesn't engage in actual contracts and only provides month-to-month membership, you may be on the hook for another month of workouts.
If you want to cancel, you'll need to do so at least five days prior to the trial expiration and new member renewal cycle. And LA Fitness doesn't offer refunds. Canceling your LA Fitness subscription once you've enrolled is a seriously tedious process that requires mailing a printed request.
Avoid Automatic Renewal With Donotpay Virtual Credit Card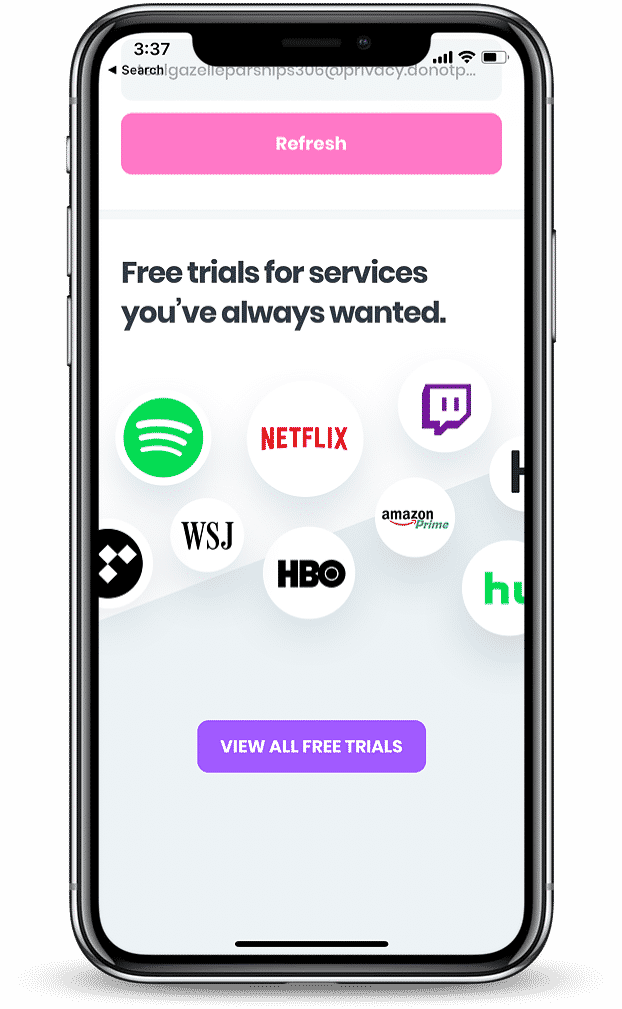 Don't feel bad. Thousands of people forget about canceling free trials and end up on the hook for paying for a subscription they never wanted. Instead of hassling with setting reminders for yourself, you could try the DoNotPay way to cancel your LA Fitness free trial. The DoNotPay Virtual Credit Card is the perfect solution for all your free trial experiences.
DoNotPay will generate a random number and credit card info you can use to subscribe.
Once the free trial in question is over, with no funds behind the card, the subscription will terminate.
DoNotPay will even craft a temporary email to use when subscribing to free trials.
How Much Does [Service] Cost After the Trial?
There are several LA Fitness packages for anyone looking to explore the gym membership beyond the free trial or guest pass. All plans have a $49.00 annual fee.
1 Person
2 Persons
3 Persons
4 Persons
Initiation Fee (One Person) (Single Club) $0.00

Monthly Fee (One Person) (Single Club) $33.99

Total Initial Payment (One Person) (Single Club) $67.98

Initiation Fee (2 Persons) (Single Club) $0.00

Monthly Fee (2 Persons) (Single Club) $67.98

Total Initial Payment (2 Persons) (Single Club) $135.96

Initiation Fee (3 Persons) (Single Club) $0.00

Monthly Fee (3 Persons) (Single Club) $101.97

Total Initial Payment (3 Persons) (Single Club) $203.94

Initiation Fee (4 Persons) (Single Club) $0.00

Monthly Fee (4 Persons) (Single Club) $135.96

Total Initial Payment (4 Persons) (Single Club) $271.92
What Will LA Fitness Charges Look Like on My Statement?
You'll know what an LA Fitness charge looks like when it shows up on your credit card or bank statement. So, if you know you're the kind of person who doesn't frequently check your accounts, you might miss auto payments for a month or two. And according to the Reddit threads and Quora conversations, not formally canceling your membership will translate to ongoing charges. If you stop payment or try to refuse to pay your membership, LA Fitness can turn your account over to collections as a valid measure. At that rate, it could end up being a super hefty LA Fitness free trial turned nightmare.
What Are the Most Popular Alternatives to LA Fitness?
If you want to bypass the hassles of an to explore other gym and exercise options, you can always sample some of these other facilities and programs.
Community Recreation Centers often have low-income programs.
YMCA offers financial assistance.
24-Hour Fitness offers a 3-Day Free Pass
Anytime Fitness offers a free 7-day pass
Crunch Fitness offers a free 7-day pass
Genesis Health Club offers a free 7-day pass
What Else Can DoNotPay Do?

You can rely on DoNotPay to help you with almost anything, including:
If you're going to explore the LA Fitness free trial, make sure you have your timeline laid out to cancel if you decide not to join. And tap into DoNotPay's Virtual Credit Card to ensure you can take advantage of the free trial without getting charged