How to Get a Kahoot! Premium Free Trial Without Giving Your Credit Card Information

Kahoot is a learning platform for schools, businesses, and individual learners. It features game-based quizzes that are accessed from an app or web browser. There are several account types users can sign up for based on their needs, with several types offering a free trial period. If you're interested in signing up for a Kahoot Premium free trial but don't want to pay, DoNotPay can show you how. 
Does Kahoot Premium Provide Free Trials?
Yes, in fact, there are several types of Kahoot accounts that offer free 7-day trial periods for new users. The following table will walk you through each type of Kahoot account that offers a free trial and discuss the key characteristics of each type.
| | | | |
| --- | --- | --- | --- |
|         Accounts |          Costs |             Benefits |         Free Trial |
|    Kahoot! Pro | $36, billed annually | Up to 100 players per game, polls, puzzles, and multi-select answers, premium image library access |       Yes, 7 days |
| Kahoot! Premium | $72, billed annually | Up to 200 players per game, type in answer questions, audio-in questions |       Yes, 7 days |
| Kahoot! Premium+ | $108, billed annually, currently discounted to $72.36 | Up to 2,000 players per game, unlimited teacher groups, full functionality courses |       Yes, 7 days |
How Can I Access a Free Trial of Kahoot Premium?
To begin your 7-day free trial of Kahoot Premium or Kahoot Pro, you will have to follow this process:
Visit the plans page of Kahoot's website.
Identify the type of individual account you're interested in and click on the "Try free trial" button.
You will next be prompted to log in to your Kahoot account. If you don't currently have one, click the "Sign up" button at the bottom of the page and follow the prompts to create your account.
After creating your account, you will need to input your billing information, including a valid credit card number.
Enjoy access to your free trial period!
Don't forget that if you do not cancel your membership before the end of the seventh day, you will be billed for the pricing option you selected. 
Do Kahoot Premium Free Trials Become Paid Subscriptions Automatically?
Yes, Kahoot Premium trials all become automatically renewing paid subscriptions if you fail to cancel your trial on time. If you want to avoid this charge, Kahoot allows you to schedule cancellation before your trial expires. You can do this in your account options after you sign up.
How Much Does Kahoot Premium Cost After the Trial?
After your trial period ends, if you have failed to cancel, you will be billed the annual rate for the account type you selected:
Kahoot Pro: $36
Kahoot Premium: $72
Kahoot Premium+: $108
How to Avoid Automatic Renewal Charges for Any Free Trial With DoNotPay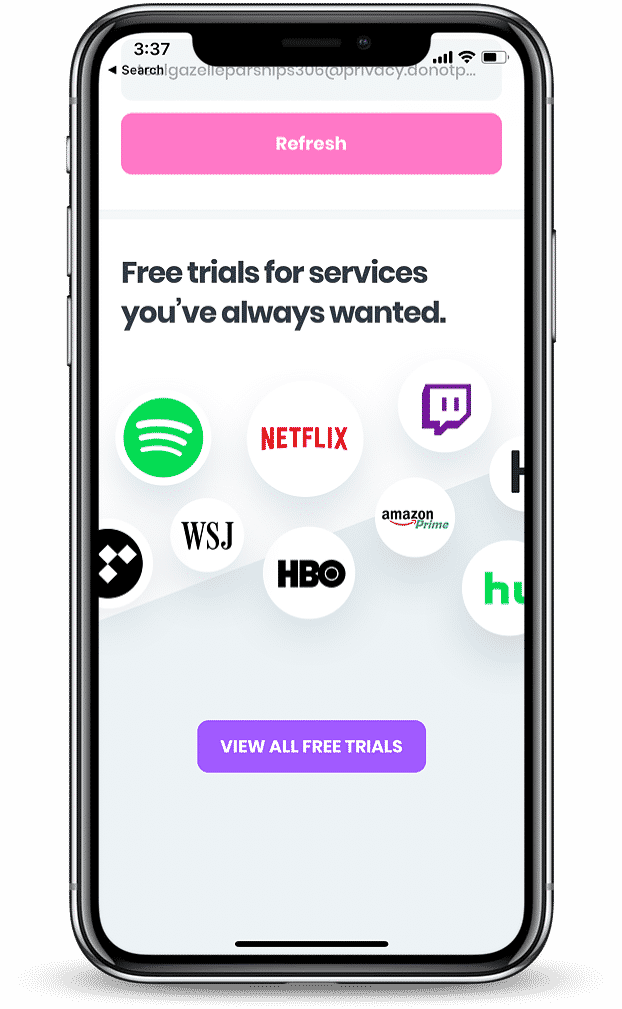 If you want to take advantage of free trial offers like Kahoot Premium but are worried about tricky cancellation policies, DoNotPay is here to help. We don't think it's right that credit card information is required to access a service promised to be free, so we created our Virtual Credit Card product. Using DoNotPay's Virtual Credit Card to sign up for trials ensures you never pay a dime and don't have to struggle through intentionally difficult cancellation processes. 
Here's how it works:
Visit DoNotPay's app or website and select our Virtual Credit Card service.
We will generate a random credit card number, expiration date, and CVV that you can use to sign up for as many trials as you like.
Your Virtual Credit Card is not connected to any real money, so it's impossible for you to be charged. At the end of your trial period, the company will be unable to charge you and simply cancel your account.
Visit our webpage on this service to learn more details about how it works. Signing up is fast and easy and will guarantee you never again get charged for a service you didn't want.
What Are Some Services Similar to Kahoot?
There are many internet-based learning services like Kahoot that you might be interested in trying. Using DoNotPay's Virtual Credit Card will allow you to sign up for all of them without any fear of being charged. The following table covers the most popular Kahoot alternatives and their benefits.
      Alternatives
         Costs
                  Benefits
    Free Trial
  Blackboard Learn
 

 

$9,500 per year

Create online courses using Blackboard's app and website. Access data and analytics and create interactive learning experiences.

  Yes, 30 days
  Quizzizz
Basic plan starts at $19 per month, billed annually

Create quizzes, presentations, and e-learning experiences

  Yes, 7 days
  Canvas LMS
Basic plan starts at $380 per year, billed annually

Solutions for K-12, higher educations, and businesses. Create elearning activities, videos, and more

  Yes, 14 days
What Else Does DoNotPay Do?

DoNotPay provides solutions for many frustrating issues. Our goal is to make our customers' lives easier and provide a simple way for individuals to hold large corporations accountable to the law. Some of our most popular solutions include:
Start taking advantage of all the free trial offers you want today, risk-free. DoNotPay has all the solutions you need.