How To Get a Jobscan Free Trial With a Virtual Credit Card

If you've been in the job market for long, you know how difficult it can be to get past the application process and into an interview. Partly, this is a result of employers who use computers to scan resumes for keywords and ignore resumes without the right keywords. Jobscan is a company designed to help you get into more interviews than ever before by helping you find the right keywords for your resume and application, and you can get a  with Jobscan to save a lot of money.
Does Jobscan Offer a Free Trial?
Jobscan does offer a free two-week  for its most popular subscription, which costs $89.95 quarterly after the trial ends. In addition to saving you money that first two weeks while you decide if you like Jobscan, this subscription comes with the added benefit of a 50% discount since subscribing without the free trial will cost you $49.95 a month.
How Do I Get a Free Trial With Jobscan?
The process of signing up for a  with Jobscan is pretty easy. Here's what you have to do:
Head to https://app.jobscan.co/plan/.
Choose the most popular plan "2 Weeks Free."
Sign in with LinkedIn or create an account with your email and password.
Start uploading your resume and cover letter for expert career help!
Will a Free Trial at Jobscan Automatically Renew Into a Paid Subscription?
If you complete your two-week free trial without canceling your subscription, your trial will automatically renew into the paid quarterly plan. You can cancel your subscription even up to the expiration date of your free trial to avoid being charged. You can cancel directly in Jobscan or reach out to the customer service team for help.
What Are the Plan Options at Jobscan?
There are technically three plan options at Jobscan that you can choose from:
Free forever
2 Weeks Free and $89.95 every three months after
$49.95 a month
Each plan offers slightly different benefits. The entirely free plan will get you:
2 match rate calculations and keyword comparisons a month
Limited scan history
Resume manager
Access to the Jobscan Learning Center
The other two options both offer:
Unlimited match rate calculations and keyword comparisons
Access to LinkedIn optimization (after the trial)
Resume manager
Access to the Jobscan Learning Center
Cover Letter optimization
Unlimited scan history
Job-matching
Predicted skills
Resume power edit
Premium ATS and Recruiter findings
ATS Revealed eBook
ATS friendly resume templates
Premium cover letter templates
The main benefit of starting with the free trial is the discounted price afterward: instead of paying $49.95 a month, you'll pay $89.95 a quarter. In the end, that saves you nearly $240 a year!
How To Avoid Automatic Renewal and Unwanted Payments With DoNotPay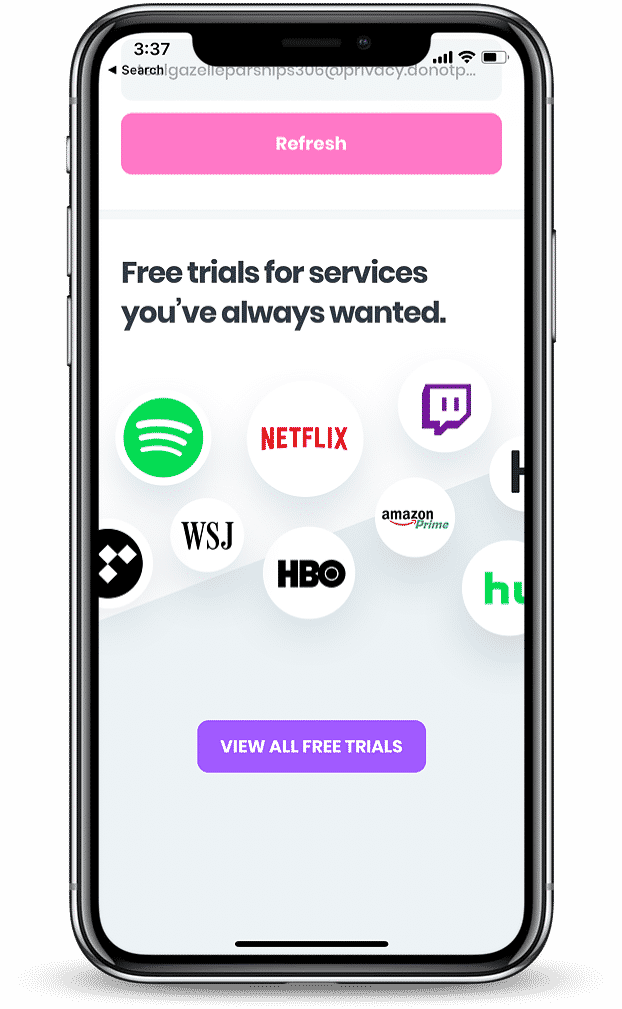 There's a simple and easy way to avoid getting stuck paying for a subscription you don't want. If you're not sure that you can remember to cancel your subscription within two weeks, you're not alone. Thousands of Americans forget to cancel free trials and get stuck paying for subscriptions every year!
To ensure that you don't have to pay more than you're willing to, you can use DoNotPay's Virtual Credit Card service to help. Here's how it works in a few simple steps:
Search free trial card on DoNotPay and enter the company you want a free trial for.
We'll automatically generate a virtual credit card that you can use for that merchant. Copy the card details shown on your screen.
Use the card to sign up for your free trial and sit back to relax and enjoy!
*The card will be deactivated and not usable once it's been used once.
It's that easy! By using the virtual credit card from DoNotPay, you'll be able to avoid paying any unwanted money to Jobscan. Simply take that two-week free trial and decide if it's right for you without worrying about canceling before your time is up. DoNotPay can handle that for you!
Other Ways DoNotPay Can Help You Save Money

If you're like most Americans, you're always looking for ways to save some of your hard-earned cash. It's important that you don't spend money you didn't want to spend on services that you won't use. To find more help saving money, check out the other services DoNotPay offers. DoNotPay can help you:
If you're interested in getting free help to save money and deal with simple legal issues, DoNotPay is here for you. With the DoNotPay robot lawyer, you can get help that is fast, easy, and effective. To see where you can save,  today.