How to Get a Jardiance Free Trial Without a Credit Card

Jardiance is a medication commonly used to treat patients with type 2 diabetes. As with any medication, it can be expensive if you don't have insurance.
A  might be available if you know where to look. However, some people understandably don't want to exchange their credit card information for free trials. You can still take advantage of free Jardiance with DoNotPay.
Does Jardiance Offer a Free Trial?
Jardiance does not usually offer free trials. But there are still two ways that you can try the medication for free.
Coupons
The McKesson Corporation is currently offering a voucher for a free 14-day supply of Jardiance. To use this voucher, you must be:
At least 18 years old
Have a prescription from your PCP
Reside in one of the 50 U.S. states, DC, or Puerto Rico
Additionally, you can't use this coupon if:
You are enrolled in Medicare Part A coverage
You currently reside in an assisted living facility (such as a nursing home or hospice)
State restrictions prohibit its use (specifically in California and Massachusetts)
Patients can use this voucher at any time before it expires after December 31, 2022. To get your free supply of Jardiance, follow these steps:
1. Talk to your doctor and obtain a prescription for Jardiance.
2. Print out the voucher.
3. Present both of these items to your local retail pharmacy or outpatient center.
Jardiance Savings Card
With a Jardiance Savings Card, most patients only pay as little as $10 for a three-month prescription. If you have type 2 diabetes, you may be able to get your first year of Jardiance free with this card!
To apply, all you have to do is:
1. Head to the Jardiance website and answer the initial questions. You aren't eligible for a Jardiance Savings card if you're not a U.S. citizen or if you don't have commercial health insurance. You also can't qualify for this card if your healthcare costs are covered by a federally-funded program.
2. Fill out the personal information required on the next page.
3. Click 'Submit' to finish your application.
4. If you're having problems with the webpage or would prefer to sign up by phone, call 1-866-279-8990.
Avoid Any Automatic Renewals With a DoNotPay Virtual Credit Card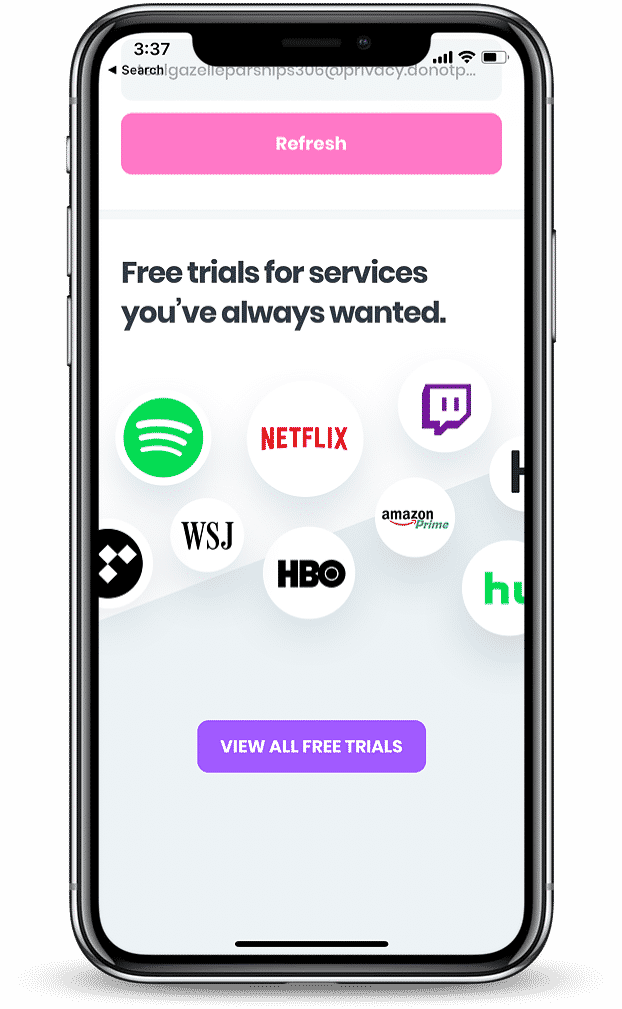 If you're not satisfied with a prescription after your free trial has ended, you probably won't want to continue using it. Still, if you've got a busy schedule, it's easy to forget about canceling a free trial.
Your card will likely immediately be charged after the free trial has ended. If your copay is low, you could end up accidentally paying for a prescription for months.
Some people might agree to pay one price for a prescription, but actually get charged a higher amount. Now you feel obligated to pay for a prescription that you thought would be more affordable.
For a company savings card, you usually aren't required to provide your credit card information. However, the provider may still ask you for your credit card if you'd like to take advantage of extra services. For example, they may invite you to use a premium discount app's free trial for other prescriptions.
There's no reason to pay more than you intended for any prescription or service. To keep your credit information secure, use a DoNotPay virtual credit card instead.
This virtual credit card is a random string of numbers that will be accepted by any creditor. Each card can only be used once: after it handles the initial authorization. Once a free trial has ended, the card will automatically be canceled!
How Much Does Jardiance Cost After a Free Trial?
After your  has ended, the cost of a prescription will vary based on your insurance coverage.
| | |
| --- | --- |
| Coverage: | Price: |
| Commercial health insurance | Cost varies, typically $0-$45 per month. Less than 15% of policyholders pay an average of $203 per month |
| Medicaid: | $0-$10 per month |
| Medicare: | $0-$50 per month with Medicare Part D coverage. Other plans typically cost $163 per month |
| TRICARE: | $0 for military hospitals. $33 for a 30-day supply if obtained from a retail pharmacy. $29 for a 90-day supply through mail order |
| Veterans Administration coverage: | $11 for a 30-day supply |
| Financial Assistance programs: | Patients can get free Jardiance if they meet the requirements of The Boehringer Ingelheim Cares Foundation Patient Assistance Program |
| No insurance: | $548.54 for a thirty-day supply. Patients may have to pay more depending on individual pharmacy fees |
New coupons and free trial offers for Jardiance pop up frequently. Fortunately, with DoNotPay's virtual credit card, you can try this medication risk-free!
What Else Does DoNotPay Do?

Besides free virtual credit cards, we offer a variety of useful services. You might wish to try:
Try DoNotPay today!