How to Get IPSY Free Trial Securely With This Virtual Credit Card

IPSY is a subscription box that delivers samples of five personalized beauty products in an attractive, seasonal makeup bag right to your mailbox. The company prides itself on selecting products that match your appearance and style, but how well can an online service truly do this? An  would certainly give you peace of mind if you're interested in seeing what the company has to offer. But it isn't quite that easy.
Does IPSY Offer a Free Trial? 
IPSY does not currently offer a free trial of its monthly Glam Bags filled with sample-sized beauty products. However, the service does offer new subscribers a free month of its new add-on subscription, Refreshments, as well as an unnamed free gift.
The Refreshments line's subscription functions much like IPSY's original Glam Bags. It allows subscribers to sample personal care products, such as:
Skincare products
Body wash
Fazors
And deodorant
This is different from Glam Bags, which are filled with:
Makeup
Nail polish
And beauty tools.
IPSY intends for subscribers to sample products from both lines to create a well-rounded beauty routine that prioritizes cruelty-free products, sustainability, and other values that IPSY has become known for.
How Can I Get an IPSY Free Trial? 
Although you cannot get an  at this time, getting a free month of Refreshments and an additional free gift with the purchase of your first Glam Bag significantly increases both the value of your purchase and your chances of discovering a product you love. Knowing that you will get more for your money can make trying a company you are not familiar with more worthwhile. 
Signing up for IPSY begins with a short survey. You'll be asked about your skin type, other aspects of your appearance, and the types of products, colors, and scents you are most interested in. You will then need to create an account by adding:
Your email address
A password
Your age
Your plan type
Your address
Does the IPSY Free Trial Automatically Renew Into a Paid Subscription? 
Because does not offer a Glam Bag free trial at this time, your subscription will start as a paid subscription. If you choose to add a Refreshments free trial to your Glam Bag subscription, this part will renew into a paid subscription (increasing your monthly total) if you do not cancel your Refreshments free trial or your entire IPSY subscription by the 30th day of your first month.
Avoid Automatic Renewal With DoNotPay Virtual Credit Card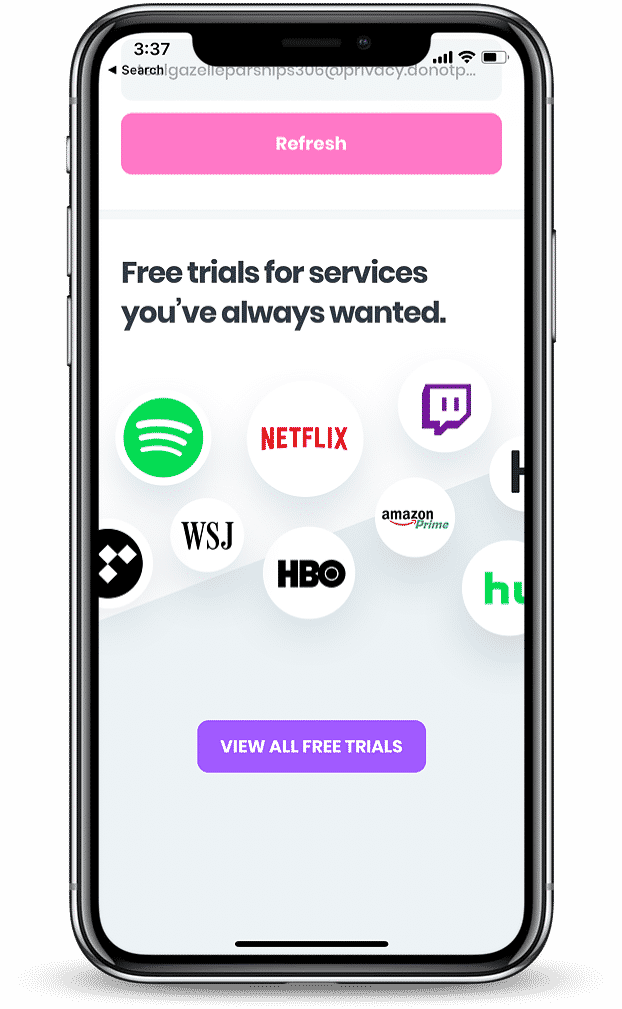 DoNotPay's free Virtual Credit Card is an easier and more reliable way of avoiding accidental charges when testing out the vast majority of subscription services. Instead of sharing your real credit card information, share a dummy credit card from DoNotPay. That way, you'll never get charged for a subscription you don't actively renew. It's super easy.
How Much Does IPSY Cost After the Free Trial?
IPSY members have three Glam Bag subscriptions to choose from. Although none include a free trial, trying a paid first month of the lowest-priced option fits into most budgets and can give you an idea of what IPSY has to offer. Once you try the products in your first Glam Bag, you can choose to cancel, upgrade, or keep your subscription the same. These options include:
| | | |
| --- | --- | --- |
| Subscription | Pricing | Inclusion |
| Glam Bag | $13/month | Includes five sample-sized products valued at approximately $50 |
| Glam Bag Plus | $28/month | Includes five full-sized products valued at approximately $120 |
| Combination | $41/month | Includes Glam Bag and Glam Bag Plus |
If you choose to add a Refreshments free trial to your subscription, products from this line will be added to your subscription, and your total monthly cost will increase at a rate of approximately $13 per month after your free month. You can cancel your Refreshments subscription, change your Glam Bag selection, remove specific products from your next order, or completely cancel your IPSY subscription at any time within your IPSY account.
What Will IPSY's Charges Look Like on My Statement? 
IPSY's charges on your bank and credit card statements can vary significantly. Your location, payment method, and specific type of subscription may affect the specific numbers that are included in the charge, but they will always include some form of "IPSY," "IPSY Glam Bag," or "Glam Bag," along with the price of your monthly purchase.
What Are the Most Popular Alternatives to IPSY? 
Although IPSY is one of the best-known beauty subscription boxes, several newer alternatives have begun to gain popularity as the concept of subscription boxes has gained traction in recent years.
Popular Alternatives to IPSY

Birchbox
Allure Beauty Box
GlossyBox
BoxyCharm
Clean Beauty Box
FabFitFun (includes both beauty products and other lifestyle items)
What Else Can DoNotPay Do? 

DoNotPay makes managing your subscriptions faster and easier than ever while saving you money by preventing accidental charges or forgotten subscriptions. We can also help you with dozens of other services, such as: 
Canceling nearly any digital subscription
Closing online accounts
Recovering lost passwords
Getting additional copies of other important documents
Managing credit card issues
Improving your credit
 to get started!