How to Get an Invisible Boyfriend Free Trial Without a Credit Card

, and its companion Invisible Girlfriend, are apps that simulate communication from a significant other. The app is designed to help you convince the people around you that you've found love. Invisible Boyfriend is especially helpful if you have pushy parents that insist you find a romantic partner or if you are gay and want to avoid persecution or judgment.
If you want to  but don't want to pay for the service without knowing whether or not it's for you, you can sign up for an Invisible Boyfriend free trial. However, if you want to try the app risk-free, DoNotPay has you covered. We will ensure that you don't get blindsided by monthly charges from your digital beau once your trial period ends.
Does Invisible Boyfriend Offer A Free Trial?
Invisible Boyfriend was launched in 2015. This app hooks you up with a partner who will send you:
Text messages
Phone calls
Voicemails
Written notes
A postcard with his picture
Amazingly, these communications come from an actual person, and they aren't just procedurally generated by an A.I. When you first sign up, the app offers you a complimentary ten free text messages from your pretend partner. If you want access to the full suite of options, you will have to sign up for a subscription.
How Can You Get An Invisible Boyfriend Free Trial?
Signing up for Invisible Boyfriend is a simple process you can complete on their website.
Fill out an online form with your personal information, including your name, phone number, and email address.
Select the reason you are signing up for Invisible Boyfriend (want the appearance of a relationship, need to appease pushy family members, want to make an ex jealous, etc.)
Choose an image for your Invisible Boyfriend from a selection of selfies collected by the company.
Come up with a name and age for your Invisible Boyfriend.
Select his interests.
Generate a backstory for how the two of you first met.
Once you complete these steps, your Invisible Boyfriend will contact you by text message. You will get ten complimentary text messages after signing up, and once you enter your credit card information, you will begin receiving more texts, phone calls, and voicemails. Hold actual conversations with your Invisible Boyfriend and convince everyone around you that he is your loving partner.
Does The Invisible Boyfriend Free Trial Automatically Renew Into A Paid Subscription?
Invisible Boyfriend does not automatically charge you for a subscription. You don't need to give them any credit card information until you decide that you want to pay the monthly fee for the upgraded service. Your free trial period ends once you receive your ten complimentary text messages. After you pay for a subscription, the company does not offer refunds.
How Much Does Invisible Boyfriend Cost?
Here's how much The Invisible Boyfriend service and because each of these comes from an actual person, they will respond if you text them.
Cost
Inclusion
$25 per months
100 text message

10 voicemails

1 handwritten note
Avoid Automatic Renewal With The DoNotPay Virtual Credit Card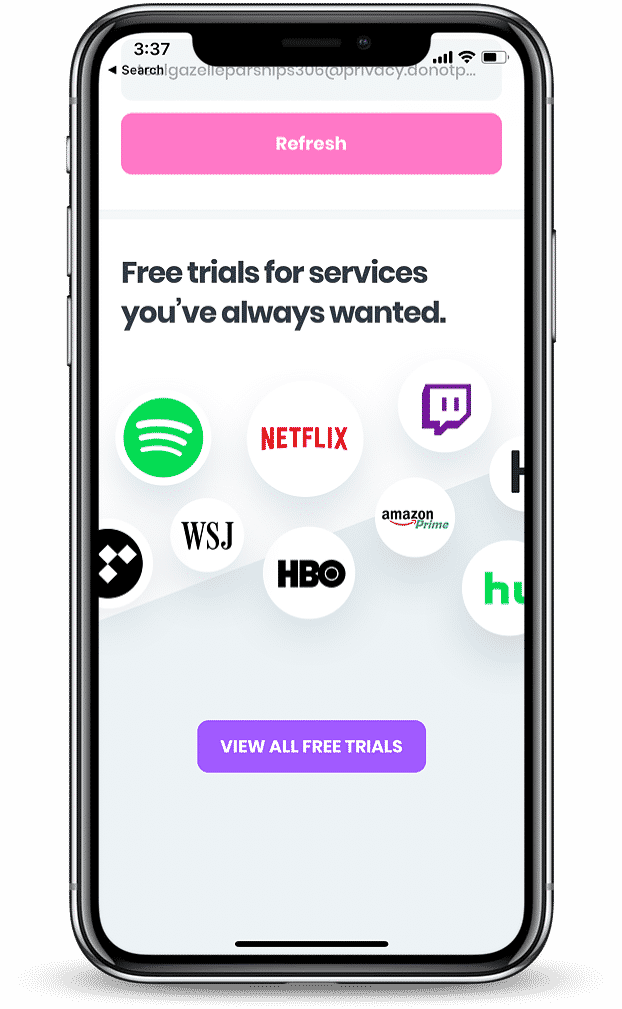 When you sign up for a free trial, you usually input your credit card information, deciding that you can simply cancel the subscription and avoid the charges. However, there is a strong possibility that you will simply forget all about the transaction until you've already unwillingly paid the monthly fee. Companies bank on people doing this exact thing, and they profit from hundreds if not thousands of individuals being charged for subscriptions they don't want. We have the solution to this problem with the DoNotPay virtual credit card.
You are generally required to input your financial information when signing up for a free trial on the assumption that you will want to pay to continue using the service. However, with a virtual credit card, you can enter a randomly-generated card number, expiration date, and CVV to sign up for free trials. Though these credentials are connected to your actual credit card, they don't reveal your banking information, so there is no risk of you being charged at the end of the trial period.
With the DoNotPay virtual card, there are extra layers of security. You can create a temporary email address through our app that will allow you to eliminate the possibility of spam messages from whatever service or item you are signing up to receive. We will even cancel your subscription for you before the trial period ends, ensuring that you don't have to worry about getting charged.
Why Use DoNotPay To Sign Up For Free Trials Risk-Free?
DoNotPay is the world's first robot lawyer. Our mission is to help you find hidden money, fight corporations, beat bureaucracy, and sue anyone.  Our service is designed to be fast and easy, so you can sit back and not worry about spending hours solving a complicated issue. And our methods are successful, giving you peace of mind.
If you have a problem that you want our help with, there are just four simple steps to signing up:
Visit our website.
Sign up with an email address or phone number.
Download our app.
You're all set!
What Else Can DoNotPay Do For You?
You can use DoNotPay to help you sign up for free trials with no risk to your financial information. But that's not all we do. You can find the solution to a variety of problems, including:
We aim to help you when you don't know where to turn for an easy solution. So if you have an issue and don't know how to resolve it, sign up with DoNotPay, and let us put you at ease.