How To Get a Free Trial of Invega Sustenna With a Virtual Credit Card

If you've lived with schizophrenia, you know how challenging it can be to manage your symptoms and maintain your finances when working with effective medications. Invega Sustenna is a new approach to schizophrenia medication that requires only one dose a month to help you manage your symptoms. And some patients are eligible to start out with a  of Invega Sustenna to ensure it works for them.
Does Invega Sustenna Offer a Free Trial?
The rules surrounding Invega's free trial program are somewhat complicated. This free trial applies only to inpatient hospitals with patients who are eligible and whose doctors prescribe them the free trial dosage. The trial lasts for 15 days and offers two trial doses per calendar year.
Doctors and healthcare providers may also be able to order free samples for outpatients. Ultimately, it's up to your healthcare provider whether or not you are eligible to benefit from a free trial of Invega Sustenna.
Eligibility for an Invega Sustenna Free Trial
If you're an inpatient in a hospital, there are a few requirements that could make you eligible for a free trial.
You must be in a licensed hospital in the United States or Puerto Rico.
The hospital must not be eligible for Prescription Drug Marketing Act (PDMA) samples.
The pharmacy receiving the sample cannot be a retinal pharmacy.
The program will expire after one year but does not require you as the patient to continue treatment with Invega Sustenna following the trial.
In all, you can receive two doses in a single year.
How Do I Get Started With Invega Sustenna?
Once your healthcare provider determines that you are eligible for a trial of Invega Sustenna, they will begin treatment. Here's how it works:
Test eligibility for the medication to make sure you experience no adverse side effects.
Receive two initial doses in your Deltoid (upper arm) muscle, each one week apart.
Receive a maintenance shot once a month of the appropriate dosage administered in either your Deltoid or your Gluteal (buttock) muscle.
If you are eligible, a free trial is a great way to test the efficacy of Invega Sustenna for your specific condition and to make sure you will suffer no serious side effects from taking the medication.
Does the Invega Sustenna Free Trial Automatically Renew Into a Paid Prescription?
No, you will not automatically get a prescription simply because you enroll in a free trial of Invega Sustenna. You must still receive prescription forms from your healthcare provider in order to be eligible to keep taking this medication.
Paying for an Invega Sustenna Prescription
Invega Sustenna can be an expensive medication, costing around $500 per .25 ml, one of the lowest doses. According to Drugs.com, Invega Sustenna may cost:
| | |
| --- | --- |
| | for 0.25 ml only |
| | for 0.5 ml only |
| | for 0.75 ml only |
| | for 1.0 ml only |
| | for 1.5 ml only |
If you aren't able to pay for this medication on your own but have insurance, you may be eligible to enroll in the Janssen CarePath Savings Program and pay as little as $10 a dose, which would come to about $120 per year.
Using DoNotPay's Virtual Credit Card To Avoid Any Fees for an Invega Sustenna Free Trial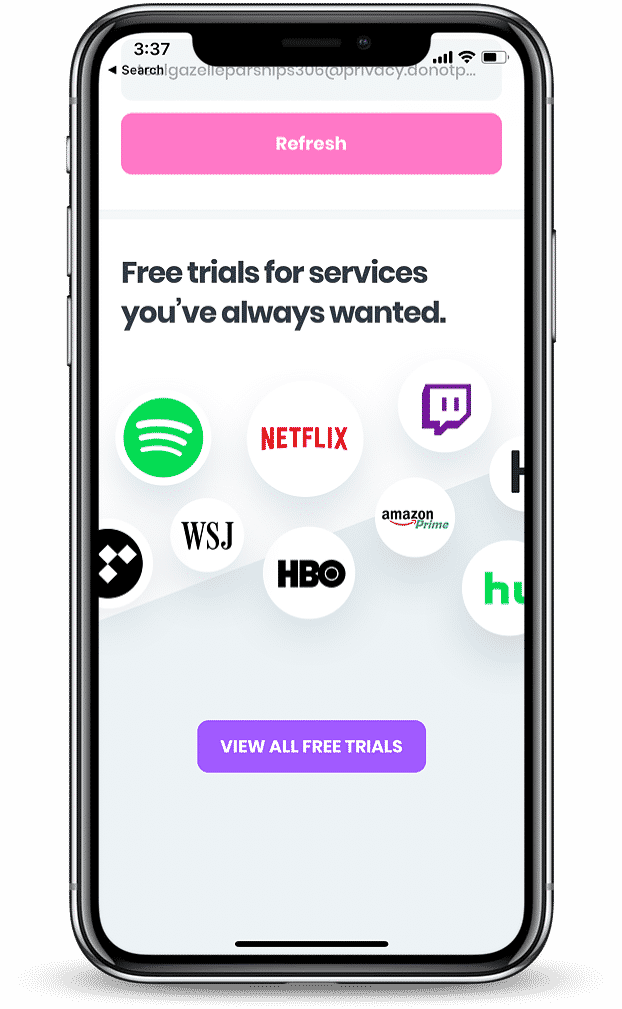 If your doctor prescribes a free trial of Invega Sustenna and you are asked for your credit card information, you are in danger of receiving a bill that you shouldn't have to pay for the use of the medication. While you can get a refund if you reach out to Janssen, it's probable that the process will be long and complicated. This is where DoNotPay can offer you assistance.
With DoNotPay's Virtual Credit Card, you can enter fake credit card information so that your card won't be charged for any fees that you didn't have to pay. Here's how it works:
Search free trial card on DoNotPay and enter the company you want a free trial for.
We'll automatically generate a virtual credit card that you can use for that merchant. Copy the card details shown on your screen.
Use the card to sign up for your free trial and sit back to relax and enjoy.
*The card will be deactivated and not usable once it's been used once
It's that simple. You can be absolutely guaranteed to avoid any unwanted and unexpected fees for your free trial of Invega Sustenna if you use DoNotPay.
Other Ways DoNotPay Can Help

If you're looking for more ways to save money and avoid unexpected fees, DoNotPay can help you in many diverse areas. With DoNotPay, you can get help:
If you'd like help saving money and dealing with legal issues backing you up,  to get started today.