How to Get an InfoTracer Free Trial With a Virtual Credit Card

InfoTracer is a website that allows you to search public records online. You can look up criminal records, arrests, marriages/divorces, contact info, and more. The website has a huge online database of information about people all across America. 
Does InfoTracer Have a Free Trial?
No, InfoTracer does not offer a . To use the service with unlimited access, you'll have to purchase a monthly subscription. You can, however, do a limited search for free, but this will only give you a list of matching names, along with the age and city/state of the person you've searched. 
Even though InfoTracer doesn't have a free trial, there are other sites similar to it and they may be available at a cheaper price to you, or may even have a free trial.
How Do I Sign Up for InfoTracer?
Signing up for InfoTracer is relatively easy, though it is unfortunate they don't offer a . You can sign up for the subscription in a few simple steps though.
To sign up for InfoTracer:
Go to InfoTracer's website.
Click the red "sign up" button in the upper right-hand corner of the home page.
On the next page, click the red button that says "sign up now".
Select your method of payment.
Enter your full name and email address.
Enter your card information and billing zip code.
Agree to the terms of service.
Click "continue" and you're all done! You can enjoy unlimited access to public records anywhere in the United States.
Does InfoTracer Renew Automatically Every Month?
Yes, InfoTracer does renew automatically every month. You can cancel your service before getting charged for the next month by filling out their contact form or calling (800) 791-1427. The site does not mention whether you can get a refund for an accidental renewal. 
Avoid Unwanted Renewals With DoNotPay's Virtual Credit Card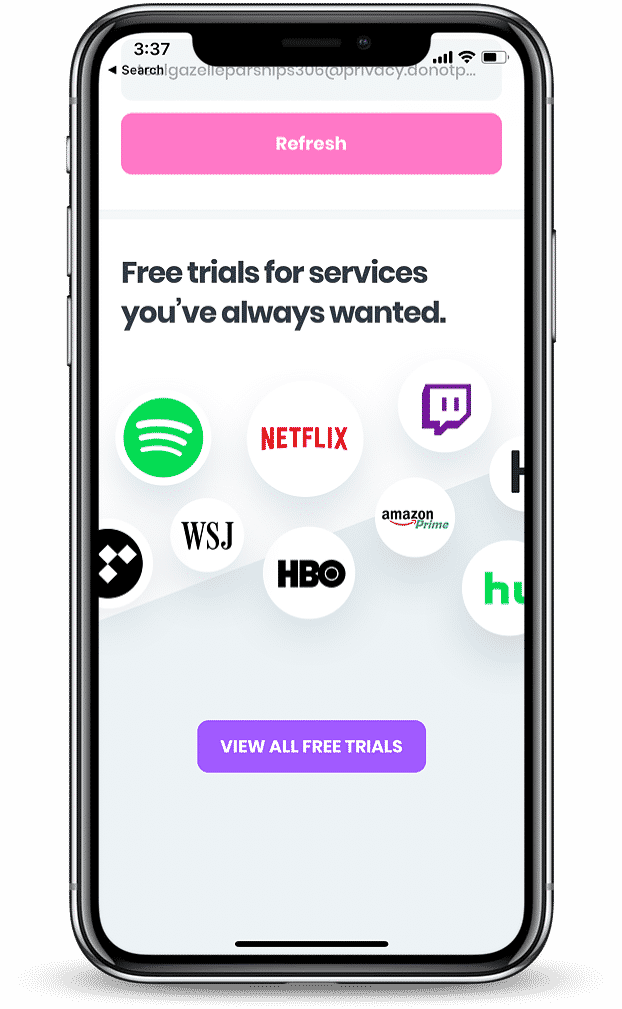 Although InfoTracer doesn't offer a free trial, there are many services that do. Most of these services also require you to input your credit card information before you can continue with the trial. Websites like that often rely on you forgetting to cancel in order to get more money out of a person, and it's very common for people to forget they've signed up for something.
But did you know you can avoid getting charged for an extra month of service with DoNotPay's virtual credit card? It's a free, randomly generated credit card you can use to sign up for free trials without the risk of forgetting to cancel.
Get your virtual credit card from DoNotPay in three easy steps:
Search Free Trial on DoNotPay and enter the company you want a free trial for.
We'll automatically generate a virtual credit card  that you can use for that merchant. Copy the card details shown on your screen.
Use the card to sign up for your free trial and sit back to relax and enjoy.
And that's it! DoNotPay will quickly get you all set up for the free trial you wish to obtain.
How Much Does InfoTracer Cost?
InfoTracer costs $14.95 per month. This isn't as expensive as some other services, but the charges can add up over time if you keep forgetting to cancel your subscription.
How Will InfoTracer Show Up on My Statements?
InfoTracer shows up on your statement in one of two ways, and both are listed on their website. It can show up as:
INFOTRACER.COM
INFOTRACER
A charge from this website will not show up any other way on your bank statements. 
What Are Some Alternatives to InfoTracer?
There are a lot of similar sites to InfoTracer that promise to give you the correct information about a person that's available to the public. Some aren't subscriptions though, and charge you a certain amount for each search or background check.
Some subscription alternatives include:
One important thing to keep in mind with using a service like this is that you shouldn't abuse it. It's useful for conducting background searches on people, but it can also be a way to potentially stalk someone. Also, some sites may claim to have billions of records in their database, but that's likely an exaggeration since most searches are of people living in the United States. Don't let yourself get scammed.
What Else Can DoNotPay Do?
DoNotPay can do almost anything. The website is basically an online lawyer that can help you solve nearly any issue you run into. For example:
DoNotPay can do it all. You have an amazing service right at your fingertips when using , so don't let the chance to utilize it go to waste.