How to Get Imvu VIP Free Trials With a Virtual Credit Card

Imvu is a platform that offers a downloadable chat program and online social networking site with user profiles, messaging, groups, and other standard social features. A VIP pass on Imvu is a subscription on Imvu that includes several additional benefits, including a 5 percent discount on catalog items, 5000 credits monthly, and no visible third-party ads. If you have signed up for , you should remember to cancel your subscription before the trial phase ends.
Ideally, free trials often upgrade to a paid subscription that charges substantial money. DoNotPay offers a virtual credit card that you can use to register for  instead of using your actual card. This effectively prevents unwanted charges should you forget to cancel your subscription.
How Will I Pay to Join Imvu
Once the trial period ends, you can upgrade to a VIP club membership that offers exclusive privileges such as 5000 free monthly credits, exclusive VIP badge, voice broadcasting, monthly gifts, and more. The VIP Imvu plan is further categorized into desktop VIP Tiers and mobile VIP tiers, which charge different prices.
| | | |
| --- | --- | --- |
| Plans | Desktop VIP Tiers | Mobile VIP Tiers |
| Gold | $4.99 | $4.99 |
| Platinum | $9.99 | $9.99 |
| Diamond | $19.99 | $19.99 |
Can You Cancel VIP On Imvu?
You have an option to cancel your VIP membership at any given time. Ideally, the cancellation process depends on the method you used to pay your VIP membership on Imvu. If you had paid to use a credit card, use the following simple steps to cancel your subscription:
Visit Imvu homepage.
Log into your Imvu account.
Click on ''Account,'' which you can find on the Menu bar at the top of your screen.
Find ''Account tools.''
Click on ''Manage subscriptions.''
A new tab will pop up; click ''Cancel subscription.''
You'll get a confirmation message, click ''yes.'
If you used PayPal to subscribe to your VIP membership, cancel your subscription using the steps below:
Log in to your PayPal account.
Navigate to the bottom of your page. Find "More" and click on it.
Navigate to "Manage your subscription and more."
Locate the plan you want to unsubscribe from and click "cancel payments."
Click "Cancel subscription."
The Need to Cancel Free Trials
It is essential to cancel your subscription at the end of each free trial phase. Most vendors offer free trials while hoping that you will forget to cancel them on time so that they continue charging you for plans that you never used. Unfortunately, with your busy schedule, it is most likely that you will forget all about free trials until the day you will receive unfamiliar charges on your credit card. The most effective way to prevent such charges is to use virtual credit cards like the one offered by DoNotPay when registering for free trials.
Benefits of Using a Virtual Credit Card to Sign Up for Free Trials
Free trials are never intended to be free. Although it offers an effective way to test out a product or service before committing to buy, most free trials translate to charges at the end of the trial period, whether you decide to continue using the service or not. The atomization of the renewal process costs consumers millions of dollars each year.
Fortunately, the arrival of virtual credit cards translates to a safer, more convenient way to sign up for free trials without having to worry about unexpected charges on your credit card statements. Virtual credit cards are temporary card numbers linked to your physical credit or debit card. You can use the card to carry out online transactions without the risk of exposing personal or financial information to third parties.
Most VCCs offer a range of features that work together to protect you, such as fixed charge limits, single retailer purchases, expiration dates, and more. DoNotPay's free virtual credit card guarantees the Imvu VIP free trial is indeed free by removing any opportunity for the vendor to charge you for unused plans.
How DoNotPay's Virtual Credit Card Prevents Unwanted Charges on Free Trials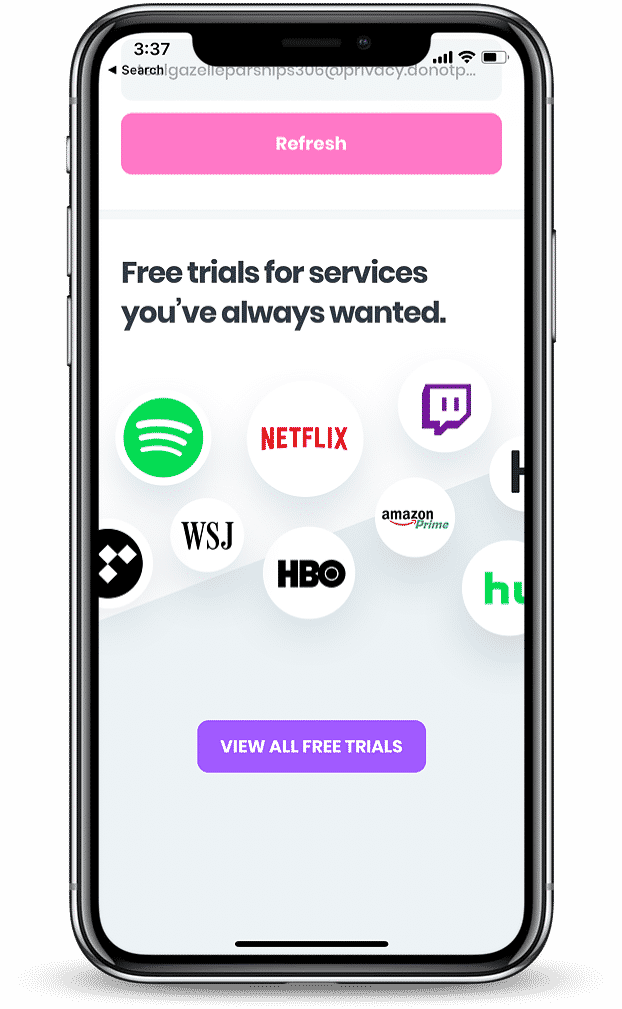 The following is a step-by-step guide on how DoNotPay Free Trial Card ensures users save money and time:
DNP generates a random number and credit card info that you can use to subscribe to any service
Once the free trial period ends, the service can't charge you because there's no money on that card, so you get unsubscribed automatically.
Why Use DoNotPay?

DoNotPay's virtual credit card offers the most secure way to sign up for free trials without having to worry about data breaches and unwanted charges. The following are just a few reasons to use DoNotPay:
Convenient: DoNotPay automates the entire sign-up process to save a lot of your valuable time. With our solutions, you can sign up for a free trial in just 3 easy steps at the comfort of your home.
It is free: Our product is free for you to use. Just sign up and enjoy exceptional solutions for most of your problems free of charge.
Solve Other Problems With DoNotPay
DoNotPay Helps You Sign Up for Free Trials Hassle-Free
Imvu is a unique avatar-based social network that enables you to create your character, meet new friends and chat with old ones, all in 3D. You can also share your online experience and establish your/virtual community where you make money selling products. Signing up for Imvu VIP free trial can be a smart way to understand how the product works. Unfortunately, it can also translate to unwanted charges at the end of the trial period. DoNotPay is here to ensure this never happens. Contact us today to learn more.