Sign Up For The Makiage Free Trial With A Virtual Credit Card

 is an excellent upper-mid-priced makeup brand with a palette of colors designed for women of all skin tones and styles. They provide an intuitive color-matching quiz to find the right shade of foundation for your skin and a great selection of high-quality makeup from primer to finishing spray.
Of course, building an Il Makiage collection of makeup can get pretty pricey, with expenses between $20 and $60 on average. If you want to try Il Makiage but don't want to invest a few hundred in makeup that might not be right for you, there's always the . How does it work? What do you get? DoNotPay is here to lay out the facts.
Does Il Makiage Offer a Free Trial?
Yes! Il Makiage is one of the few makeup brands that makes it possible to "try before you buy" in a practical free trial model. Anyone can start an Il Makiage free trial, you don't even need to be new to the brand. If you've loved some Il Makiage makeup but want to discover if more of their products are right for you, the Il Makiage free trial can work for try-outs of any type.
How Does the Il Makiage Free Trial Work?
Select Up to 3 Full-Sized Products
Pay Only for Shipping
Try at Home for 14 Days
Send Back the Products You Don't Like
Only Pay for the Products You Keep
The Il Makiage free trial isn't like your typical pre-subscription free trial. Nothing is exactly  free, but you can try out Il Makiage products before you pay for them and only keep/pay for the products that work for your skin.
How Can I Get an Il Makiage Free Trial?
Activate Your Free Trial
Navigate to the Il Makiage Free Trial Page
Choose Your Three Products
Select the Color or Color-Match
Select "Try Before You Buy" for Each
Click "Checkout" to Complete the Order
Pay Only for Shippping
Try, Keep, or Return
Try the Makeup that Arrives
Return What You Don't Like within 14 Days
Keep What You Like
Pay for What You Keep after 14 Days
To get your, first head over to the free trial page linked in the instructions above. Choose your products and colors to add to your cart. Check out and pay only for shipping.
When your Il Makiage makeup arrives, try each one out until you determine how you (and your skin) feel about each one. If you don't like something, package it up and ship it back. If you do like a product, keep it.
After 14 days, you will be charged for any makeup that isn't returned. It's as simple as that.
Does the Il Makiage Free Trial Automatically Renew Into a Paid Subscription?
Yes, but only for the makeup you already have at home. When you order the free trial package, you are not getting makeup for free but instead doing a "try before you buy" program. Anything you don't send back will be charged on the 14th or 15th day after your makeup arrives. However, you are not obligated to subscribe or make additional purchases like other free trial models.
Avoid Automatic Renewal With DoNotPay Virtual Credit Card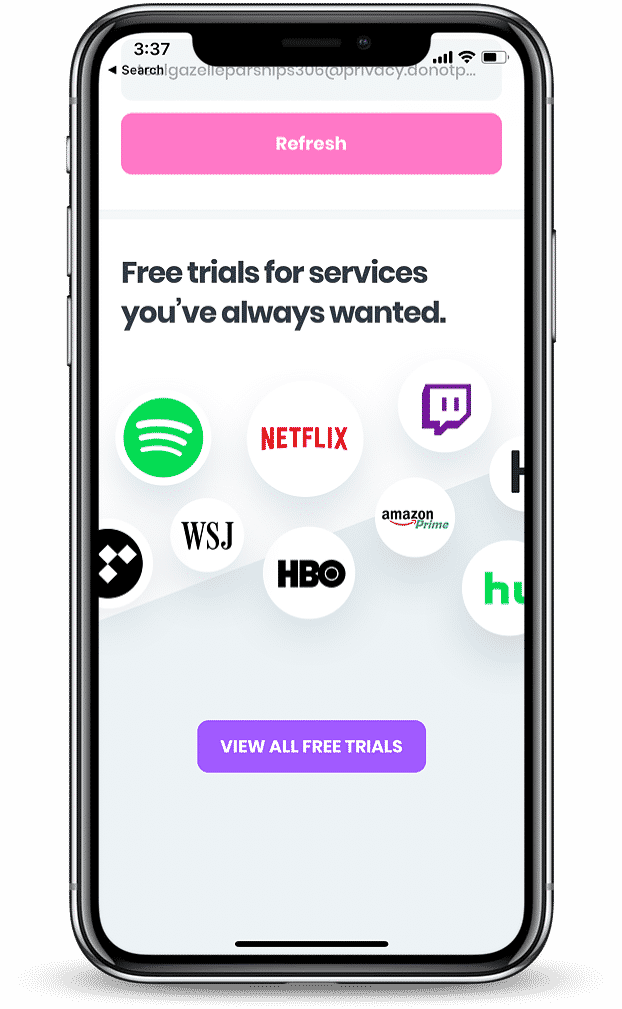 Free trials can be challenging to handle and to avoid unwanted expenses. Most people forget to cancel before the last day and wind up getting charged for services they don't necessarily want.
With Il Makiage, they make sure to deliver the goods before you are charged, which is a nice improvement to the free trial experience. All you need to do is remember to ship out makeup that you don't like. We recommend having your return materials ready and shipping anything you dislike immediately after trying it. That way, it can't slip your mind for 14 days.
With other free trials, however, the process is more slippery. If you don't want to sign up for a year subscription to something you just explored for the free trial, now you don't have to. DoNotPay offers free virtual credit cards that can be used as dummy cards when signing up for free trials. You enjoy your week or month of free service, then when the time comes to charge your account for next month, the virtual credit card doesn't link to a bank account. Your free trial closes gracefully and you don't have to worry about unwanted subscriptions or costs.
How Much Does Il Makiage Cost After the Trial?
When the 14 days of test-trial are over, you will need to pay for the makeup you choose to keep. In this case, you will pay the full price for each product - prices that are helpfully listed on the promotional page. Il Makiage products range from $20 to $60, in general, with an average cost between $30 and $45 per product.
What Else Can DoNotPay Do?

Can DoNotPay do anything else to make your life easier or more affordable? We certainly hope so? Explore the dozens of products, services, and tools we offer to help you tackle everyday chores and big personal tasks. Here are just a few of our products that you might find hepful today.