How to Get a Humalog Free Trial With a Virtual Credit Card

Everyone gets blood sugar spikes while eating. But when you have diabetes, you may need extra help controlling them. This is where Humalog comes in.  is a fast-acting insulin that helps people with diabetes type 1 or 2 control high blood sugar. 
If you're in the market for insulin and are weighing out different options, a Humalog free trial would enable you to personally experience the product and make an informed buying decision. With a free trial, you'd know exactly what you're getting before officially committing.
What is Humalog?
Humalog is an FDA-approved prescription medication designed to help adults with type 1 and type 2 diabetes control blood sugar levels. It can also be used by children who are three years or older with type 1 diabetes. Humalog comes in several forms, including:
Humalog KwikPen: KwikPen is disposable, prefilled injection 3mL pens with U-100 or 200 insulin. It can deliver up to 60 units of insulin per injection. Humalog Junior KwikPen comes with U-100 and delivers up to 30 units per injection.
Multidose vial: This comes in sizes 3mL and 10mL with 100 insulin units per milliliter (U-100). The vial is often used for insulin infusions and injections. It also fills insulin pumps.
Humalog Tempo Pen: These are also disposable, prefilled injection pens in 3mL size with U-100 insulin. It can deliver up to 60 units of insulin per injection.
Does Humalog Offer a Free Trial?
No.  does not provide a free trial. The best you can get is a coupon or discount. If you use Medicaid, commercial insurance, or are uninsured or enrolled in a participating Medical plan, you may qualify to buy your monthly prescription of Lilly insulin for $35. Contact Lilly Diabetes Solution Center at (833) 808-1234 for more details.
How Can I Get Humalog Free Trial?
There is no way to get Humalog free trial because Humalog doesn't provide free trials. However, you can pay as little as $35 per 30-day prescription with the Lilly Insulin Value program. Eli Lilly, the manufacturer, has a copay card to help you save.
Humalog Savings Card Details for KwikPen
There's no KwikPen free trial. But you could still save a lot with the discount.
| | |
| --- | --- |
| Savings | Pay up to $25 per month and save up to $100 monthly. |
| Get Discount | Answer questions online to download and print a card. |
| Eligibility | Only available for commercially-insured patients. |
| Phone number | Call 1-800-545-5979 |
| Website | visit https://www.humalog.com/u-200-kwikpen/humalog-savings-card |
Does Humalog Free Trial Automatically Renew Into Paid Subscription?
No. Humalog won't automatically renew into paid subscription because it doesn't offer a free trial. However, once you enroll for monthly medications, the amount will automatically be deducted from your account. Unless you unsubscribe by removing your credit card information from the site, you'll continue to pay even if you don't want to.
Avoid Automatic Renewal with DoNotPay's Virtual Credit Card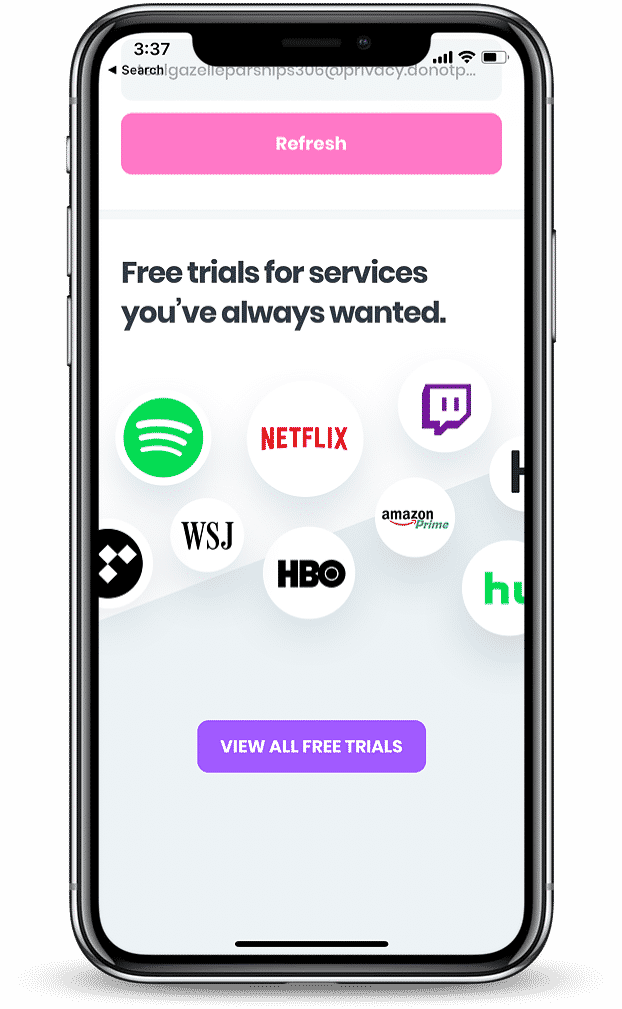 The sad thing about automatic payment is that they require effort to stop as companies make it hard to stop. In most cases, you may end up with credit card debts you can't afford, which adds to the frustrations. Luckily, there are many ways to avoid automatic renewals. You can:
Cancel the payment with the company directly – if you can't do it on their platform, contact them and ask to cancel your subscription.
Alternatively, you can request your bank or credit card provider to cancel.
Use DoNotPay's free virtual credit card that prevents automatic payments.
Of all the methods, DoNotPay provides the easiest, risk-free ways to enjoy free trials without having to pay a dime at the end. The virtual credit card is a dummy card that works in place of your real card when signing up for free trials. So when a company initiates an automatic payment, the subscription fails to go through because the card won't have any money. Basically, you aren't charged, and the automatic subscription doesn't start.
How Virtual Credit Works
DoNotPay generates a random number and credit card information
You use the details to sign up for virtually any service that provides a free trial
Your free trial ends
The service provider tries to charge your card automatically, but it fails because there isn't any money.
Your subscription automatically ends
You go on with your life without ever worrying about your card being charged – or ending up in the wrong hands.
How Much Does Humalog Charge After the Trial?
Humalog has no free trials. It charges around $96 for a 3mL supply of u-100 injectable solution. 10mL supply costs $296.29.
What are the Most Popular Alternatives to Humalog?
Humalog is comparable to Novolog and Apidra. They all have a fast onset of action and are often used as mealtime insulins. A 30-day supply of Novolog (30 to 70 units) is about $323 for a 10ml supply. Apidra (100 units) costs around $306 for a 10mL supply.
What Else Can DoNotPay Do?
DoNotPay's virtual credit card helps you avoid paying after any free trial. However, that's just one of the many things we do. We can also help you: