Get Hotspot Shield Free Trial Without Giving Your Credit Card Information

In today's world, protecting your identity is a priority. However, when choosing a VPN encryption product, such as Hotspot Shield, you may want to try it out before you buy. The problem beyond that is how do you find Hotspot Shield free trial offers, and how do you know you can avoid paying if you don't like it?
DoNotPay can help you with both discovering everything you need to know about  and avoiding subscriptions you do not want. Are you ready to learn about Hotspot Shield and how DoNotPay protects you?
Does Hotspot Shield Offer Free Trials?
Hotspot Shield does provide anyone who is interested in the service a full 7-day trial subscription. During your free trial period, you will have access to all the features of Hotspot Shield including:
Anonymous Browsing
Data Encryption
Malicious Website Blocking
Increased Safety Over Wi-Fi Networks
A More Secure Connection
And More
How to Access the Free Trial for Hotspot Shield?
Registering for your free trial of Hotspot Shield is easy. You just need to:
Enter Your Email Address for Account Creation and Receipt
Add Your Payment Method (You Will Not Be Charged for 7 Days)
Download the Hotspot Shield VPN
Locate the Installer
Right Click on It and Select "Run as Administrator"
Follow the Instructions
Does the Hotspot Shield Free Trial Automatically Become a Paid Subscription?
At the end of your 7-day free trial, Hotspot Shield will automatically take your first monthly payment from the credit card you have listed during your account creation. The only way to prevent this is to cancel your subscription before it expires.
The only helpful part of it is that there is a 45-day refund policy available. If you aren't happy, you may have the chance to get your money back. However, this may also cause problems and be slow to refund.
A Virtual Credit Card from DoNotPay Can Stop Automatic Renewals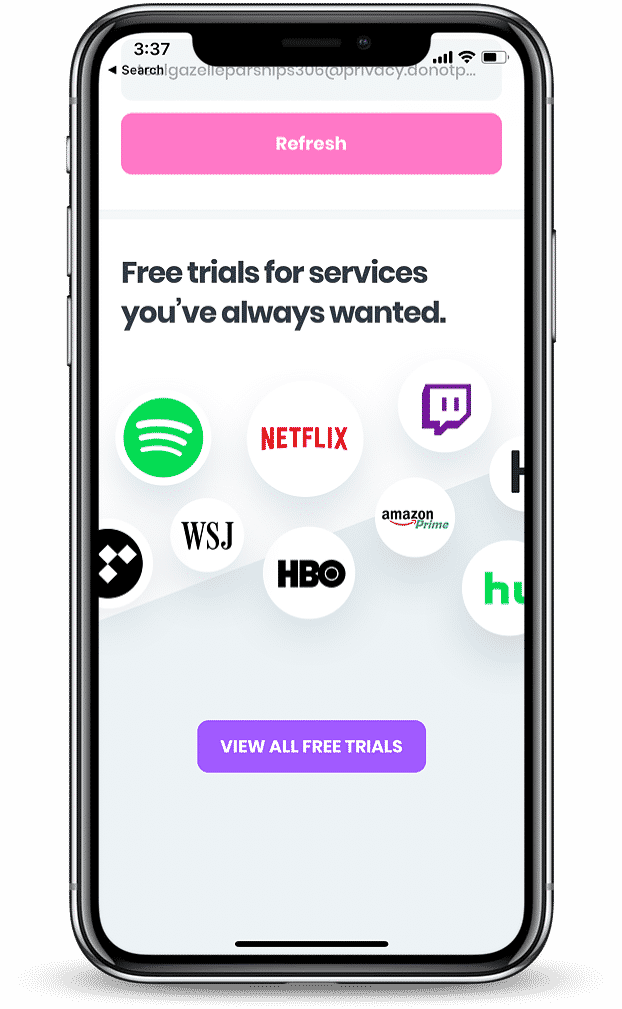 Signing up for free trials is always risky. Life often gets in the way, and then you may end up with charges for a service that you do not wish to keep. How do you know that you will remember to unsubscribe from Hotspot Shield within the free trial period?
DoNotPay can protect you from making this simple mistake. We can provide you with a free virtual credit card that you can use during your account creation. All you need to do is:
Use This Credit Card When Creating Your Account
Our virtual credit card has a valid, randomly generated number that you can use in the sign-up process. This card will not be linked to an active bank account, and it expires minutes after you are provided with it. This ensures that Hotspot Shield will not be able to charge you after the free trial expires.
Give the Service a Try
If you enjoy the Hotspot Shield service, you can update the card information on file so that it can take out money from your bank account. In the event you do not like the product you are trying; the account will simply expire and all you have to do is uninstall the program.
What Is the Price After the Trial Period for Hotspot Shield?
As soon as your free trial is up and every month thereafter, you will be charged $12.99 for the Hotspot Shield service according to their free trial web page. However, if you simply sign up for the service, there are three levels of protection available. Each comes with its own special features. These pricing options are:
| | |
| --- | --- |
| Subscription: | Price: |
| Basic Subscriptions | Free |
| Premium | $7.99 Per Month |
| Premium Family | $11.99 Per Month |
Are There Other Alternatives to Consider Beyond Hotspot Shield?
If you want a reliable alternative to the free trial of Hotspot Shield, there are options. Some of the most popular are:
Free
Build Your Own Plans: $2.00 minimum with $1.00 per server each month.
Pro: $9.00 per month or $4.00 a month if you pay yearly.
A discount is available if you have a team of five or more people. This could drop the price to just $3.00 per month.
Works on Top Streaming Platforms
Good Speeds
Ample Security
Good for Most Operating Systems
Anonymous VPN Standard: $9.99 per month
Anonymous VPN Pro: $12.99 per month
Business VPN: $32.99 per month
Anonymous Email: $3.58 per month
7-day Free Trial
Unblocks Geo-Restrictions
Accesses Content Worldwide
Good Speeds
Free
Basic Plan: $4.00 per month billed yearly
Plus: $8.00 per month billed yearly
Visionary: $24.00 per month billed yearly
Access Worldwide Content
Good Speeds
Great Security
Per Month: $12.95
6 Months: $9.99
12 Months: $8.32
30-day Free Trial
Protects Identity
Excellent Encryption
Many Protocols
Many Server Locations
2-Year Plan: $3.71 Per Month $89.00 For the First 2 Years
1-Year Plan $4.92 Per Man $59.00 For the First Year
1 Month $11.95 Per Month Billed Monthly
30-day Free Trial
Secure Internet
Fast Speeds
Works on Any Device
Streaming or Downloading Available
What Else Can DoNotPay Do for You?

Whether trying to find the most affordable VPN, trying to avoid a , or hoping to avoid being billed for a service you do not need with our free virtual credit card, DoNotPay is always here to help you when you need it. You can also depend on us to provide you with a variety of other services including:
When life throws a little frustration your way, DoNotPay can help you deal with virtually all situations quickly, easily, and without frustration. All you have to do is visit us online and take advantage of all we offer.